Even Margot Robbie, the star of the newly released Barbie movie, doesn't have a Barbie body. No one has, which is probably a good thing. It's been figured (not by me) that were she real, she'd be 5'9" tall with a 39" bust, an 18" waist, 33" hips, and would wear a size three shoe. She'd be so physically out of whack that she'd have to crawl to get around.
Few of us come close to even Robbie's fabulous curves, and the older we get, well… They say the legs are the last to go. You can still slip into Barbie's shoes, though, even if you only wear them sitting down.
We're not talking about the shoes she's taken to in recent decades, the closed-toe pumps, sandals, even sneakers (with hidden arches), but the originals. The iconic shoe that came with the first Barbie doll (do you remember that wonderful rubbery smell?) in her black and white, knitted, strapless bathing suit.
Perhaps the ultimate in sexy shoes, these have a strap across the instep and a vertiginous heel, variously known as stiletto slides, stiletto mules, and by other, well, rather ruder terms. On real women, they lift the butt, lengthen the leg, and encourage quite the walk – it's nearly impossible not to wiggle in them.
Barbie was not the first to wear slides. Backless slippers emerged as boudoir wear in the 18th century – Marie Antoinette's were silk with pointed toes, though with a squat French heel. They gradually emerged from the bedroom as more casual, relaxed wear in the home and eventually were worn out – but that boudoir association lingered, giving them an eternally racy edge.
It wasn't until the mid-20th century that the stiletto heel was added, and that provocative open toe. Whether it was Hollywood or Barbie that first showed off the style is a which-came-first question. At about the same time that the doll made her entrance, Marylyn Monroe and Jane Mansfield were donning them with bathing suits to show off their toe cleavage, among other things.
Then Dolly Parton adopted them, and Debbie Harry of Blondie and the ever-wholesome Olivia Newton-John wore them in "Grease" to signify her transition to Bad Girl Sandy.
My older sister Jeanie, an interior designer, had maybe a dozen pairs of candy-colored Spring-O-Lators, high-heeled mules with an elastic strip across the instep, which (theoretically) kept your shoes on, even in slippery stockings. At the end of the day, she liked nothing more than sitting at a piano bar, legs crossed, shoe dangling coyly from her toes. She'd sing a bit, breathily. A man trap.
She was nearly 20 years older than I was; it was the 1950s. That was the point. Oh, and how it worked.
Years later, I wore them and was able to navigate New York City streets – while simultaneously reading a book. Decades later and pounds heavier (this does make a difference), I had but a single pair, a gorgeous tortoiseshell patent. My sitting down shoes, I called them.
Artist, writer, and stylist Kristen Hartke's mother still wears them, "although they are more of a wedge variety" now that she is 93 years old, rather than the more spindly heels she wore with her business suits before she retired at 88.
"She has a high arch and insists that she has to wear heels. In fact, I have rarely seen her wear anything but high heels my whole life, and she has always preferred open-toed slides. So maybe she has an inner Barbie!"
Ready to unleash your inner Barbie? Take a stroll through our picks. But first, get a pedicure – these numbers really show off the heels and toes!
About as hot pink as you can get, the leather-lined Attico Slide from Italian designer Devon is balanced on a twisted 4.5-inch block heel that gives you the oomph of a stiletto but not the teeter. You can find them at Nordstrom, and they're currently on sale. $325.87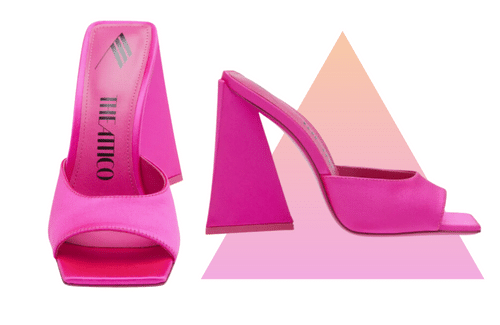 Maybe more Audrey than Barbie (though her first heels were black), the "Siemu" kid suede mules by MANOLO BLAHNIK, with their almost comfortable 2.8" kitten heel, brilliantly combine sexy with elegance. Made in Italy, of course, and available at Bergdorf Goodman. On sale for $330.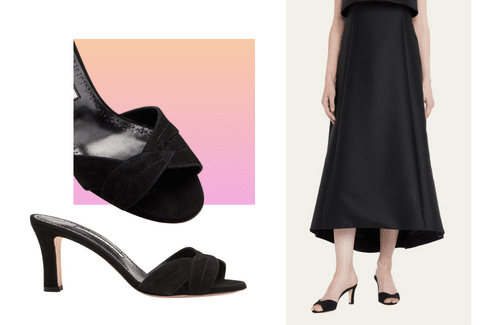 Love the look of those Manolos, but not the price tag? Alfani captures the feel – for downright cheap – with these little black Sarrah slides with their 2.5" kitten heel, so perfect for your little black dress. Specially priced at $39.75 – man-made everything, of course, and imported from…somewhere.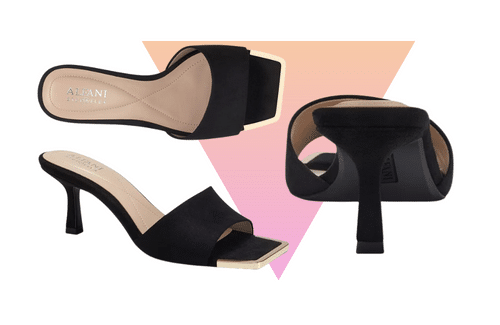 Imagine slipping off these deliciously soft, Italian-made Lido slides from Bottega Veneta and stepping into the Trevi Fountain. Cushy braiding crosses the toes, whispering: Even if my heels are 3.5", I won't give you corns or blisters. In Italian, that sounds sexier. Bergdorf Goodman. $1500.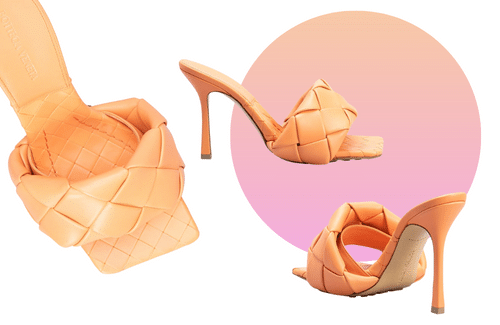 Shall we head to the south of France? Yves St Laurent, the Cote d Azur, a pair of delicious, vanilla slides in a woven fabric – they don't say what, but I'm sure it's very rare — on 3.75" heels – nine parts Bardot, one part Daisy Duke. The La 16 is $825 at Bergdorf Goodman.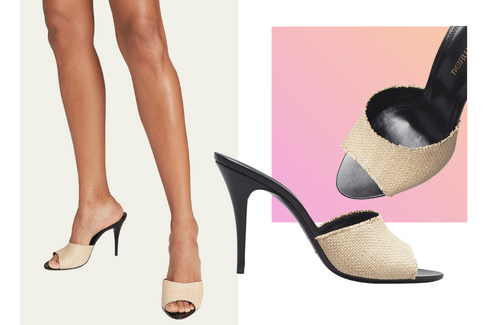 More down to earth but with a glitzy edge, the silvery Danielle mock-croc slide with a 2.25" heel from Yosi Samra. Perfect for when you have to actually walk but still want to look hot on a barstool. At Nordstrom. 100% synthetic and made somewhere. $59.84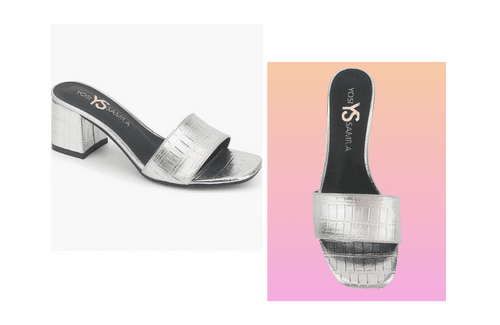 If you want to look totally hot when breaking an ankle — but don't want to break the bank – Steve Madden's Spin Heel sandal is a 4" killer diller with purple feathers on the toe (my dream shoe, by the way). It also comes in black or white but, come on – purple!? A mere $73.16 at Zappos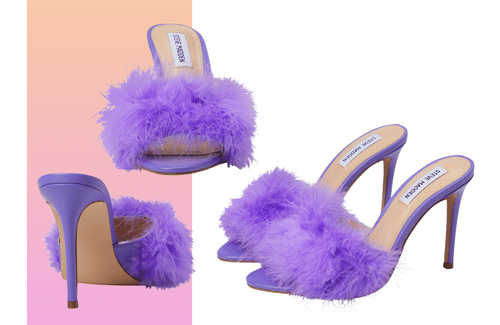 Cute as a button – or a bow – are these totally faux, hot pink Emonnas from I.N.C. at Macy's. The bow on the toe resembles pink licorice, delicious, and less of an ankle buster on a 2 ¾ inch French heel that won't trap you in sidewalk grates or between bricks. Plus, they're adorably priced at $34.75.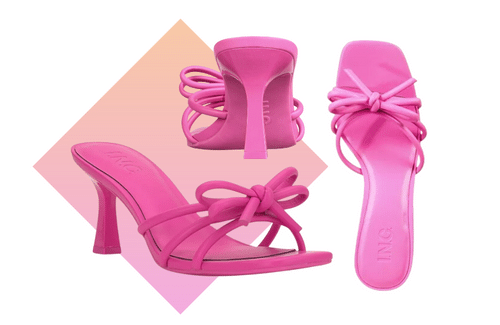 Barbie gets down to business in these herringbone mules, with a black and white microsuede upper that's threaded with gold on a totally sensible 2" kitten heel. Tessaa by Charter Club at Macy's, $31.73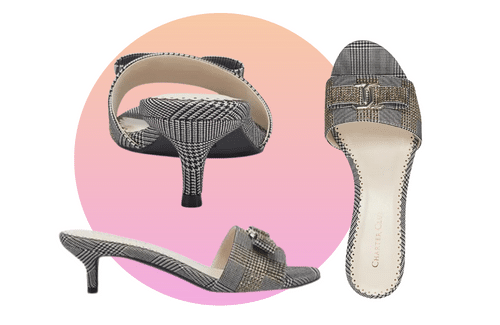 Finally, Balenciaga does Barbie. Pool Crocs from Balenciaga, in collaboration with Crocs – yes, Crocs — offer supremely squishy comfort in signature pink – with a haute price tag. (Rest assured, the haughty provenance is emblazoned across the toe). All rubber, as expected. Made in China, just as expected. Comes with a box. I did not make that last part up. $295-$595 at Saks Fifth Avenue.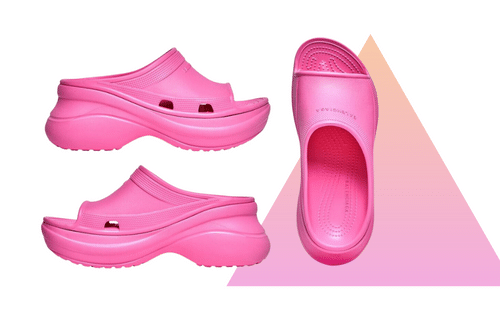 Read Next:
Sunshine and Dine in These Summer Dresses for Stylish Women
Best Bandage Dresses for Women Over 50