Sponsored Post
One of the great perks of this job is being exposed to products I might never have come across on my own. For instance, in this case, Adrian Allen's stylish, yet comfortable shoes.
Gwen Allen, the founder of Adrian Allen shoes got into this business (thank goodness) because like many of us, she had a closet full of shoes but nothing she actually wanted to wear to any events that required she do any standing, or walking… much less dancing.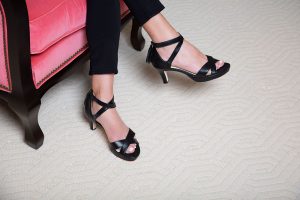 After speaking with other women, she honed her vision to create elegant, low heel dress—but comfortable—shoes for women like us who are tired of limping through an evening, or glancing at our feet to be sure the straps aren't ACTUALLY slicing into them.
With the help of a talented shoe designer, Gwen brought her visions to life, and now Adrian Allen offers a collection of heels and flats that are just too wonderful for words. Comfortable shoes that are stylish, too. Best of all, they're versatile. You'd be surprised how much so. A shoe, like the tan or black Stella that you'd wear out for the evening also goes perfectly with jeans, leggings or cropped pants.
The Stella is the shoe style I opted to try. I am used to wearing a heel and like to have something that's attractive and not "grandma" looking. However, I also really get tired of not wanting to put my shoes on until we pull up at the valet and I'm getting out of the car.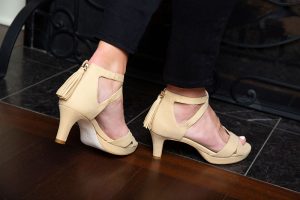 The first thing I noticed when I opened the box was the quality. The shoes have a leather upper, lining and sole. I slid my hand along the instep of the sandal. Nicely padded—all the way from the ball of the foot to the heel, and padding at the arch. My feet almost giggled with anticipation. How often do you find a heel you like, but then you put them on and discover there is practically nothing to absorb the shock of each step you take on the sidewalk or dance floor? Doesn't take long at all for your feet to get really tired and start sending you some angry signals.
Another nice aspect of the Stella is the wide-ish straps across the front of your foot, which help to hide blemishes on your feet. The straps across the instep are covered with elastic on the inside of the ankle allow for flexibility.
I didn't know how much I trusted them to really be comfortable shoes though, until I wore them on vacation. You know how you try to pack strategically for trips? Well, I wanted to have a shoe I could wear to dinner that would also work if we wanted to walk to dinner or stroll around looking in shop windows after dinner. I also wanted a shoe I could wear when I wanted to take my skinny leg jeans and dress them up a bit. And I wanted that without having to pack two separate pair of shoes (in addition to flip flops and sneaks.)
And having tested them thoroughly, I have to say they are the answer to my overstuffed luggage and sore feet.
The reason Adrian Allen shoes might be so perfect for women like us – is that Gwen is a woman like us. She started Adrian Allen shoes when she was 49 – and she's currently 53.
I asked her a few questions so we could get to know her and Adrian Allen Shoes better.
1. How many styles are available now?
We have seven different styles, and each one comes in multiple colors.
2. Where do you get your inspiration for the designs and styles?
I have a very talented shoe designer in New York City! I share my design parameters (features, functions, looks), and she brings these concepts to life. I'm always amazed at what she comes up with.
3. What was the first pair?
We started with four – Stella, Sara, Donna, Debbie (pictured in order below)
4. What is your favorite? (Although mothers aren't supposed to have favorites!)
It is hard to choose, I really do love them all and I wear them for different occasions. I wear the Donna in Black/white dot the most, as it is a great work shoe. And for evening, I wear the Stella Tan the most because it goes with so many types of outfits (from ripped jeans to a nice dress).
5. Where do you see Adrian Allen 

in 5 years

 – and 

in 10 years

?
We will have a much bigger audience and therefore be able to offer a broader array of styles and colors (but all within our design parameters of low heels, rounded toes, and sophisticated, modern looks).
6. What was your biggest challenge so far in starting this accompany (or being a first time entrepreneur?)
Only one? Every month we tackle something we have no idea how to do! If I must pick one, it is prioritizing how to spend our limited funds. We have to be very very clever and creative with where to put our money. What's great about this challenge though is that it forces us to be much smarter.
Comfortable shoes that are stylish, well made, and did I say comfortable? Adrian Allen shoes are perfect for the Prime Woman! Oh, and make sure you're entered in the Great Shoe Giveaway! Details are available here.
We will be giving away one pair of Adrian Allen shoes each week for 8 weeks. The first winner will be announced September 13, 2018!