We love to find products we can recommend to our readers. The products featured today are easy additions to your beauty routine to help combat dry skin and achieve an ageless glow.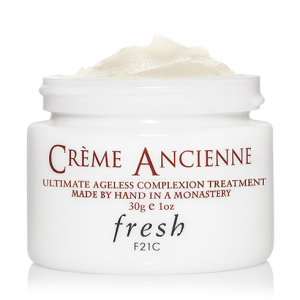 Every year one of television's top lifestyle or news magazines along with legacy newspapers like the New York Times "New York Times Magazine," or one of the better known traditional women's publications like Vogue, Harper's Bazaar, Elle, or Town and Country will run a story on this extraordinary moisturizer made at a monastery in the Czech Republic by monks using an ancient formula made up of entirely natural ingredients produced by the order on the grounds. This product has an almost cult-like following.
These fragile components are said to be so delicate that they must all be processed by hand soon after harvesting or collecting them. Each of the oils, herbs, and creams must then be poured into each jar of what many women describe as the "world's richest moisturizer" in a particular sequence by the monks themselves. No wonder so many find the overwhelmingly rich and luxurious face, hand, and body treatment for aging and dryness to be almost instantly addictive and effective. This is truly an artisanal product in every sense of the "overused" used word. The smaller size jar at 30G or 1 ounce, costs $145 without tax, shipping or handling, but remember this is an incredibly intense and hydrating product so a little goes a long way. To purchase this size jar click here.
If you live in a very cold climate like we do in the winter, and have dry skin literally everywhere on your person, the larger size jar at 100 G or 3.5 ounces might prove more practical for you. Priced at $290, it is a better buy at $2.90 a gram whereas the smaller jar with only 30 Gs and a cost of $145 comes to $4.83 a gram. It just depends on your needs as to which size makes the most sense for you. For example, personal experience has taught me that my husband and I will go through at least two of the large jars a winter. What can I say? We have dry, sensitive skin!
Cailyn O! WOW Brush
Girlfriends remain my best source resource for both information and gifts of nifty new beauty products. A close crony gave me two Christmas gifts that I love and I bet that you will, too. This brush, like another one that I will describe later, has such densely packed, velvety bristles that it almost feels like a powder puff on your skin. However, this first one has a slightly angled handle which makes it perfect for applying everything from your moisturizer and primer to your foundation. It feels heavenly on your face and works as promised for putting on makeup in an easier and more fun way. To purchase your O! WOW Brush for only $32 click here.
Cailyn O! Curve Brush
This was another wonderful gift from the same thoughtful friend. Once you adopt these two new tools into your beauty and skincare routine, you are going to wonder how you managed without them. This tool also features dense and amazing soft bristles and a most unusual shape. As you can see from the photo, it has a very distinctive, specifically cut curve in the bristles and this instrument is a natural companion to the above-described product. You immediately notice two different curves in this brush. To quote from the box, this brush came in because it says it so well, "The upper curve is designed to expertly blend makeup in the hard to reach crevices around the eyes and nose, while the lower curve buffs and blends foundations, bronzers and powders on the forehead, chin, jawline and cheek areas for complete, expertly-contoured coverage." It delivers as promised. To purchase this handy makeup aid for only $35 just click here.
Happy New Year!
Dianne Patterson and Everyone at PRiME