If you're dealing with rosacea, you know how tricky it can be to find makeup and skincare products that don't make it even worse. This common condition, characterized by persistent redness, can make shopping for products quite a chore. Let's chat about skincare ingredients that help battle the redness and discomfort, products that can make it worse, and the best moisturizers for rosacea.
How To Shop For Moisturizers When You Have Rosacea
Rosacea is an inflammatory skin condition, so you'll want to opt for gentle skincare products with SPF. Because your skin is sensitive, it's even more important to protect it from harmful UVA and UVB rays. You'll also want to consider your skin type. Usually (but not always), people with rosacea will also have dry skin.
Rosacea-Friendly Skincare Ingredients
If you have dry skin and rosacea, keep an eye out for products with hyaluronic acid, glycerin, and hydrating oils like argan oils. Shop for products that contain ceramides, too! Ceramides help create a barrier that locks moisture into your skin, protecting it from dryness and further irritation.
Exposure to the sun and UV light can exacerbate symptoms of rosacea, so look for moisturizers with a built-in broad-spectrum sunscreen of SPF 30 or higher.
Ingredients That Make Rosacea Worse
When shopping for rosacea-friendly skincare products, you'll want to steer clear of exfoliants like salicylic, glycolic, and lactic acids, as well as retinoids. Other ingredients, like alcohol, benzoyl peroxide, and fragrance, can also irritate the skin and cause dryness.
Consider the Consistency
Extra dry skin may benefit more from a cream or gel-to-cream moisturizer. If you have normal or even oily skin, you may prefer a lotion or water-based moisturizer instead.
Once You Find Your Moisturizer—NEVER Skip It
Folks with rosacea should be moisturizing at least once a day to restore their skin's protective barrier. And if your skin starts to feel dry throughout the day, it's time to reapply! Once you're finished washing your face (with a gentle cleanser!), pat or air dry your face and then apply the moisturizer. Some doctors even recommend keeping your moisturizer in the refrigerator for an added cooling effect.
The Best Moisturizers For Rosacea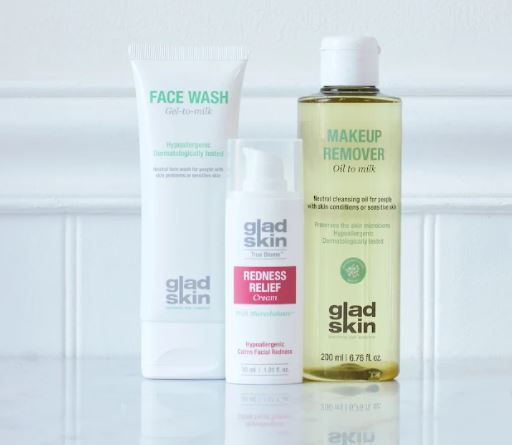 Gladskin Redness Relief Cream with Micreobalance® is different from other redness creams, bringing actual results without a prescription and restoring peace to your skin by restoring balance to your skin's microbiome. Gladskin's Makeup Remover and Facial Cleanser respect and protect this balance. All three are free of fragrances, preservatives, harsh soaps, and drying alcohols. Built with as minimal ingredients as possible to gently and effectively remove makeup, cleanse your face, and balance your skin microbiome.PRiME readers receive an additional 15% off the Gladskin Redness Relief Trio!
This daily facial moisturizer helps reduce the appearance of redness due to dry skin. It also helps to prevent sunburn because it has a built-in SPF of 20.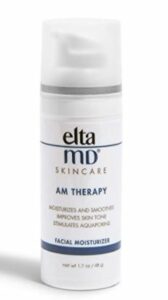 EltaMD AM Therapy moisturizes while it smoothes skin texture and evens skin color and tone. It stimulates the skin's natural water system to moisturize without oil or heavy emollients. AM Therapy is oil-free, fragrance-free, and noncomedogenic.
Weightless water-gel moisturizer hydrates dry, sensitive skin. Refreshing gel formula transforms into a skin-quenching fluid upon application, forming a weightless barrier against environmental assault.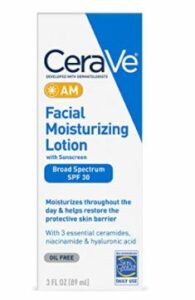 A micro-fine zinc oxide sunscreen for UVA/UVB protection. This CeraVe moisturizer with SPF is a hydrating facial lotion that spreads easily, is absorbed quickly, and leaves a non-greasy finish.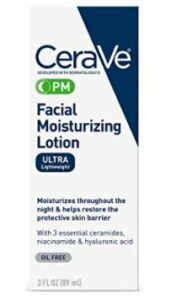 Use CeraVe PM facial lotion as the last step in an evening skincare routine. If layering with an eye cream, moisturizer, or facial serum, apply the CeraVe night lotion after other product applications have been fully absorbed.

La Roche-Posay Rosaliac AR Intense Hydrating Face Serum for Sensitive Skin is formulated with ingredients such as ambophenol, La Roche-Posay Thermal Spring Water, and light reflectors to soothe skin and help to visibly reduce the appearance of redness.

This moisturizer is clinically shown to reduce the appearance of facial redness. Caution: Some patients with sensitive skin may experience a temporary tingling sensation after application.

Oil-free EltaMD UV Elements facial sunscreen is a physical sunscreen in a tinted, moisturizing base. Zinc oxide and titanium dioxide provide mineral-based sun protection in a moisturizing and water-resistant formula.

Aveeno Ultra-Calming Daily Moisturizer with Broad Spectrum SPF 15 sunscreen instantly helps calm and soothe dry, sensitive skin. In just one week, this calming moisturizer rebalances dry skin and reduces the appearance of redness.

Enrich your complexion with Naturopathica's Calendula Essential Hydrating Cream. Crafted with premium ingredients like calendula and borage seed oil, this moisturizing face cream targets and corrects the symptoms of dry skin while soothing and conditioning irritation.
Skincare should be simple, but with different skin types and issues, it's challenging to know the correct steps to take. After all, we don't use the same products we did in our 20's, and most of us have incorporated extra skincare steps over the years. Are you guilty of making these common mature skin mistakes?
Read Next:
Prime Pick: Honest Beauty Hydrogel Cream
Your New Secret Anti-Aging Ingredient: Pumpkin Seed Oil
Prime Pick: Insiders Know-SK-II is the Luxury Anti-Aging Treatment