/*When you consider spring and summer fashion, one of the last things that jumps into mind might be blazers. They're safely compartmentalized into office wear, or autumn, plaid and pumpkins. However, blazers have become a must-have staple for any season. While we're sad to say goodbye to our houndstooths and tweeds of cooler months, we can (finally) celebrate the spring and summer by incorporating the lighter-textiled blazers into our spring and summer closet.
These Spring and Summer "Jackets" are Bursting with Femininity
Recently, the fashion-forward styles are statements of, and on, femininity. The silhouettes have become a bit softer, but still harken to the 80s, with strong shoulders that are far from boxy. Current styles elongate the body and create space at the waist. The colors are bright and cheerful. Other styles are relaxed as your favorite cardigan, in more of a men's wear cut, which helps disguise body shapes with a wider hip, or shorter torso.
One should consider having one of each in regular rotation. Your Saturday trips to the market is perfect for the relaxed style, where as the summer version of a pantsuit (shorts, instead of pants) is just dressy enough for soirees, especially when paired over one of the maxi dresses so on trend this season. Extra bonus: blazers pack easier than a true jacket, so it is much more reliable on vacations or weekend getaways, especially because of it's shape-shifting quality from dressed up to chilled out.
#ShopTheLook of our favorite women's blazers: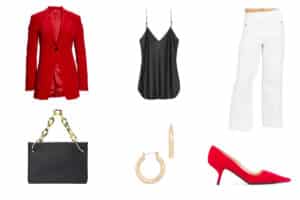 White Wide Legged Pants, $128 | Red Blazer, $376.80 | Red Heels, $756 (for less here) | Black Cami Top, $295 (for less here) | Black Clutch, $29.95 | Hoop Earrings, $29.50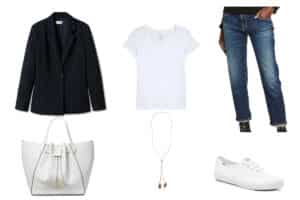 Navy Blazer, $79.99 | Boyfriend Jeans, $215 | White Keds, $49.99 | White Shirt, $19 | White Leather Bag, $358 | Gold Necklace, $48
Mint Blazer Short Set, $50.49 | White Heels, $100 | Crossbody Bag, $180 | Bracelet, $138 | White Blazer, $89.50 | White Cami Top, $16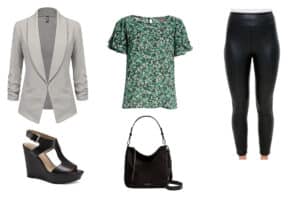 Grey Blazer, $24.95 | Black Leggings, $148 | Green Floral Blouse, $46.23 | Black Shoulder Bag, $148 | Black Wedges, $69.50