You've probably heard about blue light in recent years. Typically, we read about blue light and its effects on our eyes and our sleep patterns. Special glasses even exist these days for those of us who regularly spend full days sitting down with our computers, laptops, and other electronic devices to get our work done. We also spend hours on our smartphones in our spare time, scrolling social media or catching up on the latest news. Experts generally seem to agree that blue light may mess with our eyes. But what about our skin–does blue light have an impact on our skin?
Blue Light's Impact on Skin
Well, according to WebMD, the answer is yes. They cite research that has actually found that blue light may change our very cells. Since our skin is made up of millions of tiny cells, it, too, can be negatively impacted by the light emitted from smartphones and other electronic devices.
More specifically, WebMD points out that the damage happening to our cells pertains to shrinking and even cell death. That sounds kind of scary, but what exactly does it mean? Well, when cells shrink or even die, that can lead to early signs of the aging process. And you don't have to be plugged in to your computer for eight hours per day to experience these damaging effects. All it takes is just about one hour and your skin could already have sustained some damage.
That's not all. The report goes on to state that our skin's coloring might even be impacted by blue light. This could mean anything from excessive pigmentation to reddening skin and even a swollen appearance. Yikes!
Can You Protect Your Skin from Blue Light?
With all these potentially harmful effects of blue light, it can be tempting to avoid electronics altogether. However, that is just not possible for most of us in this day and age of rapidly advancing technology. As more of us are working remotely or simply spending more time at home these days, that translates into additional time spent in front of various blue-light emitting devices.
Before you decide to toss your smart phone though, read on. Fortunately, there are skincare options available that can help protect skin cells from further damage caused by blue light. We'll explore a few of these products that you may want to consider incorporating into your daily skincare regimen.
Derma E Blue Light Shield Concentrated Serum, $5.63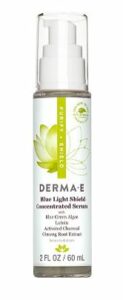 Ulta carries this serum from Derma E that helps with a number of skin concerns. When it comes to protecting against blue light, Lutein is at the forefront of this product. Applying this serum will help further protect your skin from pollutants and other irritants. It also helps to even out skin tone, giving you a more refreshed appearance. As if these benefits weren't enough, this serum packs in the moisturization with extract from red algae. It even incorporates activated charcoal to help clear out pores. Plus, this is a vegan and cruelty-free product. This serum is certainly a multi-tasking powerhouse!
Chantecaille Blue Light Protection Hyaluronic Serum, $150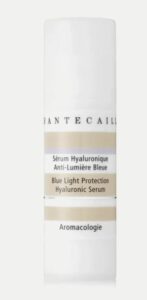 Another beneficial serum option comes from Chantecaille's line. This particular product features hyaluronic acid, an ingredient we all know and love. The addition of hyaluronic acid helps our skin stay hydrated and look rested. Extract from the Nasturtium flower is also blended in to the formula to help guard skin against the effects of blue light and the potentially harmful impact it can have on skin cells.
Volition Beauty Screen Time Hydrating Mist, $29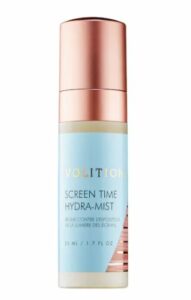 If you already have a trusted serum in your daily skincare routine and don't want to switch, don't fear. Volition Beauty has created a refreshing mist that will help fend off the potential damage caused by those blue light rays. This product is recommended on Sephora's website for those with dry skin, so it will be a perfect choice for the winter months especially. Simply mist it on and let its Marigold extract create a layer of defense before you head to work, whether you're commuting or just grabbing a cup of coffee and heading down the hallway to your home office. As a bonus, you'll also rest easy knowing the Indian Ginseng within this formula will help to create a healthy overall appearance. You'll be glowing, both from the hydration offered and from knowing you're helping protect your skin.
Blue Light Skincare Made Easy
While our electronic devices have the potential to wreak havoc on our skin cells, you can fight back with the right skincare products. As the saying goes, an ounce of prevention is worth a pound of cure. In this case, that saying is spot on. Take the time to try out one of these products to help ward off damaging blue light rays. You can even choose products with more than one benefit, ensuring your skincare regimen contains multi-tasking products for a more streamlined routine. Protecting your skin from blue light rays doesn't have to be unpleasant thanks to these options!