If you've looked in the mirror lately and have wondered where that youthful appearance went, you're not alone. But luckily, there are cosmetic treatments that can bring it back. Enter dermal fillers. They're affordable (compared to cosmetic surgery) and require little to no downtime. Here's everything you need to know about the best dermal fillers for women over 50.
Disclaimer: Quoting Billy Joel, I love you just the way you are. But if you're not happy with your appearance and want to make a change with dermal fillers, I'm with you. This post is not to tell you what to do with your body but to give you information and let you know there are choices out there. Of course, please consult your doctor, skin clinic, or dermatologist with questions or concerns.
First, What's a Dermal Filler?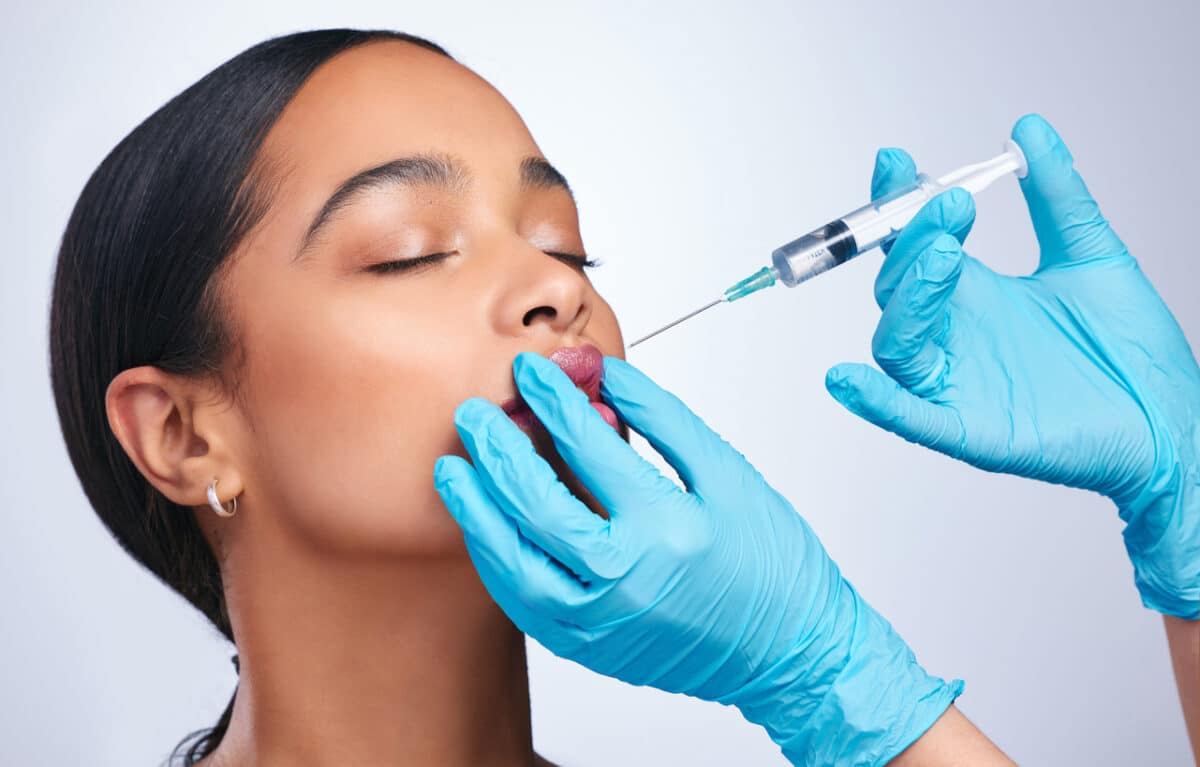 As we age, we lose elasticity due to a lack of collagen and volume in our face, both of which give us that "baby face" look that's so relatable to a youthful look. And instead of taut, smooth skin, we have wrinkles and sagging skin, especially in the middle and lower parts of our faces. Add in the fact that smoking and spending time out in the sun only makes them worse.
Dermal filler injections can help give us back the look we once had. They're used to give plumpness to our lips and cheeks, smooth out wrinkles (think cosmetic Facetune), and even add symmetry. Each uses chemical compounds that are naturally found in our bodies, making them a no-brainer way to boost our appearance.
The procedure usually takes an hour or less, and downtime is minimal, although there is some mild stinging when the injections are placed. Also, where the fillers are placed will determine how long they last. For example, lip fillers last much less than under-eye fillers as the lips have more movement.
Dermal Filler Side Effects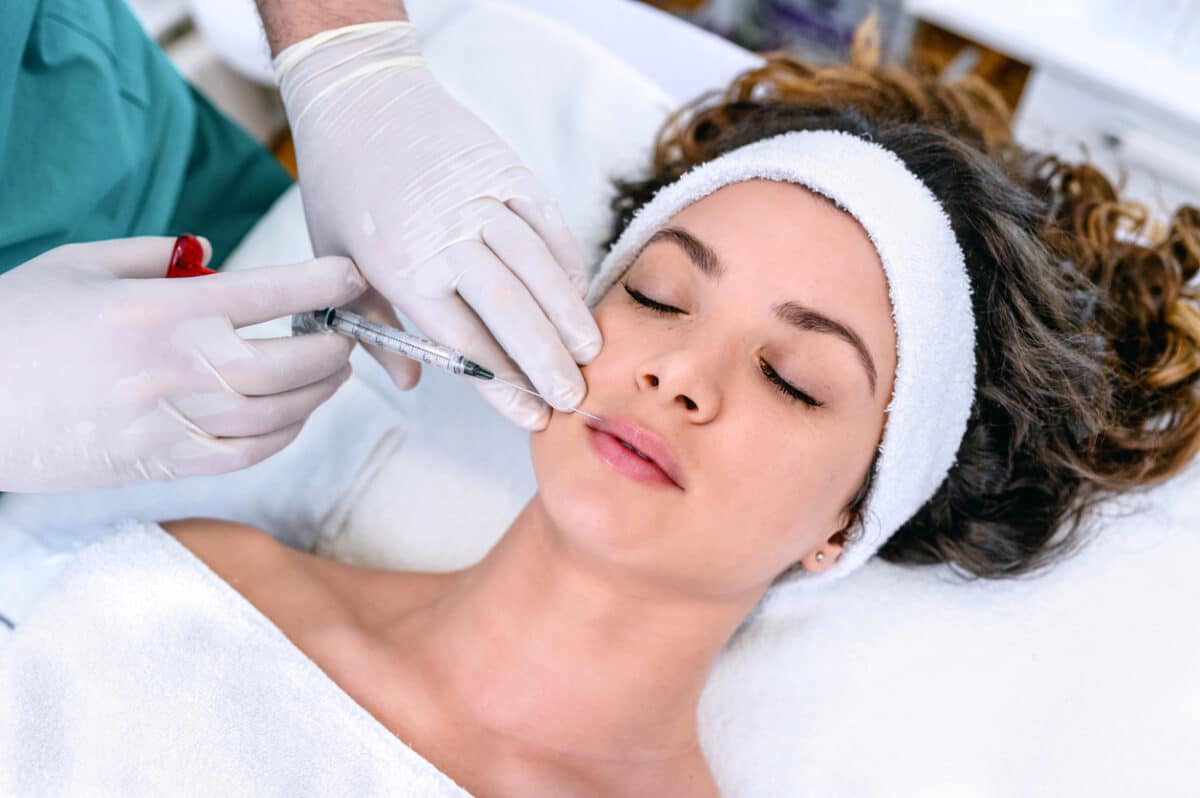 I can't write about dermal fillers' benefits without discussing the side effects. The most common are:
Bruising
Swelling
Minimal pain
Bleeding at the injection sites
Additionally, there are a few additional uncommon side effects to know before you dive into dermal fillers:
Scarring
Skin damage
Numbness
Bumps and lumps under the skin
Itching
Rash
Asymmetry
If you have a history of bleeding or bruising after a similar procedure, preexisting skin conditions, allergies, or neurologic problems, talk it out with your doctor beforehand.
Now that all of the science is out of the way let's get on to the four typical types of dermal fillers.
Calcium Hydroxylapatite Fillers
CaHA fillers last for about a year, which is good for those of us that don't want to make multiple visits to a dermatologist. They are made up of Calcium Hydroxylapatite, which commonly occurs in our bones.
Radiesse® is the brand name for CaHA fillers and is used for deep facial wrinkles, so this one's a great option to smooth them out.
Hyaluronic Acid Fillers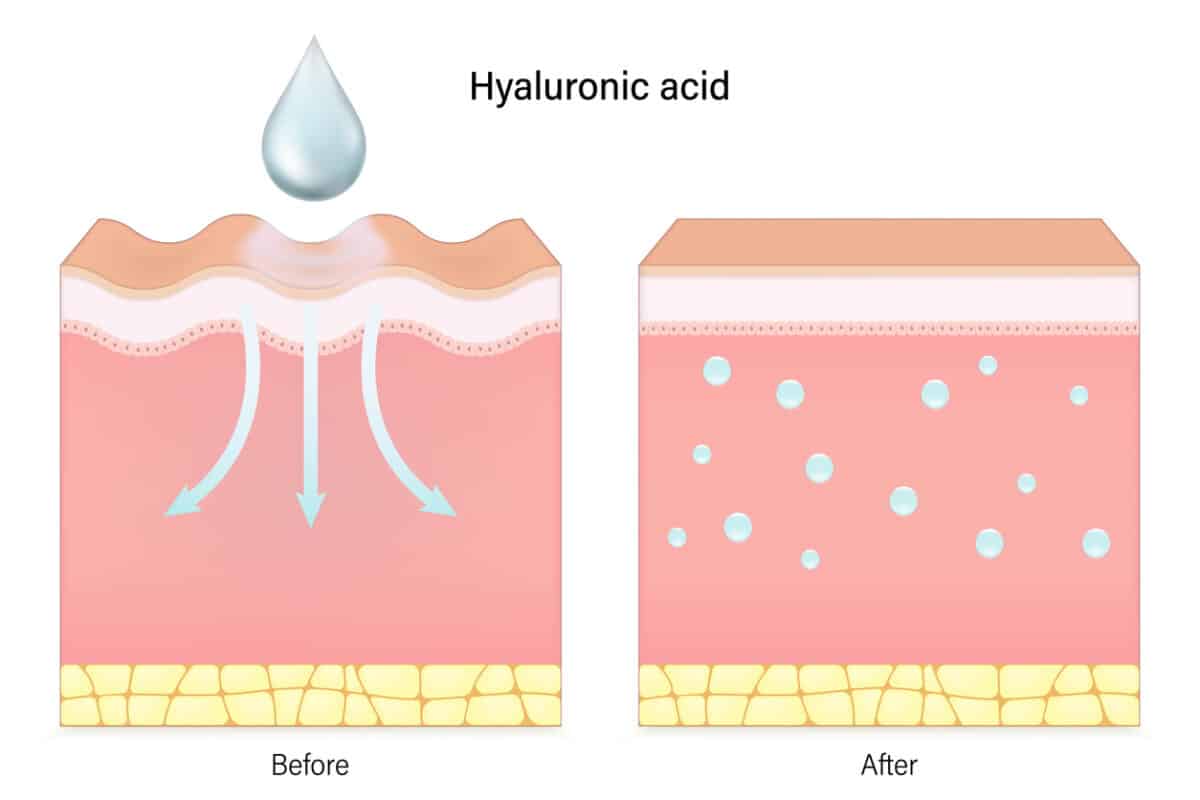 Naturally occurring in our skin, hyaluronic acid is common for giving us a more youthful appearance, and it's found in everything from cosmetics to skin creams and serums to even shampoo and conditioner.
Essentially, it keeps the skin hydrated and adds natural volume and plumpness by "popping" out wrinkles. Sadly, as we age, our bodies aren't keen on producing HA, so the lack of it causes wrinkles and sagginess.
One very common HA filler, Restylane, lasts anywhere from 6 to 12 months, depending on where it's injected.
Poly-L-lactic Acid Fillers
Poly-L-lactic acid, or PLLA, uses your body's chemistry to help make collagen. It's used for smoothing deeper wrinkles on your face, especially in the forehead.
The most common of the PLLA fillers is Sculptra—a biostimulatory filler that may last up to two years.
Polymethylmethacrylate Fillers
Lastly, there are the PMMA fillers. Consisting of collagen and teeny balls, it stays under the skin when injected. By doubling up on the types of filler, it gives the skin volume and the firmness we all desire.
Dermal Filler Cost
Okay, let's get the elephant in the room out of the way—how much do dermal fillers cost? The answer varies on which type of filler(s) you and your doctor feel is best for you and how much is injected.
To give you an average, dermal fillers generally cost anywhere between $600 and $1,250 per area, though location and the product used cause price variations.
And if you're wondering if Botox or dermal fillers are less expensive, it's Botox for the win – you're looking at $250 to $600 per area.
Read More:
What Are The Best Fillers For the Face