Whether you are still working, helping take care of your grandchildren, or just taking advantage of your retirement, there are times when you will find yourself stressed and need to relax and unwind. One of the best ways to help stave off stress or just to help your body and mind to relax is by taking the time to pamper yourself once in a while. Since you can't take care of others properly until you take care of yourself, try the ten tips and products below to enjoy some comfort and pamper yourself.
1. Enjoy a Relaxing Massage
Whether you have sore muscles or joints, carry your stress in your shoulders, or just want to take some time to relax your body and your mind, a calming massage can definitely do the trick. If you have the means, you might enjoy a massage at your local spa, where they create a tranquil mood and are trained to address your needs. If not, consider asking your partner to pamper you for the evening with a back rub and foot massage. Take the time to create a relaxing environment even if you are at home.
2. Take a Relaxing Bath With Soothing Bath Salts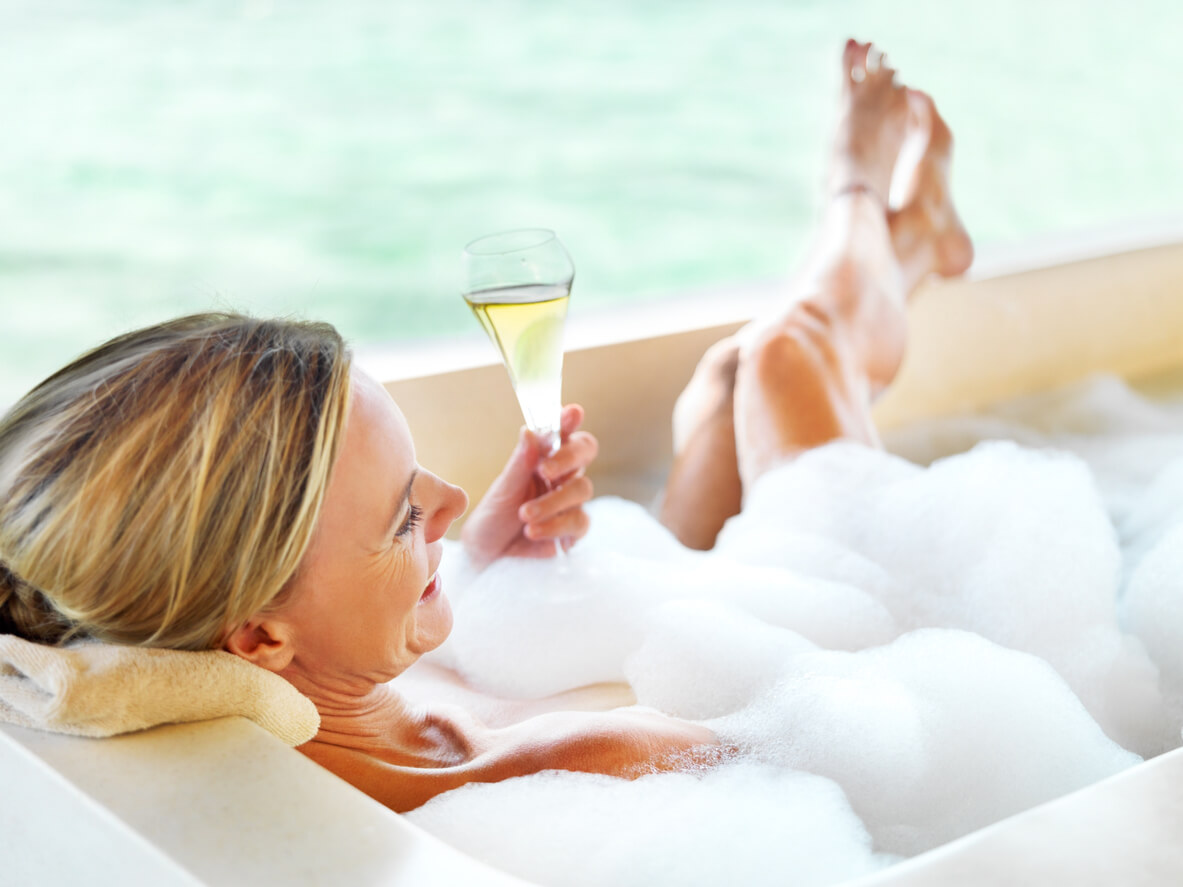 Sometimes pampering yourself is as simple as taking a long, relaxing, uninterrupted soak in the tub. Add some bubbles and Herbivore Botanical Bath Salts to your water. Their "Calm" product is mixed with ylang-ylang and vanilla that can produce relaxing scents for your mind and beautiful soft skin on your body. The bath salts are from the Dead Sea and can be the perfect thing to splurge on when looking for a de-stressor.
3. Give Yourself a Revitalizing Facial
If a facial helps you relax, but you hate to head to the salon, you can pamper your skin right at home with your very own mini facial. Start by relaxing your facial muscles through 10 minutes of meditation or relaxation techniques. Once relaxed, create your own spa-level facial steam with a Nano Ionic Facial Steamer.
Next, tuck yourself in and apply the Estee Lauder Night Repair Concentrated Recovery Powerfoil Sheet Mask. When used weekly, this mask is a treat and will give your skin a visible shine that leaves you feeling (and looking) rejuvenated.
4. Relax While Enjoying a Fresh Scented Candle
Pampering yourself can be as simple as relaxing and doing nothing while enjoying the scent of an aromatherapy candle while allowing your mind to wander. Consider enjoying the aromas of a Craft & Kin White Sage Candle, which is infused with calming and relaxing notes of white sage that will help you relax, soothe, restore, and balance your body and mind.
Another good choice is the Aromatherapy Associates Relax Candle, which is infused with West Indian bay and myrrh essential oils. The calming aroma is great when you are looking for a bit of rest.
5. Enjoy a Book You Always Wanted to Read
Pampering yourself sometimes means taking some time for activities you can't normally do because of a lack of time. This may mean taking time to read that book you have heard so much about, catch up on your favorite magazine, or maybe even take some time to journal your thoughts. Remember pampering should help your mind relax, and sometimes releasing the creative mind can do the trick.
6. Get Dressed to the Nines for a Date Night
As dress codes become more casual, you may find that the need to dress up is rare, but that is half the fun of enjoying an evening out. Plan a date night or an evening with a friend that allows you to dress up and do your hair, nails, and makeup. Don't be shy – go all out even if you feel you may be a little overdressed. You may be surprised how the simple act of taking the time to get ready for an evening out can lift your spirits and feel a little like an indulgence.
7. Enjoy a Cup of Tea on the Porch
Take in some fresh air or enjoy the calming sounds of nature by enjoying a cup of your favorite tea either on your porch or your favorite outdoor getaway. Indulge your sweet tooth by enjoying a delightful dessert tea. Republic of Tea's Strawberry Cuppa Chocolate Tea is a delicious drink designed to reduce stress hormones and also has the added benefit of reducing hunger cravings. It can make the perfect addition with a small piece of dessert or as a dessert by itself.
8. Indulge in Your Favorite Dessert
Pampering yourself is all about splurging once in a while, and there is no better way to treat yourself than by enjoying your favorite dessert. This could mean a simple trip to your grocery store, a stop at your local ice cream shop, or going to your favorite restaurant to enjoy a bite of the dessert you can't live without. Make a date night out of it, but eat light, so you have plenty of room to enjoy one or more dessert offerings.
9. Go for a Mani-Pedi
One of the most tried and true ways to make you feel a little pampered is by stopping at your favorite spa or nail salon for a mani-pedi. Make sure you opt for the establishment's deluxe options to enjoy the full experience, including an extended foot and hand massage and moisturizer treatments. Also, plan enough time so you can fully relax and enjoy the experience.
10. Snuggle Up With a Loved One for a Night In
Whether that guilty pleasure is a special movie or your top craving for delivery, you can pamper yourself with a relaxing night, enjoying what you like with someone you care about. Order in your favorite takeout, lower the lights, and snuggle up as you watch a movie or binge-watch a series. Remember the popcorn and remove any distractions, such as phones, so you can truly enjoy an evening alone together.
Whether you want to go all out with a spa day or relax at home with a good book and a fragrant candle, taking the time to relax, unwind and pamper yourself is a vital component in having the energy and drive to tackle your to-do lists. Try some of the tips above or come up with your own customized pampering routine, but always make sure you take the proper time to take care of yourself.
Read Next:
Gift Guide: The Best Gifts For Yourself