Look Decades Younger in 5 Days!Hairstyles That Make You Look Younger!Lifestyle Changes That Will Take Years Off Your Looks!How to Look Younger Than Your Age!
As women over 50 living in the internet age, we are inundated with titles like these on a daily basis, and I admit. I often click on them. Sometimes, I even publish them. But recently it occurred to me, maybe we are burying the lead. Maybe the story isn't how to LOOK younger than your age (in minutes!) but how to FEEL better.
I have nothing against my age. I have accomplished it by opening my eyes each morning and finding myself still here. So I continue to breathe in and out each day and try to cut myself some slack here and there. We are never going to feel great about how we look as we age if we are always glancing in the rearview mirror or at the unlined, airbrushed faces of celebrities and supermodels. By the way – doesn't it drive you crazy when you see an ad for Botox or an anti-wrinkle treatment and the featured photo is a flawless 20-something? Do advertisers not realize it makes us see red?
We are not going to turn back the clock with any miracle cream, pill or jade egg. I don't care what goop tells you. Even surgical interventions are limited in what they accomplish toward making you look younger. But what they seem to do successfully is make you FEEL better.
Here's a crazy thought. What if, instead of focusing on the "how to look younger than your age" part – we concentrated on simply feeling good? By extension, we would probably look and feel younger anyway.
For some of us, feeling good might mean using creams and moisturizers on our skin. Why not? As we age, we produce fewer natural oils, have suffered some degree of sun damage and experience decreased cell renewal. All of which leads to dry, rough skin. We all feel better when we are soft and smooth and un-sandpaper-like, right?
For others, feeling good may come with sensible health habits like drinking more water, getting enough sleep, staying physically active and connecting to friends and community.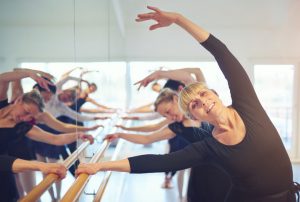 Still others may feel good as they challenge their minds by going back to school, learning a new hobby or craft, a new sport, or even a new language. An article from the Harvard Medical School says, "Challenging your brain with mental exercise is believed to activate processes that help maintain individual brain cells and stimulate communication among them."
Over the past year and a half, as I've worked with our contributing editors and seen what resonates with our readers, a pattern has emerged. Articles about seeking or finding happiness are of the utmost interest. Is that because, as "women of a certain age" we are told more and more by society that we are becoming irrelevant – and therefore, find happiness with our lives and our bodies more elusive than ever? Seems likely.
Sure, some of us have more leisure time and are looking forward to traveling and reaping the benefits of our hard work, but it's not all a bed of roses out there.
We face more challenges than ever these days, with career trajectories (either redefining our role or wrapping up), physical changes (hot flashes, vision, hearing, arthritis, general aches and pains), and becoming an empty nester or taking on the responsibility of aging or chronically ill parents. Straining to meet the demands of those around us can be a real mental and physical drain.
So, is the question of how to look younger than your age the key to what ails us? Is it going to increase our life satisfaction, solve all our problems and send us skipping down the lane whistling a happy tune? Most likely not. But taking care of ourselves, prioritizing some "me time" and recharging our mental and physical batteries can go a long way toward instilling a sense of well-being.
And hey, if relaxing while an aesthetician applies lash extensions, or enjoying an hour long facial is the thing that results in a younger looking or rejuvenated you – go for it. If what floats your boat is reading a trashy novel, or meditating, or going to a hot yoga class, then namaste away.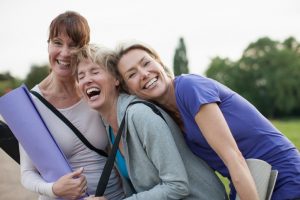 For me, what feels good is laughter, being with friends, doing something that scares me, watching a sunset and sipping Chardonnay, petting my dogs, or opening the dishwasher and finding my husband has already unloaded the clean dishes.
Insert contented sigh.
Believe me, NOT unloading dishes makes me feel YEARS younger.
Do what makes YOU feel better – inside and out. I guarantee you will FEEL (and look) younger for it.