If ever there were an argument for developing stasis pods to sleep through a rough patch, the years of perimenopause and through the menopause transition are about as convincing as it gets.
Hot (and cold!) flashes, anxiety, fatigue, lack of sexual desire, incontinence – while not all symptoms happen to all women or happen to the same degree, it's a rare woman whose periods just stop without other indications of "the change."
Further, because each woman's experience of menopause is as unique as she is, one-size-fits-all (or in fact anyone) solutions are pretty thin on the ground.
Still, lives have to be lived, work needs to be done, children and aging parents need attention and care, and frankly, we deserve to enjoy all the pleasures of life fully and without pain, discomfort, or embarrassment.
So….
Where can we look for relief?
Technology and tech innovators are really stepping up to fill the gaps in menopause symptom relief. Often referred to as "FemTech," a term coined by Ida Tin, founder of the fertility and period tracking app Clue, technology that helps women with specifically female issues can make life a whole lot better.
To get more information, I went to Nicole Dahlstrom, leader, speaker, and FemTech expert. Nicole supports a global community of female health innovators through organizing unique events, showcasing new products and services, and connecting to a network of partners. As the founder of FemTech Collective and the Bay Area ambassador to Women of Wearables, she has an eye on what's here already and what's coming up.
Many of the new technologies that are available or will be soon have real promise: not only can they aid in relieving symptoms, but they are personal, private, customizable, and often seriously fricking cool. Here are some of the things to be looking for now or soon:
Hot Flashes/Cold Flashes
Problem:
If you have hot or cold flashes (or best of all, one immediately followed by the other), you know how disruptive they can be. Hot flashes are one of the most common menopause symptoms, and one of the most public – a discreet, effective, and fast solution for these would be lovely, thank you.
Solution: Embr Wave Bracelet sits on an area of the body where lots of temperature-sensitive nerve endings reside – your wrist. When the wearer feels cold or feels a flash starting, she or he hits the button for quick relief. The Embr Wave uses thermal waveforms to trigger those nerve endings, so they'll activate your brain to regulate your body's temperature response. The makers compare it to wrapping cold hands around a hot cup of tea, only "supercharged."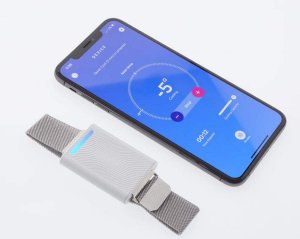 An accompanying smartphone app gives wearers of the Embr Wave even more control, allowing them to switch from a 3-minute quick fix to a 30-minute extended mode, to a "Fall Asleep" mode. It's fashionable, discreet, and a charge can last 2-3 days. Jill Angelo, CEO of the online menopause clinic genneve, wore it for a conference and was impressed by the effectiveness of the device. "Conference venues are usually kept really chilly, which can be a problem for women. The Embr Wave kept me comfortably warm throughout the event." Cost: $299 US.
Solution to keep an eye on: the Grace. This cooling device is also worn on the wrist, but the Grace is designed to be fully automated. With an array of sensors, the Grace tracks the wearer throughout the day and night, recognizes the signs that a hot flash is imminent, and nips the flash in the bud with localized cooling of the wrist. It can also be worn at night as defense against night sweats. The smart phone GraceApp helps the wearer better understand her hot flashes and perhaps even begin to identify triggers. Still in development, the Grace is not yet available, but it's a good one to look out for.
Continence/Healthy Pelvic Floor
Problem:
Menopause, multiple vaginal births, chronic constipation, all of these can weaken pelvic floor muscles, resulting in urinary incontinence and sometimes even pelvic organ prolapse.
A weakened pelvic floor can mean peeing yourself a little when exercising, laughing, or for-crying-out-loud just sneezing. Little dampens our enthusiasm (pun sort of intended) for a fun night out with pals or a hot date more than worry over wetting our pants.
We're all familiar with Kegels, those interior exercises we should be doing as we sit at our desks or read on the bus. And Kegels, done right, are really good for helping avoid or reverse incontinence. The problem is knowing how to do Kegels correctly – are we squeezing enough (and are we relaxing enough)? Are we targeting the right muscles?
Solution: the Elvie Trainer teaches you how to do Kegels correctly and actually makes it fun. You insert the device vaginally, fire up the app on your smartphone, and follow the workouts. The app visualizes their muscle movements, guides them through five-minute Kegel workouts, and tracks their progress over time. Elvie Trainer's force and motion sensors measure pelvic floor muscle contraction and relaxation. The app allows the user to visualize the exercises in real time and tells her if she's contracting incorrectly. There are even games to play. Results in less than four weeks, says their website, and those results can include better bladder control, quicker post-baby recovery, and "enhanced intimacy" which is a polite way of saying "stronger orgasms." $199 US.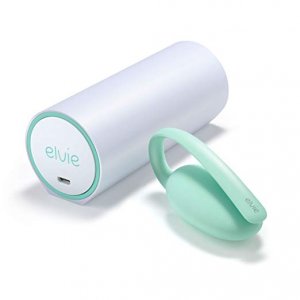 Solution:Carin
. This three-part system consists of underwear with "smart textiles" to keep you dry and free from embarrassment. Second, a special Bluetooth sensor snaps in to the underwear and monitors activity and urine loss during the day. And third, the app uses the wearer's specific information to recommend and demonstrate exercises she can use to resolve her incontinence. The sensor is used once a week to track progress, so the wearer gets new and different exercise recommendations based on her improvement. Carin promises results with just 10 minutes of exercises a day. The system – which comes from the Netherlands and consists of pants, sensor, and all the benefits of the app – costs €149, with additional underwear at €25 per pair.
Fitness
Exercising regularly is good for so many things: our hearts, our bones, our brains, our moods. We know it makes us feel better, and done right, it's certainly very good for midlife bodies.
Problem: Despite all its benefits, it can be hard to convince ourselves to "get 'er done" when we're dealing with fatigue, irregular or heavy periods, migraines, and so on.
Solution: Excy. What if exercise could come to you? And travel with you? The Excy combines a lot of things that benefit women in midlife: a recumbent bike for cardio training, upper body ergometer for strength, resistance training to reduce impact on the joints while still putting healthy stress on bones and muscles, an app-based guided coaching and training program, and the versatility and portability to be all you need whenever and wherever you need it. You can get the benefits of exercise while sitting at your desk or watching TV, so there's no need to go to the gym. It's great for women who may have limited mobility, and its small footprint mean we can use it in a small space like a hotel room or even on the couch. It eliminates so many of our barriers to exercise, it'll pay for itself quickly in unused gym fees. Cost: $699 – $1199.
Sexual Function
Before you say it, yes, there's an app for that.
Problem: A low or non-existent libido is all-too-common in midlife women, and the stress of wanting to want but not wanting can really take a toll on our relationships, our self-confidence, even our health.
Solution: Meet Rosy. The Rosy app was designed by doctors and psychologists specifically to help women who aren't content with their level of sexual desire. The app provides educational videos for women to understand the nature of desire (and reasons for the lack of it); sexy short stories to provide … let's call it "inspiration," and guided sessions to teach women and couples how to unlock desire and pleasure. Rosy also comes with a wealth of evidence-based resources proven to help revive a limp libido. Cost: the app itself is free. To gain access to all Rosy's resources costs $9.99 a month; a 6-month subscription is $49.99.
Anxiety and Depression
Perhaps one of the most important and least discussed aspects of a hormonal transition period like menopause is its impact on our mental and emotional health.
Problem: Anxiety, depression, even suicidal ideation aren't that uncommon among women in midlife, but the shame and stigma associated with menopause and mental illness can mean women just aren't seeking or finding the help they need.
Solution: Personal Zen. Designed based on clinical and neuroscience research, the Personal Zen app helps your brain learn to refocus on the positive and release its hypervigilance on the negative. You can use it in the moment to help reduce anxiety before a scary event like public speaking or your annual review, or use it regularly to build up "stress resilience." While it's not specifically designed for women in midlife, many have found it useful, and the immediacy and portability of having it as a game on your phone makes it effective and very easy to use. While Personal Zen is great and effective, it shouldn't be regarded as a replacement for professional care – it's meant for those with mild or moderate stress and anxiety levels and/or as a complement to any professional care you may be receiving. Cost: Free.
While technology may not solve every problem, it can make life easier and healthier in many ways. It's confidential, relatively un-invasive, usually portable, and surprisingly effective. And technology often learns. As it tracks user progress, gathering data, the tech can get smarter, more responsive, more personalized, and hopefully, cheaper.
And perhaps the best news is women's health and menopause specifically are finally getting attention and innovation – often by women, for women – so keep an eye out for more yet to come.
Read Next:
Vaginal, Sexual & Urinary Symptoms Of Menopause: What You Need To Know
Estrogen, Menopause, And The Risk Of Alzheimer's