Yoga has gained immense popularity among women in their prime as it provides a harmonious balance between physical and mental wellness. Yoga retreats are an ideal escape for anyone seeking relaxation and rejuvenation.
"A yoga retreat is a relationship with the Self," according to Jenna Pfingston, Embodiment Coach, E-RYT 500 Yoga Teacher, Primal Medicine Guide, and owner of jalaBlu Collective Healing & jala Blue School of Yoga in Buena Vista, Colorado. She has held retreats since 2012 and also hosts yoga retreats in Uvita, Costa Rica (see details below).
Pfingston says, "A yoga retreat can be a powerful portal into self-transformation, compassion, inspiration, and great awakenings. I believe that souls searching for a yoga retreat are seeking a deeper connection to their personal journey."
How to Choose the Perfect Yoga Retreat for you?
With so many yoga retreats and so little time, how do you choose the perfect one for you? Whether you're a beginner or advanced lover of yoga, taking the time to search for that ideal yoga retreat is a high priority.
For the past five years, Certified Yoga Therapist Amber Newberry has facilitated an annual yoga retreat, Shalom, at La Foret in Colorado Springs (see details below).
Newberry suggests asking yourself these questions when looking for your perfect yoga retreat:
Are you only able to spend a night or two away? Then look for a local yoga retreat.
Do you want to be outside in nature or mostly inside?
Are you looking for an adventure? Then maybe a retreat out of the country would be amazing for you.
Are you an advanced yogi? Then find an instructor who tells you you will be challenged at their retreat.
Are you a brand-new beginner? Then retreats focused more on body connecting and resetting might be better for you.
Look at the cost. If your budget is limited, a rustic retreat might be right for you. If money is no object, find a retreat with a private room and gourmet cuisine if that is something you like.
Review pictures from past retreats to get an idea of what a certain yoga retreat might look like. What is the general age and fitness of the attendees? Does that match what you are looking for?
Some yoga retreats include a spiritual component. If you want that, look for more information on the retreat page.
Finding a yoga instructor online who you connect with spiritually is another way to find retreats that suit you.
What style of yoga do they offer?
The founder and CEO of Yogi Flight School and co-founder and CEO of SoulTribe Adventures, Nathania Stambouli, MA, E-RYT 500, has led 26 international retreats with her life and retreat partner Gary Leake. She offers the following additional tips to find your perfect yoga retreat.
All yoga is not created equal! Retreats typically will include one (or more) styles of yoga, but it's important to know what they offer before you sign up. Not all yoga is appropriate for everybody. If working with injuries or health conditions, gentle yoga may be more appropriate than power vinyasa.
Make a note of the style(s) of yoga offered by the retreat to ensure it's a style you want to learn or practice! If unfamiliar with their style, drop them a line to ask for more info or check out videos of the style on YouTube.
How deep do you want to go?
"A retreat is an amazing opportunity to get away from the grind and do deeper work on yourself," according to Stambouli. "You may also find answers to questions that may be heavy on your heart, get inspired to change directions in your personal life or career – and a whole lot more."
Retreats are typically set up with a theme or goal in mind. Make sure the retreat's vision matches yours! Looking at the retreat's itinerary is one of the best ways to ensure the trip is your jam.
Looking for a deeply transformational experience that will send you home feeling empowered, fully expressed, and free? A quiet retreat with only one yoga class per day and lots of downtime may not be the best way to reach that goal. It may be more impactful to join a retreat with built-in personal development workshops or other opportunities to dig deep.
On the other hand, just want to chill and relax? Don't choose a retreat that has you hiking to the top of a mountain in the middle of the night.
1. Himalayan Institute, Personal Yoga Retreat, Honesdale, Pennsylvania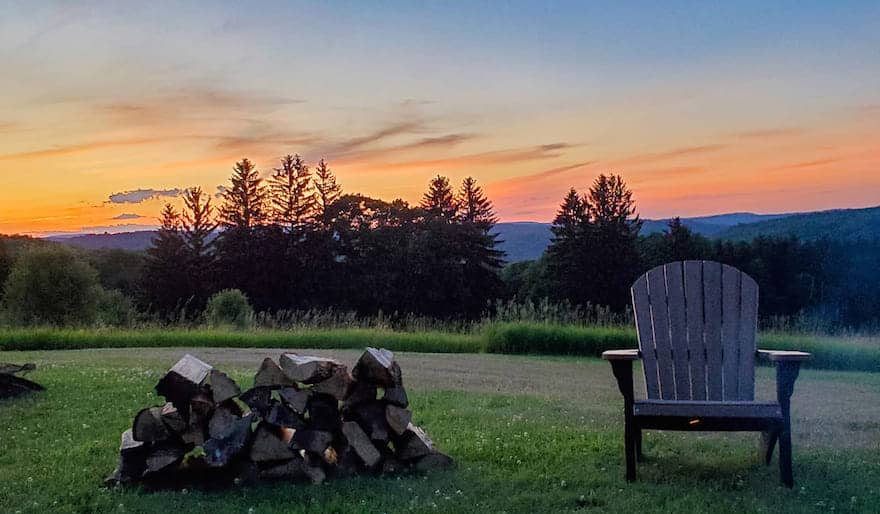 Founder and lead trainer for an international Online Yoga School, Steph Ball-Mitchell, with an M.A. in Counseling, personally attends at least one yoga retreat annually. She recommends the Himalayan Institute's Retreat Center as its 400-acre campus in the rolling hills of the Poconos "gives space for you to retreat within and deepen your practice."
She reports that she and her daughters have gone here many times and consistently experience some type of growth and revelation on these sacred grounds. They also like the convenience of scheduling anytime year-round.
Lieu Dang, Marketing Project Manager at Ling App, looks forward to her daily yoga morning routine and attends yoga retreats. She adds that the Himalayan Institute offers beginner-friendly yoga retreats, affordable and accessible to all.
2. Kripalu Center for Yoga & Health, Stockbridge, Massachusetts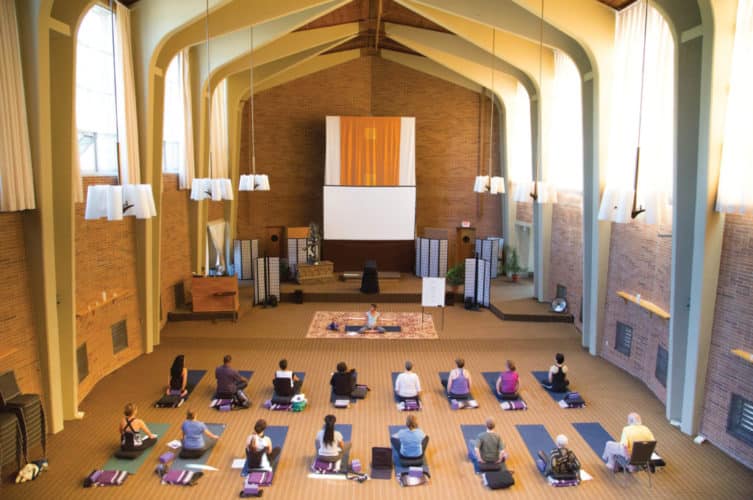 For a mix of skill levels, Dang recommends the Kripalu Center for Yoga & Health, located 2 ½ hours north of New York City in the scenic Berkshires of western Massachusetts, the largest yoga-based retreat in North America. These retreats offer a unique blend of physical and meditative practices to cater to all levels of yogis.
The self-guided healthy and yoga retreat includes daily classes and workshops—including yoga, dance, movement, Ayurveda, and more, as well as three daily all-natural meals. This center also offers online yoga options and healthy recipes. Rates vary depending on the season and length of stay.
As a wellness-oriented travel enthusiast featured in New York Times, MSNBC, and Chicago Tribune, Emily Grant, founder of digitaltravelerblog.com, also recommends Kripalu Center. "With its supportive community and high-quality instruction, it is an ideal destination for women aged 50 and over wanting to deepen their yoga practice. The center is also known for breathtaking views of the countryside and budget-friendly accommodation options."
3. The Farmhouse at Veritas Retreat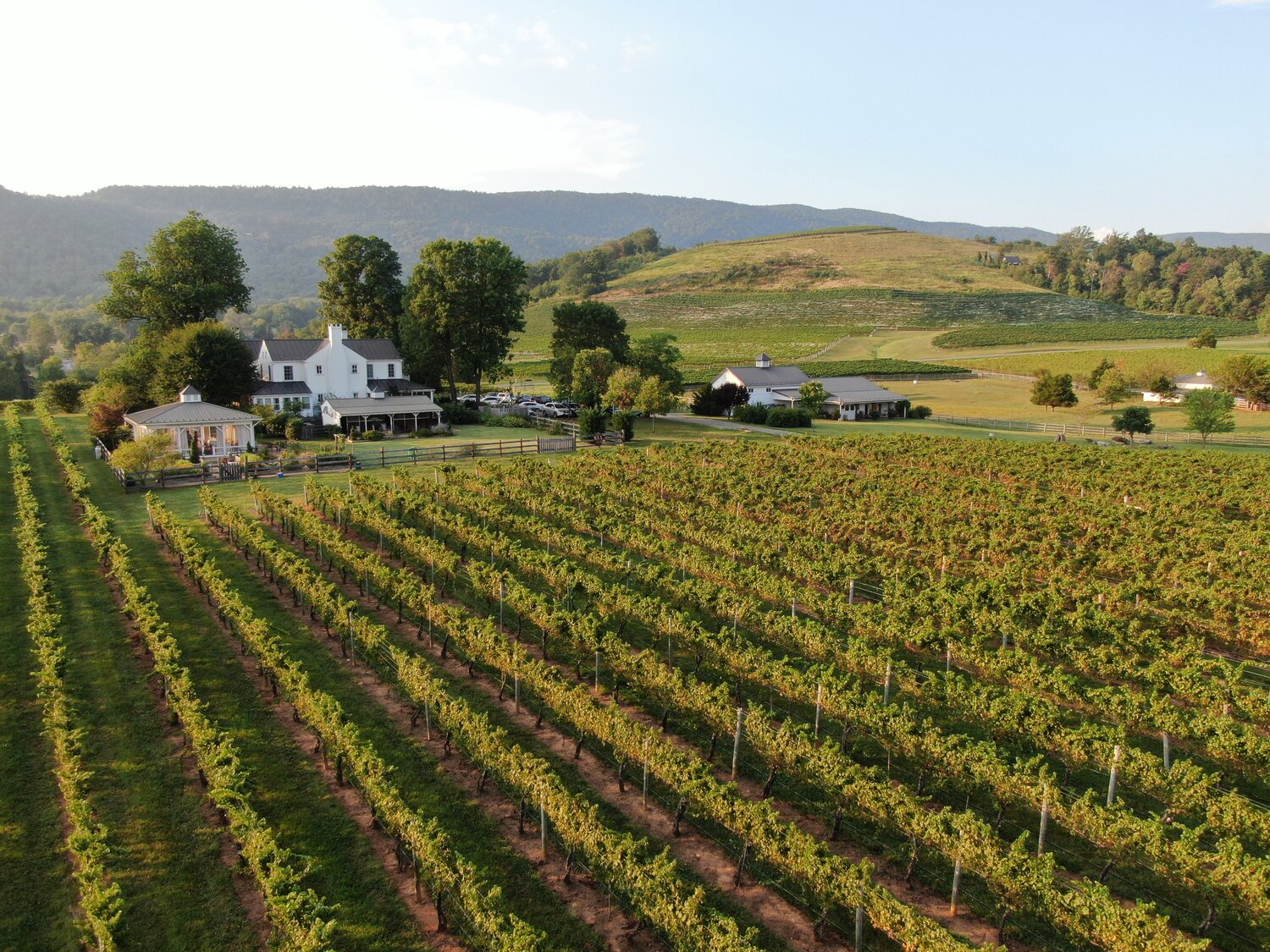 For an intimate yoga retreat, consider the Farmhouse at Veritas, a 6-bedroom inn located in Afton, Virginia, at the base of the Blue Ridge Mountains in the heart of Monticello Wine Region, approximately one hour west of Richmond.
With a focus on fine dining, wine appreciation, and yoga practice, this comprehensive four-day retreat appeals to all the senses providing restoration and renewal. This four-day retreat with a flexible agenda is ideal for small groups, longtime friends reconnecting, mother/daughter getaways, or couples.
The flexible agendas feature the ability to tailor the experience to our guests' preferences, led and organized by trained and licensed yoga teachers. This intimate retreat balances the indulgences of food and wine with the healing and restorative nature of yoga practice. A true connection to all five senses leaves guests rejuvenated.
Hike the Blue Ridge, practice yoga, tour the vineyard and wine cellars at Veritas Winery, and savor chef-prepared cuisine. The retreat is all-inclusive, but there is the option to add massage to your experience. This retreat is $2,250 per room, all-inclusive.
4. The Art of Living Retreat Center, Boone, North Carolina
For those on a journey toward greater self-awareness and happiness, consider the Art of Living Retreat Center in Boone, North Carolina. This retreat offers nourishing support and thoughtful space to discover peace, transformation, and a deeper connection with themselves and others. The relaxing 380-acre mountaintop location in the Blue Ridge Mountains, two hours from Charlotte, offers wellness adventurers day or overnight programs perfect for those hoping to cultivate rejuvenation and inner growth.
The Art of Living Retreat Center features an onsite Shankara Ayurveda Spa providing a nurturing environment and service-oriented, educated therapists. Stay at their lovely boutique hotel with three spa suites, 27 hotel rooms, and 300 retreat rooms, vegetarian dining, an alcohol-free environment, as well as wellness and fitness activities.
5. CIVANA Wellness Resort & Spa – Carefree, AZ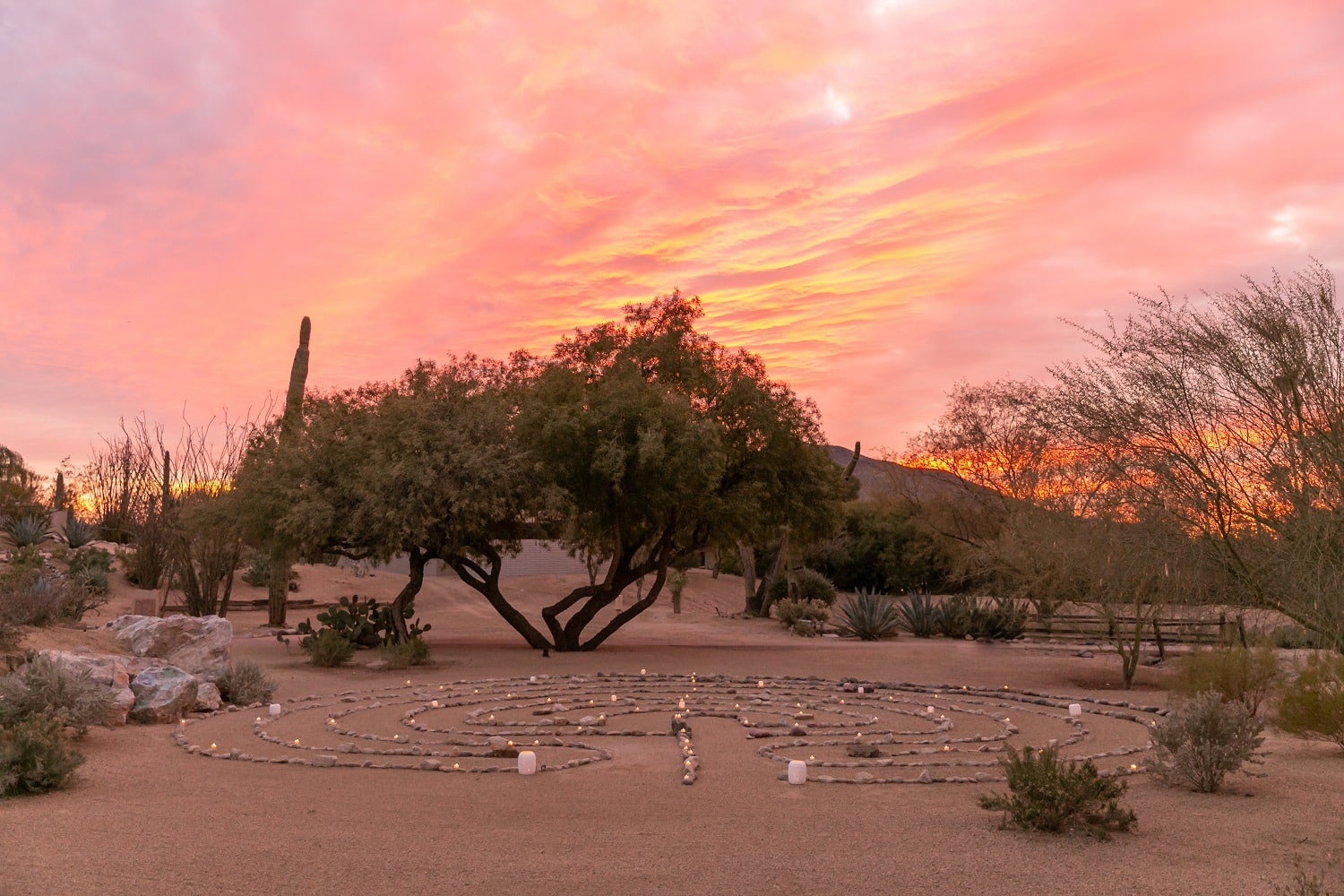 Settle into the desert with a revitalizing yoga retreat nestled high in the Sonoran Desert, just outside Scottsdale, at CIVANA Wellness Resort and Spa. Inspired by Deepak Chopra's bestselling book, Perfect Health, this five-night retreat is at the "playground of wellbeing" in the Sonoran Desert that practices the centuries-old healing method of Ayurveda. The retreat is currently offered twice monthly.
CIVANA's beloved Chopra Health Retreats focus on teaching the centuries-old healing method of Ayurveda. Through daily spa experiences, including personalized massages, meditation and yoga, educational sessions, workshops, and a multi-step detoxification process to aid in the release of toxins, guests will learn how to take a life-changing, well-rounded approach to well-being that will last long after the retreat is over.
The resort's latest, Find Your Flow, a Yoga Retreat, invites guests to discover and redefine their edge through breath, yoga, and meditation with a transformative wellness retreat led by Aubrey Gibson.
The Chopra Retreat includes a five-night stay at CIVANA, three chef-driven meals daily, twice daily meditation and yoga with access to wellness classes and spa amenities, and so much more. CIVANA guests can enjoy a la carte spa experiences like the Revive to Thrive massage or the Pure Radiance facial.
6. Mii Amo, Sedona, Arizona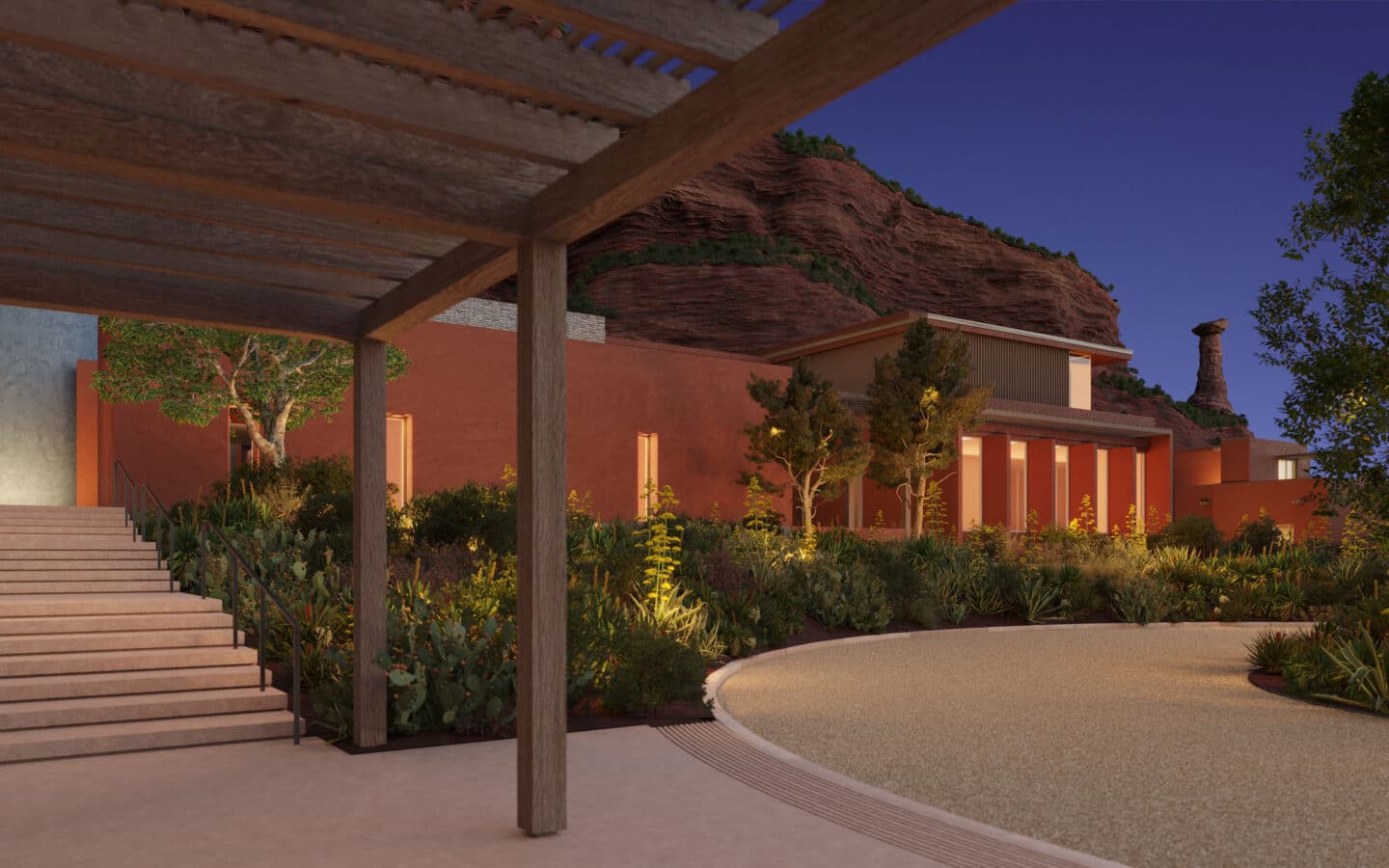 Mii Amo is a luxury spa and wellness resort that offers yoga and wellness programs in the beautiful surroundings of Sedona, Arizona, surrounded by towering red rocks. Shaded by cottonwood trees arranged within a courtyard, Mii Amo offers accommodations in 16 Casitas; all include fireplaces, private outdoor spaces, and heated bathroom floors.
This retreat is one of the top yoga retreats because it offers a range of classes, including vinyasa, restorative, and meditation, as well as a variety of wellness programs that focus on holistic health and well-being. The resort is located in a stunning natural setting, providing guests with a peaceful and rejuvenating environment.
7. Deepening Shakti, Aspen, Colorado
Deepen your connection to the Shakti inside you with a yoga retreat at Deepening Shakti, Aspen, Colorado. In Hinduism, "Shakti" is the essence of vibrant health, feeling good in your own skin, and feeling that your life has meaning, value, and joy.
Expect cooking demonstrations and healthy meal prep, sisterhood, powerful embodied practice, and a total mind, body, and spirit reboot. This multi-day retreat experience is devoted to increasing Shakti in every aspect of life for those who choose to join.
Participate in twice daily movement classes (yoga, dance, meditation), sound baths, guided rituals, time outdoors to connect with nature, a fire/water ceremony, and a specially curated welcome gift.
Other Deepening Shakti retreats are located in Austin, Texas, and Todos Santos, Mexico.
8. Drala Mountain Center, Red Feather Lakes, Colorado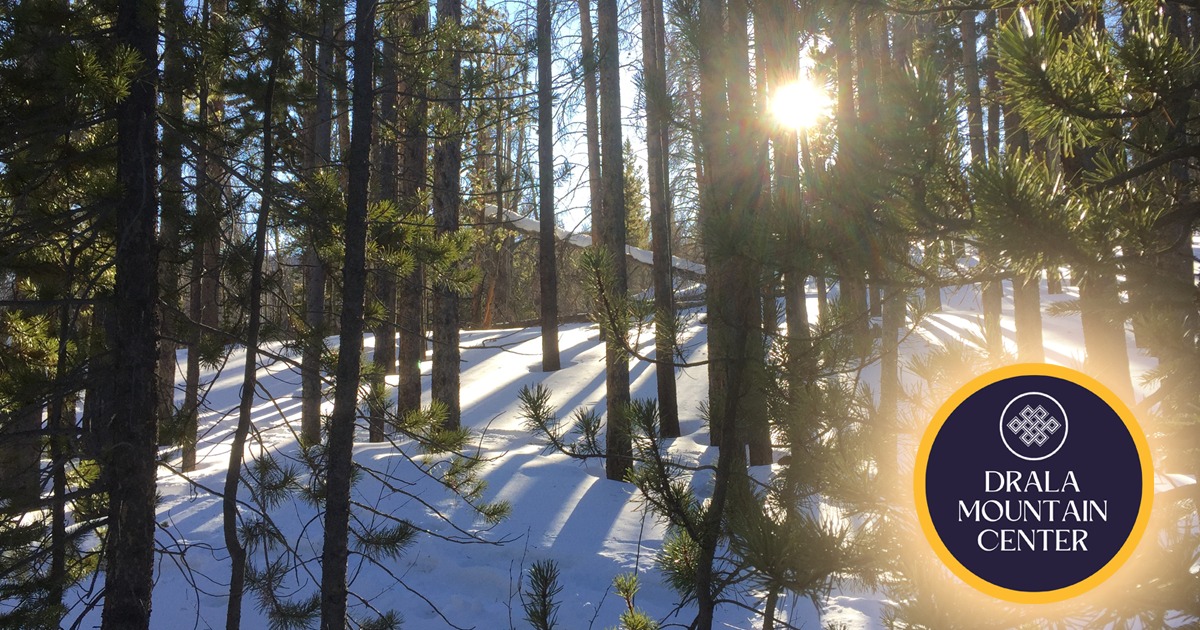 Located high in the Colorado Rockies two hours northwest of Denver, Drala Mountain Center in Red Feather Lakes is one of only 100 Shambhala centers found in the world. The 600-acre mountain valley retreat is surrounded by native forests, gentle meadows, and rocky peaks. It is home to the Great Stupa of Dharmakaya, one of the most significant examples of sacred architecture in the world.
The 50-plus-year-old Center offers regular yoga and wellness retreats, including highlights like the upcoming "Wisdom of the Body" yoga and meditation retreat in April taught by Katharine Kaufman, an adjunct professor at Naropa University. In October, take part in "Slowing Down: A Yoga, Self-Care, and Loving Kindness Retreat," which is taught by Heather Lindemann and Cole Schlam and encourages participants to embrace a slower pace.
9. Shalom Yoga Retreat, Colorado Springs, Colorado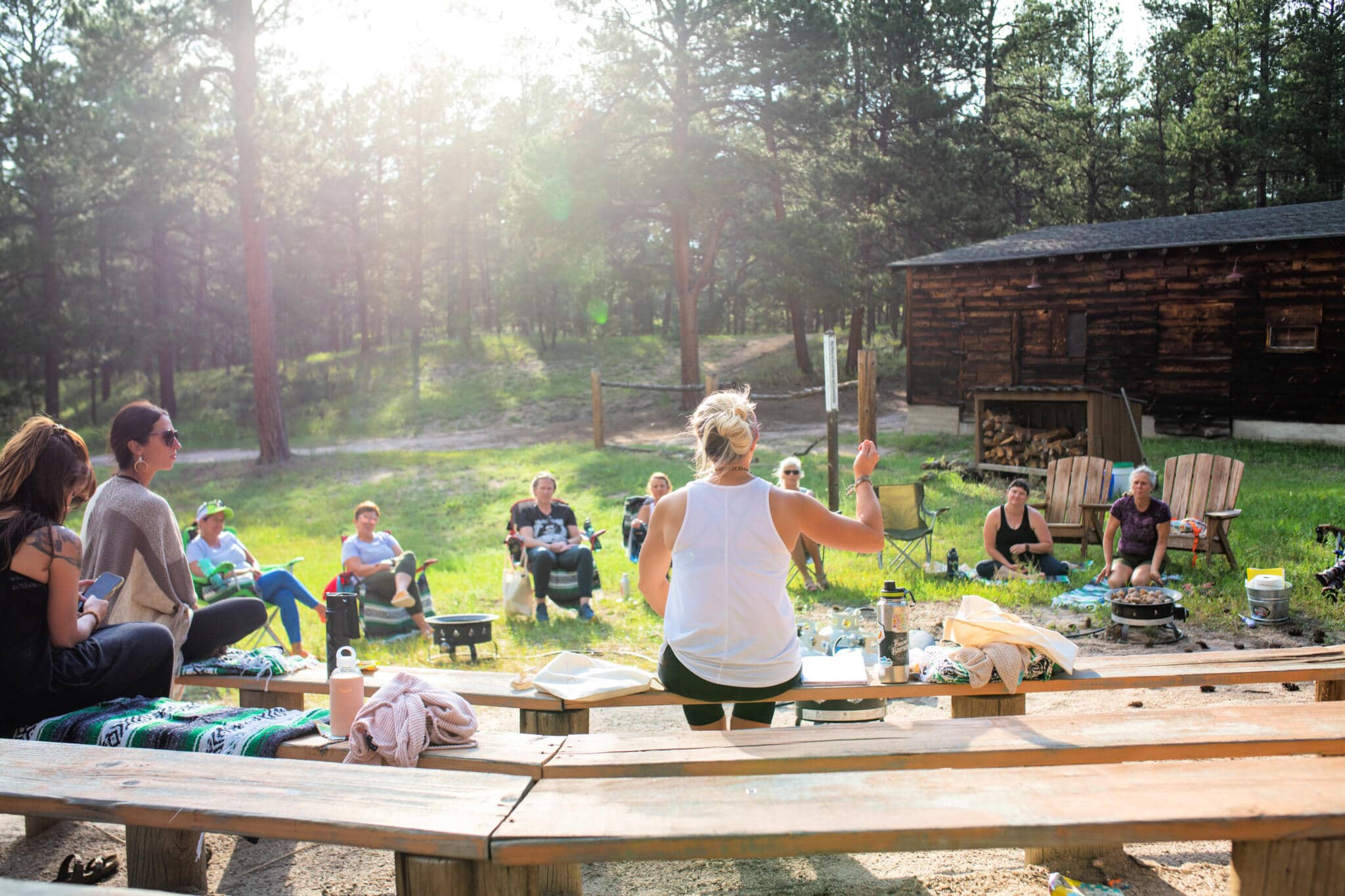 Facilitated by certified yoga therapist Amber Newberry, Shalom is a rustic, budget-friendly, annual yoga retreat with most time spent outside among the pine trees and sleeping in yurts shared by up to six women. Shalom focuses on sisterhood and bonding among participants with nightly fire circles, deep and meaningful conversations, and lifelong friendships made.
During Shalom, participants can expect 4-5 hours of yoga and meditation along with several teachings based on the theme. Past themes included chakras, female mystics, and the rhythms of the female body. Other activities include journaling, hiking, and precious time alone.
10. Women's Adventure & Wellness Yoga Retreat in Ruby Horsethief Canyon, Colorado
For those looking for an all-women, all-level river adventure combined with a yoga retreat, take a look at these summer retreats in western Colorado. Strengthen bonds with new and old friends on this Women's Adventure & Wellness Yoga Retreat.
With the backdrop of towering canyons and the peaceful river of Ruby-Horsethief, practice yoga and meditation two times a day led by RYT-500 certified yoga instructor & ACA paddleboard instructor Elizabeth Fortushniak. Yoga & meditation will include the following practices: Pranayama, Meditation, Yin, Yoga Nidra, Lakshmi Rising Vinyasa, or Power Yoga. Daily tarot card readings and chakra bracelet making are optional activities.
Spend your days paddling the river, relaxing at camp, yoga along the river & campfire, and hiking the colorful side canyons of Ruby Horsethief. Gaze upon ancient metamorphic black rocks, desert towers, rock art, and wildlife. Backcountry meals, locally sourced and nutritious, are amazingly delicious! Camp nightly underneath the stars beside the Colorado river.
11. The Esalen Institute, Big Sur, California
Find your ohm at this legendary Esalen Institute, perched above the rugged oceanside bluffs of Big Sur. For over 50 years, visitors from all walks of life have sought escape to the property's 27 acres and the healing powers of the center's seminars. Who's who list of retreat attendees has included Bob Dylan, Ansel Adams, and Deepak Chopra.
Spiritual and creative offerings include more than 500 workshops annually for personal and social transportation. Their program offers mid-level yoga retreats designed specifically for intermediate practitioners. Relax in its cliff-hanging soaking tubs heated by natural hot springs and dine-on meals featuring ingredients from the onsite garden.
12. A Call to Retreat, Uvita, Costa Rica
Creator of JalaBlu Yoga + Collective Healing in Buena Vista, Colorado, Jenna Pfingston, has been holding sacred space within the journey of transformational retreats since 2012. A Call to Retreat, Uvita Costa Rica, is a unique offering with Jenna's signature work, Primal Embodied Wisdom.
Her retreats are a multi-layered invitation with embodied yoga, meditation, ceremony, mantra, Embodiment Dharma Chats, Cacao Ceremony, primal movement, a day of snorkeling, passionate food, journaling, solo time, hiking, and one day of silence.
Jenna's retreats are priced reasonably for ALL LEVELS. Her retreats are, most importantly, a call to souls who are ready to explore a deeper connection to this wild, beautiful, messy, and abundant life. While Jenna's retreats are open to men, women, and non-gender, she mostly attracts women. A Call to Retreat is April 15th-22nd.
Read Next:
11 Steps to Focus and Destress Through the Power of Yoga
Burning Belly Fat Through the Power of Yoga