Yoga has a reputation for being a very serious practice, with participants moving through a series of physically and mentally challenging poses. The work is often intense, focusing on breathwork and finding a mind/body connection. That is, until you throw about a dozen puppies into the mix. Then all bets are off as even the most disciplined yogis find themselves loosening up more than their muscles, giggling and cuddling with adorable pups from local shelters.
Puppy yoga has been picking up steam in the wellness community for the past few years, with the four-footed furbabies becoming as much of a prop as traditional blocks and straps. It's a win/win situation as the yogis experience a different, often less structured practice, while the shelter receives donations to help them serve the homeless pet population. And the pups? Well, they get the opportunity to play, socialize, and possibly find a forever home.
In a 2019 Fox News interview, Shannon Roche, acting CEO of Yoga Alliance, explained that while it may seem like a novelty, incorporating animals into yoga isn't that unusual. "This is sort of the new manifestation in the U.S.," she said. "Although, I'd argue that it's probably true that people were practicing with their animals in nature a long time ago.
Taking Time to "Paws" and Play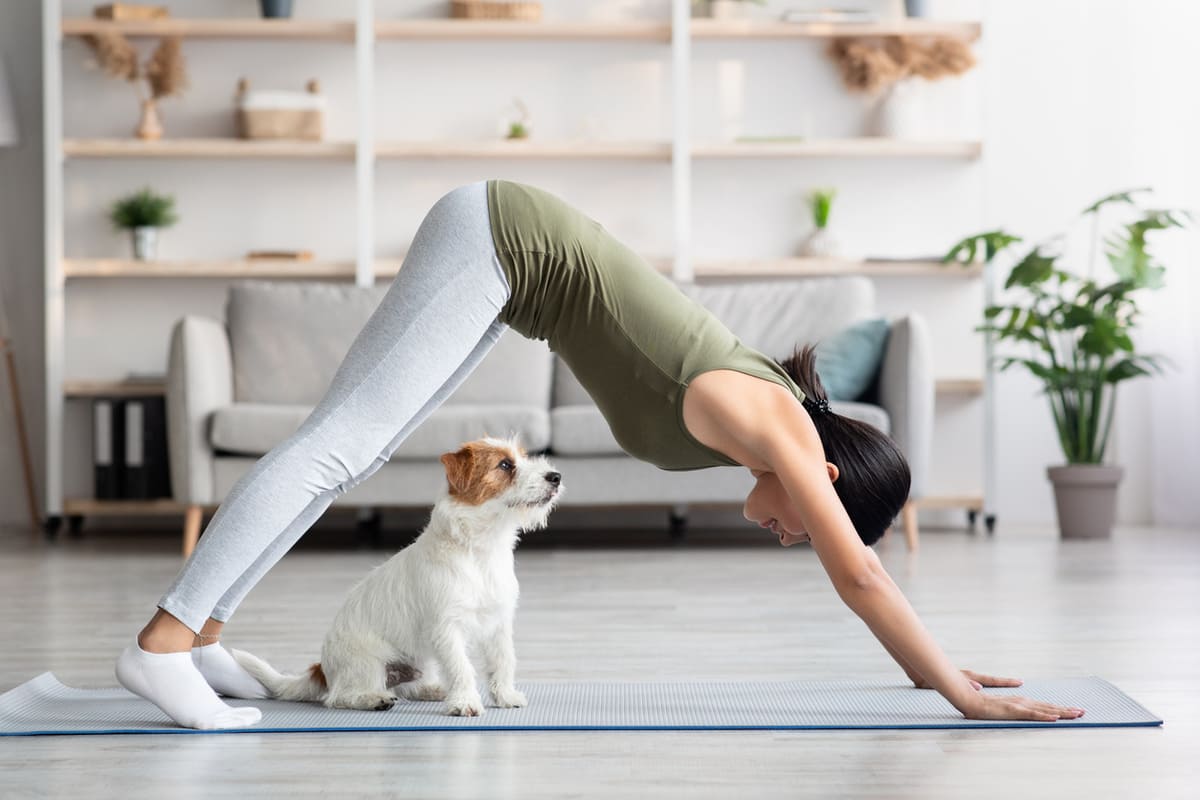 Remember when exercise was fun? When we did things like run, jump rope, or swim for no reason other than the pursuit of happiness? When we weren't worried about things like calorie burn or performance stats, and our goal was simply to have a good time? That's what puppy yoga is all about. It captures the essence of playtime and reminds you not to take yourself or your workout too seriously.
"I like to say we don't do yoga, we play yoga," says Cassandra Fauss, founder of Mobile Om in San Antonio, TX. An Experienced Registered Yoga Teacher (E-RYT 500), Fauss has a considerable following in San Antonio, Texas, where she leads a variety of yoga formats in outdoor locations across the city. An avid dog lover, she added a monthly puppy yoga to the mix approximately five years ago to help a local shelter. Volunteers bring two to three litters of pups to the class of roughly 50 students, and Fauss finds ways to incorporate them into the workout. Whether it's holding a puppy during mediation, incorporating a wiggly furball into a balance challenge, or simply sitting on your mat and playing with a pup, the format brings what Fauss describes as "an entirely different element to the yoga practice that is more about the mental and spiritual than the physical."
"Puppies are the embodiment of abundant joy and unconditional love," she explains, adding that laughter during class is expected and encouraged. "Life can be heavy and stressful, but when we bring in puppies, people get lighter and find more ease."
Puppy Power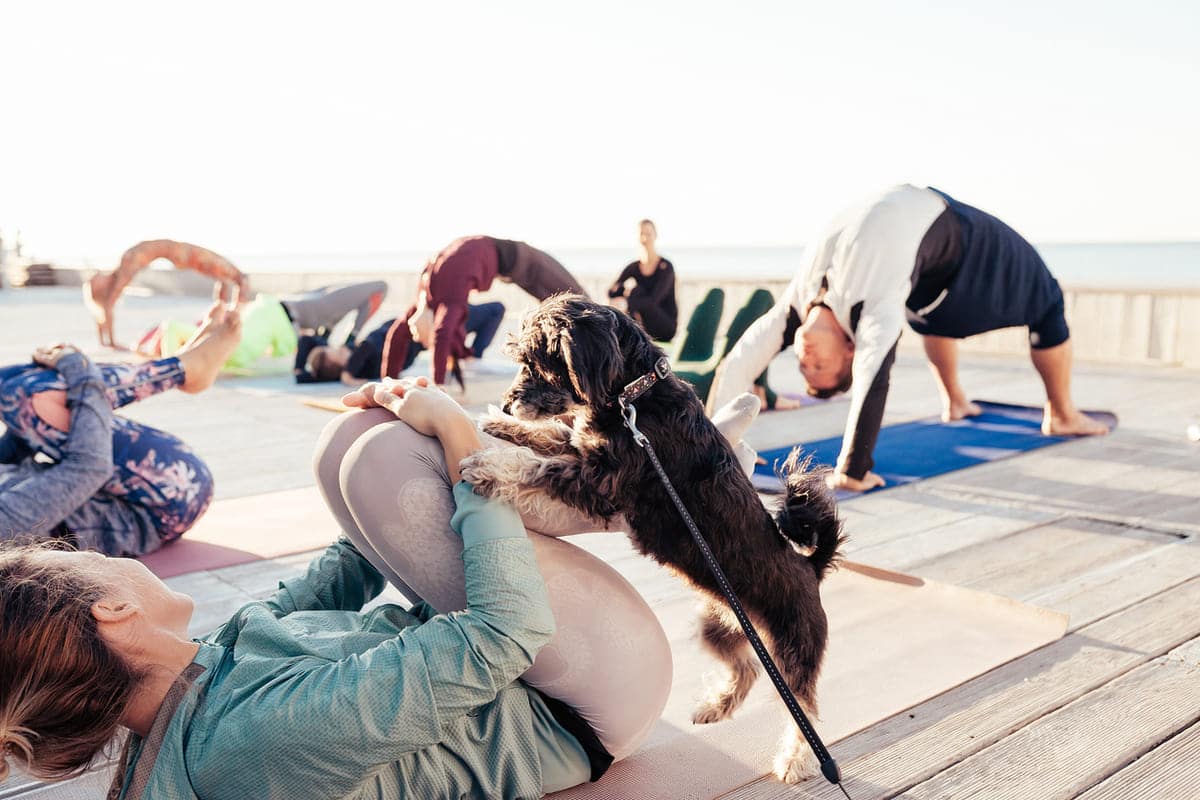 There's a reason we call dogs "man's best friend." Studies show they add physical and mental benefits to a person's overall health and well-being. Nancy Gee, a professor of psychiatry and director of the Center for Human-Animal Interaction at Virginia Commonwealth University, told NPR that there is evidence that as few as five minutes of interaction with a dog can lower the levels of the stress hormone cortisol in humans. Why does that matter? According to the Mayo Clinic, too much exposure to cortisol and other stress hormones can put you at high risk for various health problems, from digestive issues to anxiety, depression, sleep deprivation, obesity, and heart disease.
Fauss agrees. "We are dynamic beings," she explains. "When we experience feelings of joy and love, our blood pressure decreases, our heart rates go down, our breathing slows, and our mental states shift to parasympathetic rather than the flight or fight mode many of us tend to live in."
In addition to the benefits associated with lower cortisol levels, Gee says that hanging with a hound can increase general feelings of happiness.
"We see increases in oxytocin, that feel-good kind of bonding hormone," she adds.
Fauss equates that feeling to a "different way of experiencing meditation," adding that even in traditional yoga classes, there is an element of stress where yogis worry about whether they are "doing it right" or if it's "working."
"When we incorporate the puppies, the body reaps the benefits, and that's why you leave feeling so good," she explains.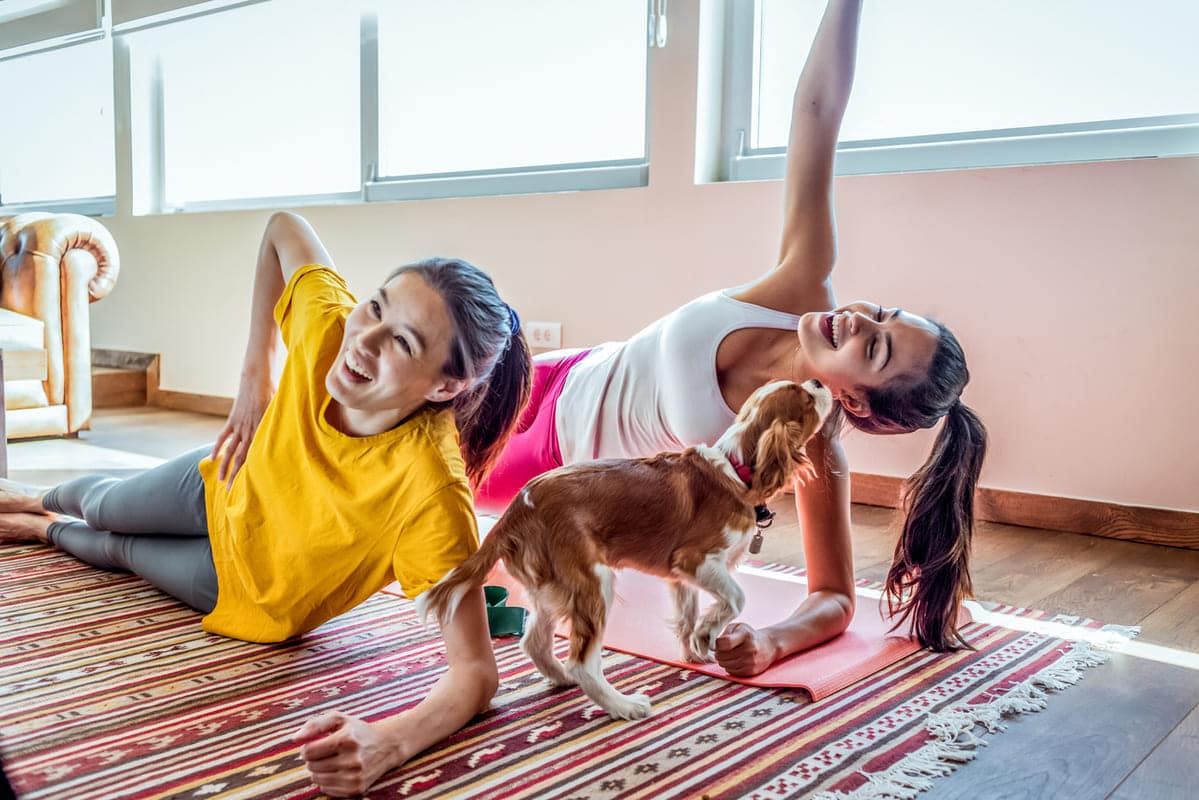 Physical benefits aside, playing with pups can help us focus and stay present, which has become increasingly difficult today. Megan Mueller, an associate professor at Cummings School of Veterinary Medicine at Tufts University, studies the psychology of human-animal relationships and says that dogs help us become more attentive to our surroundings.
"Animals, and dogs in particular, live in the moment," she says. "They're experiencing their environment with wonder and awe all the time, and they're not bringing up what happened to them earlier in the day or what they're thinking about in the future. They're there right now."
That awareness of mind/body connection and staying in the moment is something that Fauss says she speaks to in all of her yoga classes, but puppies help drive it home.
"That message just lands differently when you have a puppy in your lap," she laughs.
And speaking of the pups, they get something from the practice too. From plenty of cuddles and kisses to socialization skills, and even adoption, it's a "pawsitive" experience for all involved.
"It's like a glorified adoption pop-up," describes Fauss, who donates proceeds from her classes to SNIPSA. "It allows you to interact with the dog for longer periods than you would at a shelter, which gives you more insight into the dog's personality and whether or not it is a good fit for your lifestyle."
Check with your local animal shelters and yoga studios for a puppy yoga class near you and Namaste. Or, should we say, Nama-Sit-And-Stay?
Prepare for Pawfection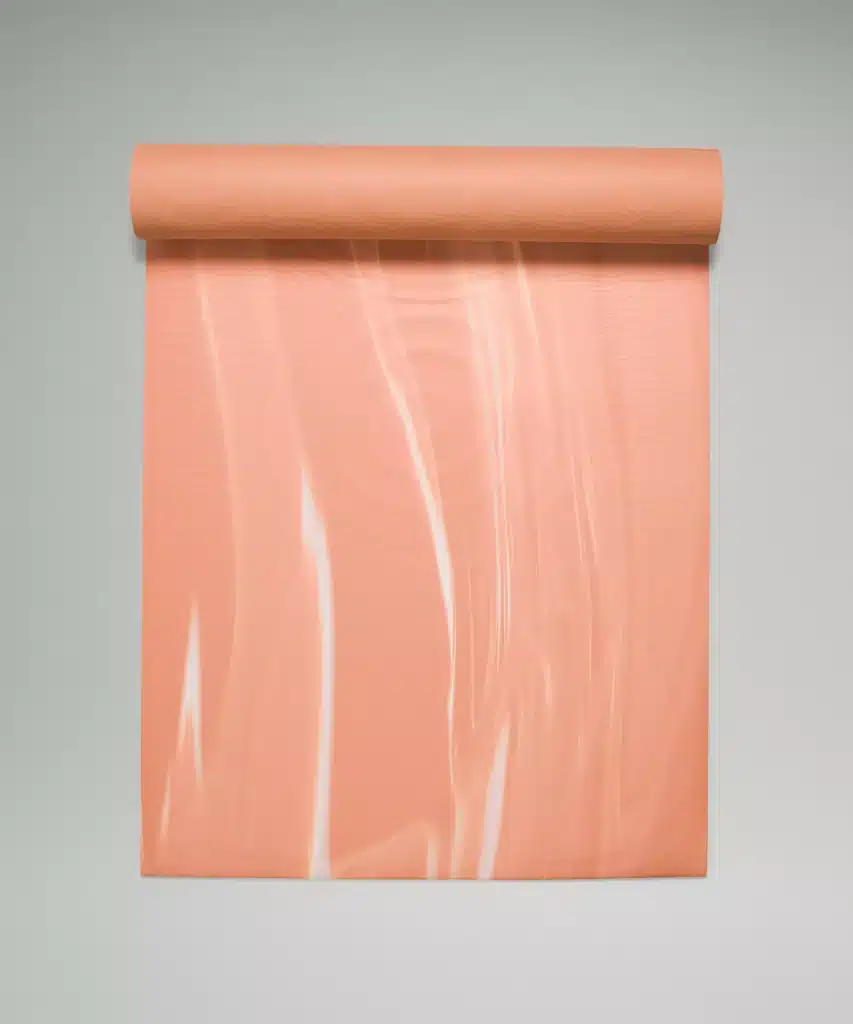 Lululemon Take Form Yoga Mat, $138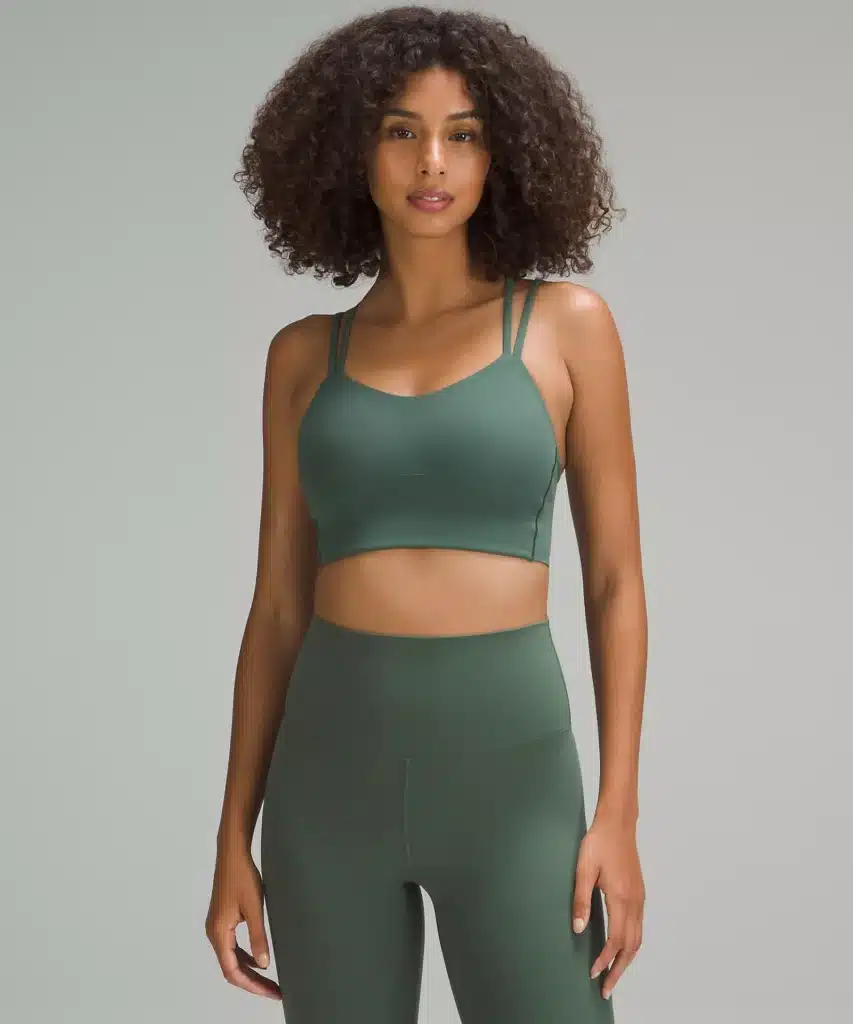 Lululemon Like a Cloud Longline Bra, $68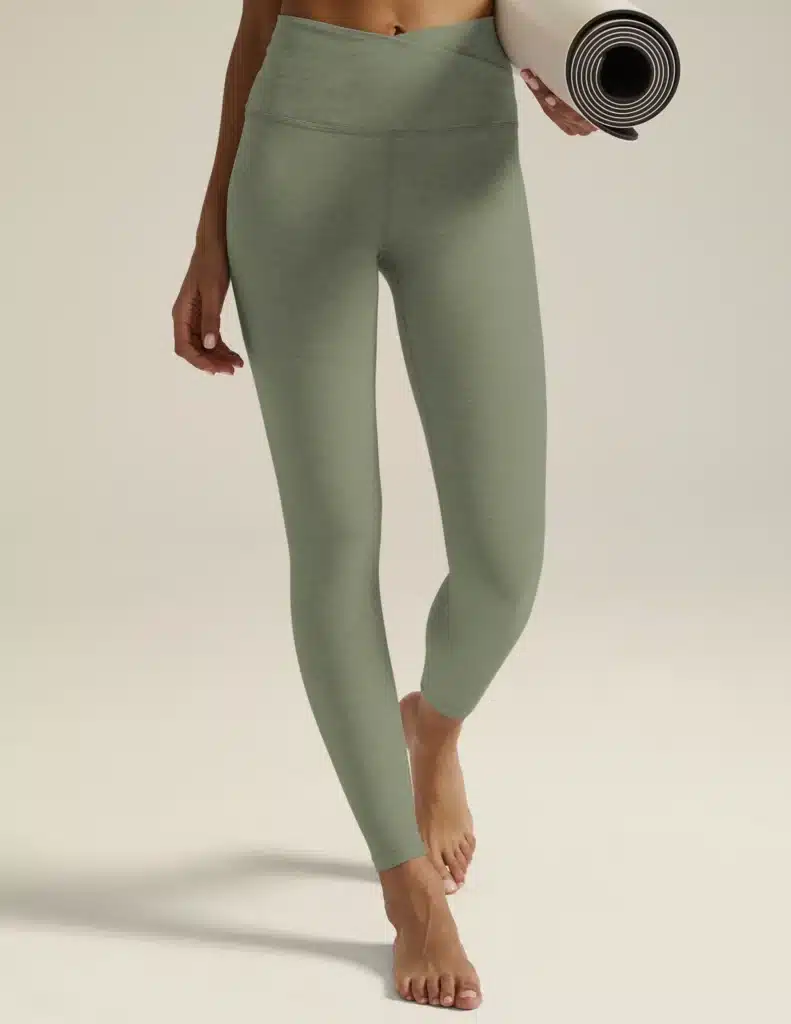 Beyond Yoga Spacedye At Your Leisure High Waisted Midi Leggings, $99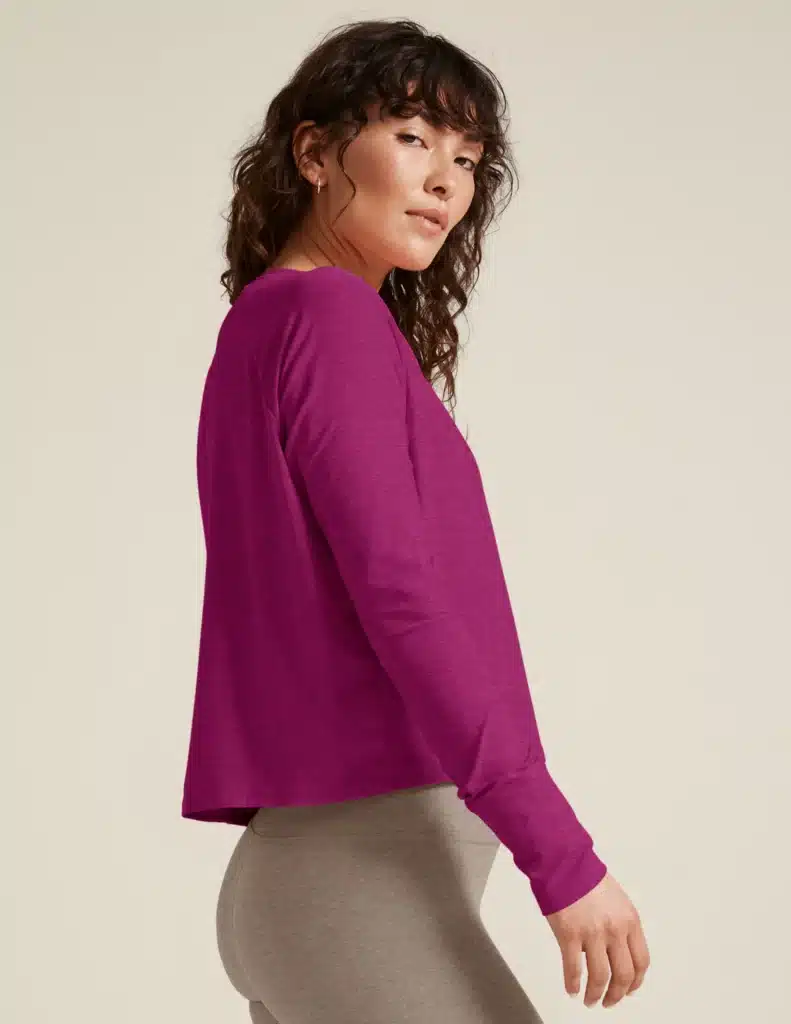 Beyond Yoga Featherweight Daydreamer Pullover, $70
Read Next:
Top 12 Yoga Retreats for Mature Women
Burning Belly Fat Through the Power of Yoga