Growing up with a family of golfers, I'm more than surprised it's taken me until 49 to pick up a club and try and hit a golf ball. My Dad, his brother, my brother and many friends' husbands, have all enjoyed the game for many, many years.
Up until last Sunday, I'd only ever played crazy golf and failed quite miserably most times, taking 10+ shots to get into simple holes. Or the Wii Golf in the annual Howell Christmas Tournament. Now in the latter, I was actually very good, even getting a virtual 'hole in one' the one year — much to the horror of the men of the family. We've played the tournament for the last 10 years. So I've had ample opportunity to practice my swing. I'd also learned about my 'clubs', reading the green and understanding the game of golf. Or so I thought.
Hitting the Green for the First Time
I figured that going to a driving range, with nothing but a bucket of balls and one club, couldn't actually be that difficult. How wrong can one woman be?!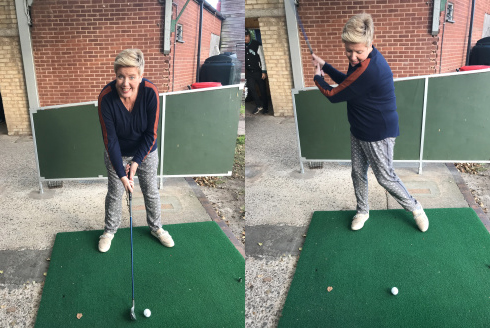 My lovely Dad took me along on Sunday and explained how to set my body up. Have a wide stance, knees slightly bent, left foot slightly out. Keep your left arm straight and do not, under any circumstances, take your eyes off the ball. With the club gripped firmly in my hands, I wiggled and shimmied into position, looked at the little white ball in front of me and swung the club. Whoosh! The club swung aimlessly through the air and back again, completely missing the ball. I giggled nervously and Dad said it's ok, everyone misses their first ball. I think he was just being kind.
A Practice of Patience
But I set myself up again and tried again, quickly realizing I was bending my left arm and twisting my upper body too much. I swung the club again, the concentration showing on my face and… Woohooo! I hit the ball! Granted it didn't go very far, but club and ball met and off it shot onto the green of the driving range. And for the next 45 minutes or so, I tried and tried again to get better, hit it further and stop my left arm bending so much.
But oh my, did I ache come Monday! My left arm, side and hip screamed in pain, all reminding me of muscles that aren't normally used. My body not used to twisting and turning with such force.
But you know something — I really enjoyed it. There's something very satisfying about hearing the thwack of the club against the ball and seeing it sail through the air. I could also see it being very therapeutic if you were having a bad day. I could also see that learning to golf is a great exercise in patience. But of course, the killer question is: Am I ready to learn golf and step out onto the green?
This is part of Jo Howell's series: 50 Ways to Leave Your 40s. See what other experiences Jo has had here. >READ: 10 SMART REASONS TO TAKE UP GOLF>READ: KATHY WHITWORTH – A GOLF LEGEND TURNS 80, PUSHES AHEAD