Whether you're new to golf or a seasoned golfer, you need a good set of clubs to help you play your best. Sure, you can get by with an old set while you get the hang of the sport or while you wait for the right time to buy a new set. However, you can really take your skills to the next level by investing in a golf club set that will let you excel in the sport and have a higher chance of hitting the ball right where you want it.Because the options with golf clubs can feel overwhelming (especially if you are new to golf), we have put together a list of the best golf clubs for women. But before we get into that, we'll take a look at some of the things you want to look for in your golf clubs.
What to Look for in Golf Clubs
As much as we'd love to pick golf clubs based solely on how they look, there is much more to this purchase that you need to consider before buying. This is especially true because golf clubs aren't exactly cheap, and you want to make sure you're spending your money wisely and not just buying a bag because you like it.
Weight
The weight of the golf clubs you're looking to purchase is important. If you are a beginner, then you want golf clubs that are lighter and have more forgiveness. Forgiveness refers to where the center of gravity on the club sits and how that placement helps you hit better shots. Though more advanced golfers can opt for heavier clubs, it is in everyone's best interest, regardless of your skill level, to get clubs that are lighter and more forgiving.
Shaft
Along the same lines of weight comes the shaft of the golf club. If your clubs are too heavy and stiff, it is harder for you to swing them faster which is where you get distance with your hits. Thus, you want to look for golf clubs that feature a ladies' flex shaft. These are lighter and have more give to them so that you have an easier time swinging them and getting your ball further down the fairway. If you've been considering using a men's set of golf clubs and potentially cutting them down, we highly advise against that. Men's clubs are much heavier and stiffer and will make hitting very difficult.
Number of Clubs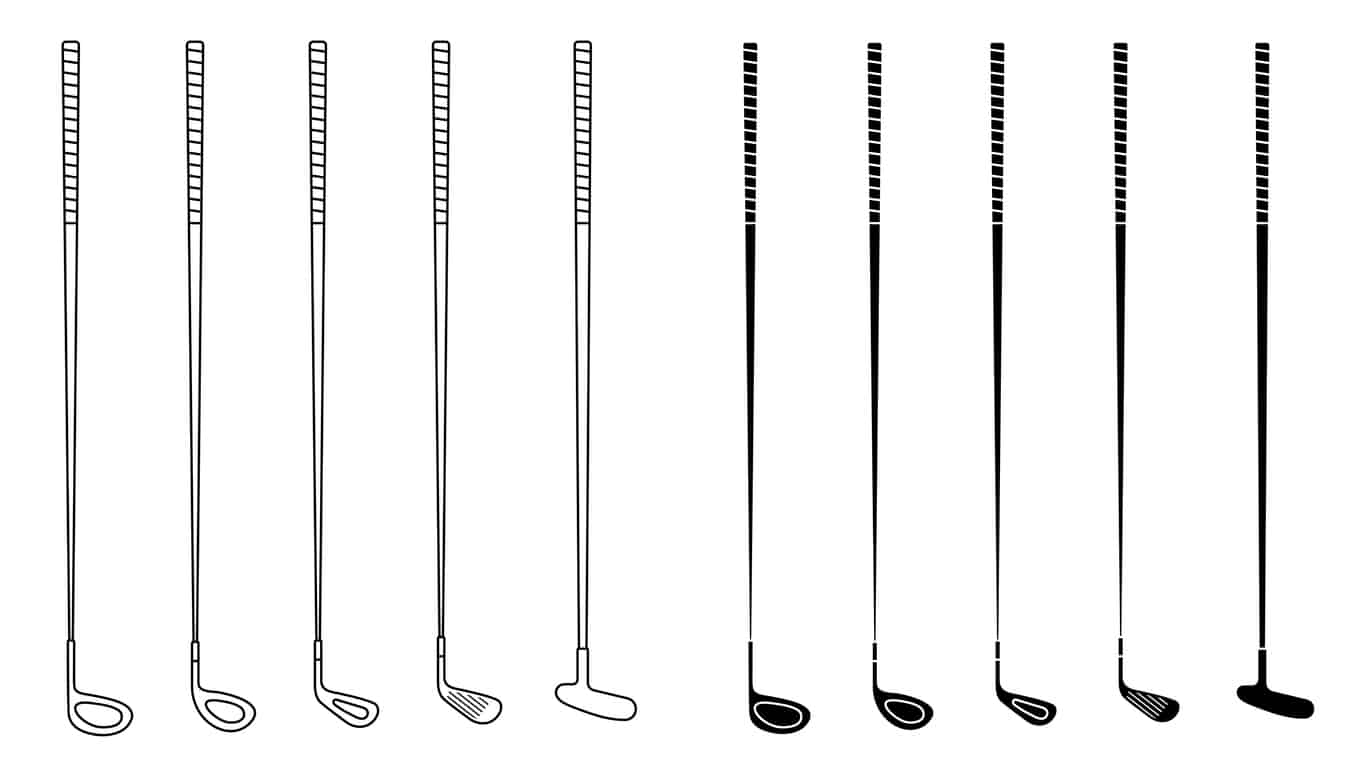 Different golf sets come with different clubs. If you are a beginner, you likely won't need as many golf clubs as someone more advanced. One pitching wedge is good enough for a beginner, while a seasoned player may want a few different pitching wedge options, each with a different degree. The proper amount of clubs for a beginner to have is between 8 and 10. This gives you the variety you need for your shots without getting overly complicated. However, as you advance in your golf game, you will want to increase the number of clubs in your bag to between 12 and 14. This will help provide you with the best tools to use regardless of where your ball ends up. At the minimum, your golf bag should have:
Driver

Woods

Hybrids

Irons

1-2 wedges

Putter
As you get better, you may add in more hybrids, more irons, and more wedges.
Price
It's no secret that golf clubs are pricey. So when purchasing your set, you need to have a budget in mind. The better-known brands such as Taylor Made and Callaway are probably going to come with a higher price tag, but if you plan to play golf for quite some time, it may be worth the investment because those brands last longer. In addition to that, the higher-end clubs tend to feature better technology which will help your game. However, if you're looking to get golf clubs just so that you can play for fun from time to time, you may not be as concerned about the brand and may want to opt for something less expensive. Now that you know what to consider when shopping for golf clubs, take a look at some of the top picks we've curated below.
This set of women's golf clubs is a staple in the golf world. Callaway is a trusted brand that is known for creating top-quality products. The Strata set is one of the brand's most popular and has been around for years. However, Strata has continued to evolve throughout the years and is one of the best sets when it comes to forgiveness. If you are a more serious golfer or are planning to become one, this is the set for you. It includes:
Driver

3 Wood

4 Hybrid

5 Hybrid

6, 7, 8, 9 iron

Pitching wedge

Sand wedge

Stand bag

4 headcovers
Wilson is a brand that is well-known in other sports, but you may not have considered it for golf. However, as a beginner, it is one that you should definitely consider, especially Wilson's SGI set. This provides a complete set of clubs that are great all-around for people who are new to golf and not ready to invest a whole lot of money in a set. Included is:
Driver

5 Wood

5 Hybrid

6, 7, 8, 9 iron

Pitching wedge

Sand wedge

Putter

Bag

Matching headcovers
If you're ready to pick up the game of golf but aren't ready to pay high prices for top-notch equipment, then we've got the golf clubs for you. This set from Aspire is just what you need to get the ball rolling (literally, and we hope far down the fairway). The irons in this set are cavity-baked which means they give newbies forgiveness and are nice and light to use. With this set you get:
Driver

Fairway wood

Hybrid

6, 7, 8, 9 irons

Pitching wedge

Putter

Stand bag

3 matching headcovers
Whether you are fresh on the greens at golf or have been putting your way around courses for years, one of the above golf sets will take your game to the next level, and help you have more fun along the way.
Read Next:
Discover the Health Benefits of Restorative Yoga
Why Tai Chi and Qigong Are Effective Exercises For Mature Women