If you are considering a creative career for your second act, start by reading Elizabeth Gilbert's "Big Magic: Creative Living Beyond Fear." In her latest literary endeavor, the prolific author of "Eat Pray Love" explores her personal experiences and the realities of living a creative life. Gilbert's "Big Magic" will inform, inspire and also possibly explain why some of us ignore, defer or re-direct creative energies that vitalize, satisfy and feed our souls.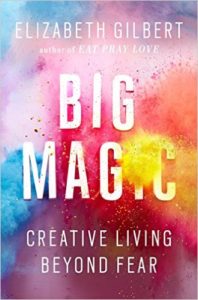 Some "aha!" moments from Gilbert's "Big Magic"
"Don't demand a paycheck from your creativity," Gilbert cautions, "as if it were a government job or trust fund." You may or may not be able to live comfortably off your inspiration forever, so be smart about providing for yourself.
The creative life is different from other pursuits. If you are good at, say, sales and you work hard at it, you will likely succeed. However, in creative endeavors, you might not. Gilbert's "Big Magic" predicts you might succeed for a spell, then wait years for the next hit. Ask anyone in Hollywood, the birthplace of the career comeback!
That said, this is the perfect time for Prime women to explore creativity in the work/life mix — even if you have had a traditional professional career. You've worked. You've saved. You've invested. You've likely got your expenses covered — and probably even some luxuries. Give it a shot. What are you waiting for?
Do It Because You Love It. I LOVE the woman in Gilbert's "Big Magic" who took up figure skating at age 40. She skated competitively as a child but quit when it was clear she was not good enough to be a champion. For 25 years she suppressed doing something that she loved, heeding the strive-for-success voice in her head: "Why bother if you can't be the best?" Sound familiar? She hit a milestone birthday, bought a pair of skates, hired a coach, then found a rink — and the missing element of pure joy in her life.
Do it on the side. You don't have to quit your day job to explore a creative path. Patricia Vermillion is a highly-regarded school librarian who has spent years selecting books and presenting content for young students. She knows her audience, as she sees firsthand what captivates and what fails to connect. She also knows the librarian market — an important buyers set. She joined the Society of Children's Writers and Illustrators and started writing — and re-writing — during non-work hours. Voila! She is now doing author tours and events for her second book, Hound Dawg (on evenings and weekends, of course).
Return to your roots. In college, Gay Gaddis studied painting, drawing and sculpting. But as Gilbert's "Big Magic" points out, she knew it would be difficult to make a robust living as an artist. Thus, she forged careers in advertising, public relations and even management consulting — drawing primarily on her writing skills. As founder and CEO of innovation agency T-3 and a contributor to Forbes, she was too busy to paint–until she began spending time with her husband on their ranch. Flash forward to a posh gallery reception in New York, where she met a prominent curator, silenced her artistic doubts and casually mentioned, "I have some paintings." She received input, painted like crazy and ultimately debuted a highly acclaimed solo exhibition of her Texas landscapes.
Expand your creative range. Celesta Segerstrom was an art director at the ad agency where we both worked in the 80s. Now she is a professional prop designer working on large commercial installations in the United States and throughout the world. When the owner of the company she works for comes up with an idea for a client, Celesta creates a model of the prop in paper, balsa or foam for various artistic elements. They then collaborate with artisans who produce the elements in varying colors and sizes. She often scales the location layout, prop placement and configuration. Upon completion of the construction of the prop(s), she is often the supervisor on the actual installation in a highly collaborative effort that combines creativity, engineering and construction. "There is no age limit to creativity," she says. "You can become more prolific with every year. Don't stop!"
Leverage your business chops. There are many Prime women who have seemingly creative careers in food, design or lifestyle. But take a closer look and you will find the underpinnings of a serious business background. Blue chip brand master Martha Stewart and interior design doyenne Charlotte Moss both spent time on Wall Street. The idyllic country blogger Pioneer Woman has more internet traffic than the Daily Beast, according to an article in The New Yorker. Ree Drummond also has career roots in journalism and marketing.
So, even if you are a dyed-in-the-wool corporate suit, scope Gilbert's "Big Magic: Creative Living Beyond Fear," shine your light in a new direction and see what happens!