As a primarily-at-home mother, I mostly loved raising my three boys. Sure, they generated a lot of dirty laundry, forgot instruments or homework that needed to be ferried to school, disappeared when it was time to walk the dog, honed sarcasm as teenagers, and broke more than a few curfews. But they also came to me for advice, shared silly or sad stories about their day, occasionally offered unprompted help, and made me laugh. They were my primary reason for being for more than two decades. So when the youngest left for college, I was left with not only an empty nest, but also an empty heart.
I had always had someone to love. As a young girl, I loved my family. My mom chose to stay home to parent my brothers and me. And even though we took her cooking, cleaning, chauffeuring, and affection for granted, deep down she knew she was loved and appreciated. I loved my dad more openly, because he was not the daily task master. Plus he was funny and liked to goof around as much as we kids did. My love for my brothers when we all lived at home was as different as they were from each other. My older brother and I had similar personalities; boy, could we fight! But if someone was mean to me (other than him), he would make it right. And my younger brother was kind and mellow, so I turned to him for perspective. He taught me how to slow down and be present – lessons, by the way, that continue.
First Love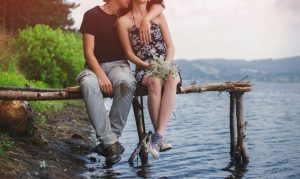 I found my first boyfriend in high school and loved him with all of my adolescent heart. I had longed to be kissed and cherished, to be the main character in the stories of romance told by my friends. He was, I dreamily told myself, my one true love. Other boyfriends came and went, introducing me to sex and beer and city dance clubs. But my love for them seemed more jaded than what I had offered the boy who brought me flowers and wrote me sweet notes.
What arrived next was an unexpected love of learning, a curiosity about the larger world, an infatuation with what, why, when, where, and how, as much as with whom. I say unexpected because I shamefully admit that I was not very academically oriented in college. My concentration was on the women's lacrosse team and on the next keg party rather than on what was being taught inside the classroom. When I decided to go to graduate school, after working for a couple years in Manhattan, I paid attention, led group discussions, and thoroughly completed my coursework. My favorite professor abhorred mediocrity – and as his disciple, so did I.
Then There Were Two, Three, Four, Five
Before I could hang my J-School diploma on the wall of a nationally-renowned newsroom, I met Ted. I had recently sworn off love until I established myself. This is the kind of nonsense talk that delights Cupid, firing him up to take careful aim at newly hardened hearts, as he did with mine. And so, instead of packing my bags for Washington, D.C., or Chicago, or San Francisco to right wrongs with my incisive investigative journalism, I fell in love again, got married, moved to Mystic, and worked for a small town, family-run newspaper.
Soon enough, the boys came along, and my adoration shifted from Ted to Teddy, William, and Henry. They became the subject of my thoughts, efforts, and conversations. I worked part-time during their school years, teaching English and writing for public relations companies, and I wrote fiction in the morning before they were awake. But I purposely kept my outside work invisible to them, so they could feel the power of my commitment to their care and contentment. And that was my empty nest mental state when the boys left the house, one by one, to make their way in the outside world.
Ted and I spent more time with each other after they left. But he had a full-time work life and didn't need to be raised and nurtured. Neither did our cat, Ollie, and our dog, Daisy, who seemed happy with regular meals and being
let in and out of the house a dozen times a day. Since everyone seemed to be taken care of, that left just me. And into my head popped a revolutionary thought: Maybe I can love myself. At first, the idea scared as well as intrigued me. Does this mean I'm selfish?
My youngest son left for college more than seven years ago, and I am still struggling with loving myself. I feel negligent, sometimes narcissistic, and definitely guilty. Self-love, my yoga instructor continually tells the class, is critical to a sense of identity, personal achievement, and happiness. But it is difficult to practice or proclaim. Isn't there someone else I can love? Sure there is – and there always will be. But looking inward, I can see who I really am. And by loving myself, I am emotionally equipped to reach outward – to love those around me even better than before.