With travel restrictions being lifted, this summer has opened up opportunities to have some adventures again. Whether you're going on an overnight trip, visiting an in-state locale, or hopping on a plane to get away for a while, you need the perfect luggage to make the trip a success. The perfect carry-on bag can save you time and money, making any trip better. If you've been searching for a new bag but aren't sure which one to choose, take a look at our list of the best carry-on luggage to help you decide which is right for you. Here are our top 10 carry-on choices.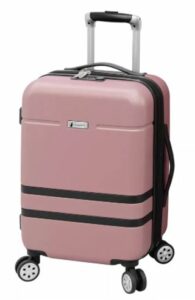 The London Fog Southbury II 20″ carry-on is durable and lightweight. The deluxe multi-directional 360-degree spin technology 8-wheel system will make walking through the airport a breeze. It fits new airline restrictions for an overall height under 22″ (including wheels and handle), and the interior features shoe pockets, a zippered divider, and tie-down straps.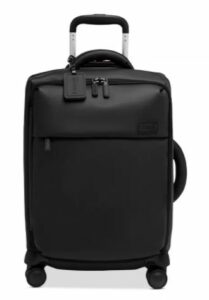 This carry-on packs on the functionality: easy access pocket, new double-wheel system, reinforced framing for better support, and modern, rubberized details. It's sleek and efficient and makes traveling a breeze!
From the Voyageur Collection, this sleek carry-on features an innovative front lid that allows you the freedom to separate — and access — the items inside as you wish. It's outfitted with a padded laptop pocket, offering a purposeful and practical design that does not compromise on style.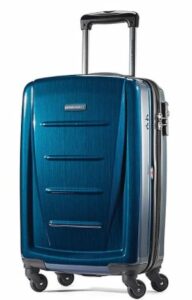 Travel in lightweight, rugged style with this Winfield 2 Fashion Luggage from Samsonite. It features 100% polycarbonate construction with sharp molded details, which allows it to absorb impact while under stress. If it gets dents on your trip, you can pop them back to their original shape, eliminating them and bringing this sleek carry-on back to its original glory.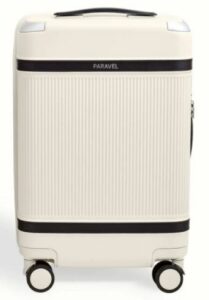 Are you feeling eco-friendly? Then this is the case for you! To make this suitcase carbon-neutral, Paravel offset all of the emissions that come from sourcing, assembly, shipping, and its final delivery to you. They also offset the estimated carbon emissions of your first trip with the Aviator so that its first journey is as gentle on the Earth as possible.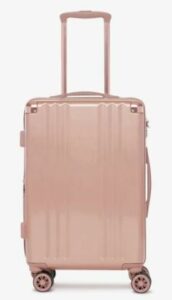 This beautiful rose-gold case gives style with functionality. It's lightweight with aluminum corner protectors, so you don't have to worry about bumping on the overhead bin. The inside has a wealth of storage options, and if you realize you're overpacking, you can expand it 2″ so you don't have to leave anything behind.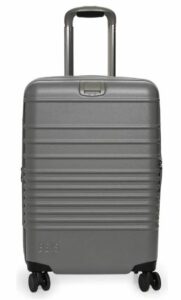 The tough, travel-ready construction defines this rolling suitcase molded from polycarbonate into a sleek, aerodynamic design. The telescoping pull handle and 360-degree wheels allow you to zip through the airport with ease.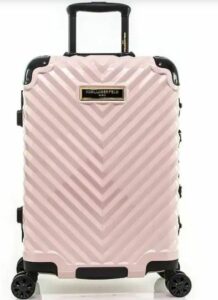 This gorgeous case from designer Karl Lagerfeld is sleek and functional. Made of polycarbonate, it has a hard-sided frame to keep your valuables protected and 8 multi-directional spinner wheels to make traveling a breeze.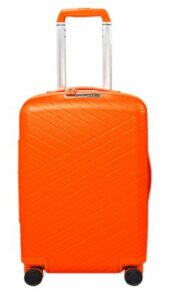 This is the perfect carry-on for business travel or long weekend getaways. It features a removable, rechargeable battery, ultra-durable polycarbonate shell, interior compression system, TSA-approved lock, and the best 360° smooth-glide wheels so you can move effortlessly.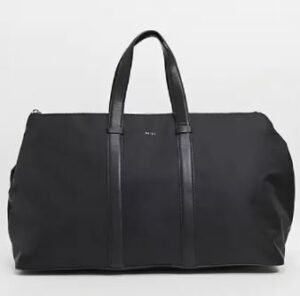 British menswear label Reiss offers an air of sophistication with this carryall. It's the perfect size to pack up for a weekend away or a quick work trip.
Once you've selected the perfect carry-on for your weekend outings, business trips, or last-minute getaways with that special someone, it's time to start packing and have some fun!
Read Next: