There's nothing like the feeling that comes with adding some new elements to your home decor to make you feel optimistic. Even little things can brighten your outlook and lighten your mood. We spoke with our friends at Frontgate to find out what interior design trends are holding strong for 2018.
Velvet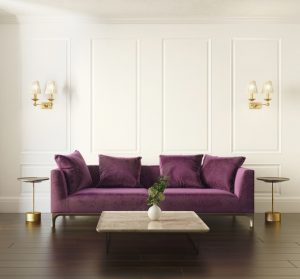 Designers call it the most touchable fabric in the world. Whether made of cotton or silk, crushed or devoré, running your hand along a length of velvet is a sumptuous experience. Texture transforms a cold house into a warm home. When velvet's supple nap drapes over curves and catches the light, it brings a dimensional sort of texture to a piece of furniture and to a room. Scatter a few bright velvet pillows on a neutral linen couch, and you've amped up the warmth – both visual and tactile. And as the temps dip, consider warming things up with a glowing fire in the hearth – and sophisticated, luxurious velvet furniture.
Vintage-look rugs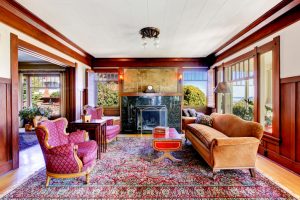 What's old is new! Gorgeous heirloom rugs are still coveted works of art, as they were in the 13th century. What has changed is the way we live. Now rugs must endure the rigors of active families and accident-prone pets, all the while looking like masterpieces. That's why new-to-look-old rugs are a great choice. We love this approach because these rugs look handed-down for generations but will last for many more.
Ceramics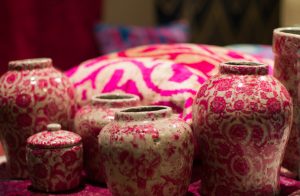 Nothing elevates a room quite like a display of vases. The wheel-thrown and hand painted masterpieces add a touch of antique charm to any decor, whether displayed alone or in multiples. When it comes to showing off your curated collection, the choices are endless. From mini clusters of various sizes and shapes throughout a room, to one destination for all your pieces, it's hard to go wrong.
Luxury linens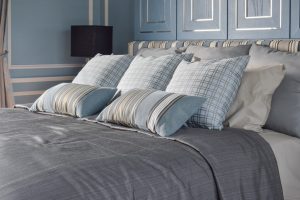 Few things are as deliciously satisfying as slipping into a sumptuous bed. Understatement is often the look on beds in five-star hotels; simplicity is king on those California Kings. But that doesn't mean the picture is always punctuated with unembellished white sheets. Try a variation in color, texture, detail and mix-and-matchability.
Mirrored Furnishings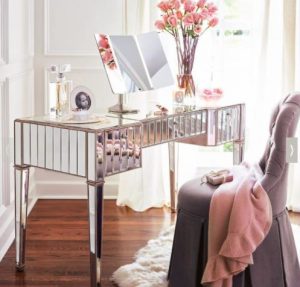 Meg Donovan, director of interiors at Frontgate says, "Mirrored furniture is a trend that is here to stay. Ranging from classic to modern, these pieces have life in many areas of the home. Mirrored furniture has an especially elegant approach when done in a true eglimose application. We are seeing customers who want to add elegance to a room turning to this trend to add a little sparkle."
Have fun with these interior design trends in 2018! Try them all, mix them up or pick your favorite, and start with a new look for the new year!