Mondavi Heritage and Vision Continues:
Carissa Mondavi, granddaughter of Robert Mondavi, and daughter of Tim Mondavi, "continues" the dreams of her family at Continuum Estates, Prichard Hill Region, in Napa Valley. In an on-site interview, Carissa details the history of the Mondavi family and Robert Mondavi's vision to make world class wines in Napa Valley. That dream manifests itself in the breathtakingly lovely Continuum Estates. Carissa states: "The name Continuum reflects the fact that our family has not missed a vintage since 1919." (See Mondavi Timeline below). Carissa discusses the unique grape-growing conditions in Napa's Prichard Hill Region, which is what makes the wines there so sought after. The progress of women in the wine industry is also addressed.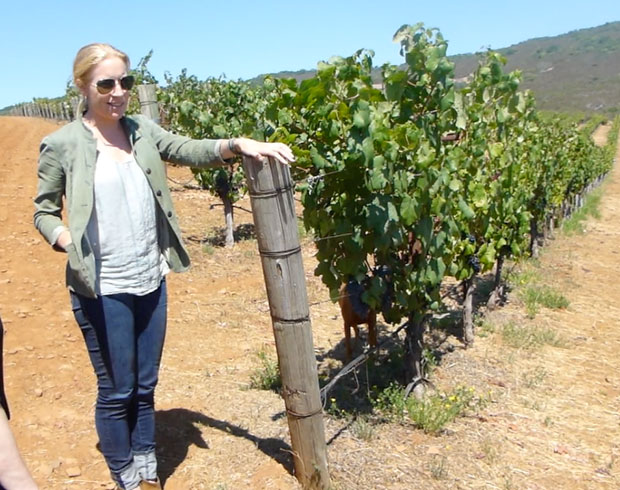 The Pritchard Hill Region of Napa Valley is home to some of the high-end and cult wines of America. Wineries include: Colgin Cellars, Chappellet, Dalla Valle, Ovid, Colgin Cellars, and Bryant Family. Pritchard Hill may be, "the best grape-growing region in Napa Valley you've probably never heard of," said Steve Heimoff, Wine Enthusiast Magazine, in "Pinning Down Pritchard Hill".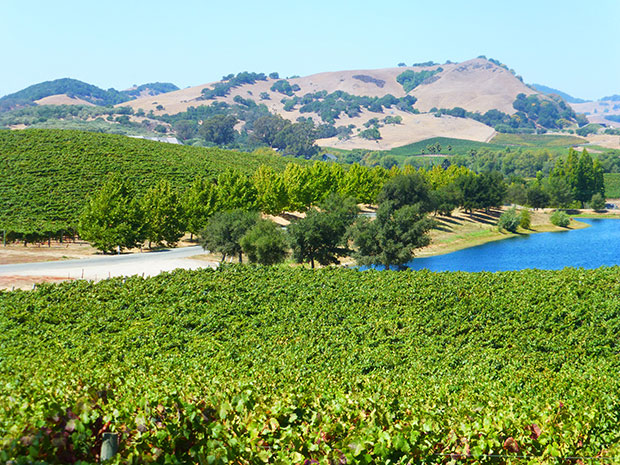 The high elevation (up to 1600 feet) and the rocky, volcanic soil contribute to making the vines struggle for nutrients and water. This battle for root sustainability lends an intensity, concentration, and minerality to the wine. Continuum Estate sits high on the east side of Napa Valley with distant views of San Francisco and San Pablo Bay. The elevation is above the fog line, so, the grapes are exposed to an ideal amount of sunshine. Viticulture experts, current and ancient, know that many of the greatest wines come from hillside vineyards. "Bacchus Amat Colles" was a Roman maxim meaning "Bacchus loves the hills." This elevation makes the site cooler in the summer and warmer in the winter.
Carissa gives us an extensive vineyard tour in her 4-Wheeler Polaris, showing off the Estates' characteristics and discussed its terroir*.
The Estate vineyards include 41 acres of Cabernet-family grapevines now producing 2,700 cases of wine. Another 60 acres are under development to eventually yield a maximum of 5,000 cases of wine. Tim Mondavi, who was the winemaker for the first vintages of Opus One, is amplifying what these hills have to offer. He has balanced the classic viticulture techniques, like organic farming, with modern advancements including: single lot fermentation, cement fermenters, automated, but gentle, pump-over systems, lengthy maceration, French oak barrel aging, and lees stirring. Each lot must meet classification standards of top quality to be included in any given vintage. This high-end, single wine focus is the "culmination of generations that led to this point," says Carissa Mondavi.
In our tasting, Continuum Estates' wine exhibited the finesse and excellence of the Pritchard Hill Terroir and this experienced winemaker. The deep garnet wine had a nose of black cherry, chocolate, tobacco, and spice. On the palate, the silky tannins invited a velvety mouth-feel with rich plum and savory flavors and a dusty earthiness throughout the long finish. The 2011 vintage Continuum wine was rated 97 points by Robert Parker, of The Wine Advocate, and comprised a blend of 75% Cabernet Sauvignon, 12% Petit Verdot, 11% Cabernet Franc, and 2% Merlot. Continuum is available in fine dining restaurants, select retail outlets, and from the winery directly through mailing list allocation. With prices in the same ranges as Shafer's Hillside Select and Joseph Phelps Insignia wines, you will want to make this your "special occasion" choice.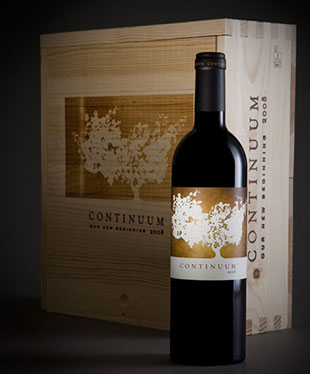 How to sign up for these wines >
The legacy and vision that Carissa Mondavi inherited is strengthened through her multifaceted responsibilities at Continuum Estate. She is responsible for sales and communications, hospitality, trade events, and, as she says, "basically getting the wine out into the market and showing its top qualities."
Carissa has an appreciation for her family's legacy and the women engaged in the wine industry who went before her. She recognizes the challenges and opportunities women have encountered in the historically male-dominated wine business. "Those women winemakers were pioneers who paved the way for our generation. When my aunt first went to open up the East Coast market [for Robert Mondavi Winery], it was a man's world. She would go to speak about our family's wine. She would be dressed in her business attire and "go-on" right after the women selling the tequila would be dressed to inspire a different type of notice! It's different now," Carissa notes sardonically.
A sister and two brothers join Carissa, her aunt, and father in the Continuum Estates business. With vision, determination, and skill, Carissa and her family are carrying the Mondavi dream forward.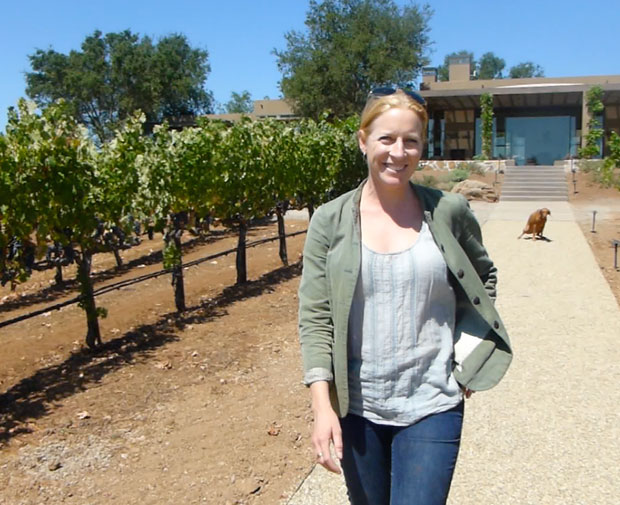 1919 – Caesar Mondavi emigrated from Italy, sources grapes in California, family lives in Minnesota.
1933 – Mondavi family moves to California and produces first wine.
1943 – Mondavi family purchases Charles Krug Winery in Napa Valley.
1966 – Robert Mondavi Winery is founded with a vision for fine wine in Napa Valley. Robert has departed Krug Winery in conflict with brother, Peter. Warren Winiarski and Mike Grgich, winemakers, are hired at Mondavi. Warren becomes famous as the winemaker whose red wine placed 1st at the Paris Wine Tasting of 1976 (Stags Leap Wine Cellars), publicized in the movie, "Bottle Shock".
1984 – Opus One has its first release. Opus One is a joint venture of the Mondavi family and Baron Philippe Rothschild, Bordeaux, with Tim Mondavi as winemaker visionary.
2001 – A $35 Million gift is given by Robert and Margrit Mondavi to the University of California at Davis to establish the Robert Mondavi Institute for Wine.
2004 – Mondavi Winery sold to Constellation Brands for $1.4 Billion.
2005 – Continuum Estates is founded by Robert, Marcia Mondavi Borger, and Tim Mondavi in the Prichard Hill area, Napa Valley. Carissa Mondavi has multifaceted responsibilities including sales, hospitality, and communications. Sister, Chiara, and brothers, Carlo and Dante, are involved in various aspects of the Continuum Estates business including sales and winery teams.
2008 – Robert Mondavi dies at the age of 94. Margrit Mondavi continues as Vice President of Cultural Affairs at Robert Mondavi winery.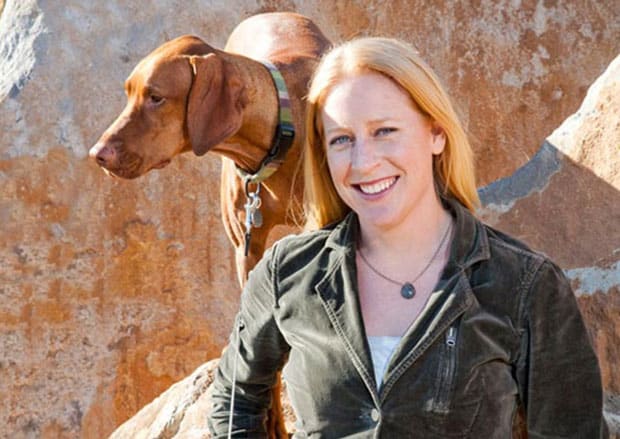 Q & A with Carissa Mondavi
Carissa Mondavi (CM), Continuum Winery, is interviewed by Tricia Conover (TC), Contributing Wine Editor, PRiME Magazine.
TC: Tell me what you do at Continuum Estate and a bit about its wine production.
CM: I have many functions in the company: marketing communications, showing the wines in the market, social media, trade events. We are producing 2,700 cases now, and we may grow to 5,000 cases. We don't want to be too big or too small. This size allows us to be high level and attract great talent. We will be getting into international markets, but right now we are just domestically sold. On Pritchard Hill, Chappellet is the largest wine producer; Colgin is one of the smallest.
TC: Can you tell me about your vineyard philosophy? Why is this site important?
CM: Our vineyard yields are extremely low. We have very rocky soils. Our soil is volcanic. Just to get started up here [Prichard Hill] it is a huge investment. You are pulling out boulders before you even start planting. Our yields are 1.7 tons of grapes per acre vs. 4-6 tons per acres on the Napa Valley floor. It is a very different kind of farming. You taste minerality. The soil is really special…. the intensity and energy, it's a pristine force. This soil, this exposure, this elevation drew us here.
TC: The winery setting is beautiful.
CM: You get a clear view of San Francisco and the fog. As you know, Mark Twain said that the coldest winter he ever spent was a summer in San Francisco. We are at 1,300 to 1,600 feet and you get a view from the winery of San Francisco and the surrounding Napa Valley.
TC: Describe wine-making at Continuum.
CM: Each block from our vineyards is fermented separately and each is getting some time fermenting in cement fermenters that help retain the minerality. We do a lengthy maceration. Each lot is classified and judged to meet our standards. Small new French oak barrels are used for aging and we incorporate lees stirring. These wines will age well and endure for generations. We're striving to make a single wine at the very highest level. It's an estate wine modeled after the first growths of Bordeaux. My father [Tim Mondavi] has been responsible for 41 vintages of wine so far, and he feels this is what Napa does best.
TC: What are your views of the progress of women in the wine industry?
CM: I think the women in the generation before us really paved the way. At that time, it was exceptional to be a woman in a winery. It was a tough place to be. Now, it is much more common [for women to be in winemaking], although there is still a lot of room for growth. When my aunt first went to open up the East Coast market [for Robert Mondavi Winery], it was a man's world. She would go to speak about our family's wine. She would be dressed in her business attire and "go on" right after the women selling the tequila would be dressed to inspire a different type of notice! It's different now.
*What is Terroir? Terroir is a French term representing the special combination of climate, soil, geography, elevation, aspect, and growing conditions that are unique to a vineyard or viticulture region. Does this wine express the aromas, body, and flavor of its terroir? Does it have a "sense of place"? The good ones often do.