Greece has long been known for its history and gastronomic expertise, and the emerging importance of the Greek wine industry has added an exciting new 
dimension. Athens has a thriving wine trail in nearby Attica. Santorini in the Cyclades Islands features a world-class white wine, Assyrtiko, highly sought after and impressively rated. Vintners are rediscovering other indigenous grapes like Moschofilero, Xinomavro, and Agiorgitiko from the Peloponnese and Macedonia regions. They are bringing modern winemaking techniques to this ancient place where monks were the winemakers during the Byzantine Empire. Wine connoisseurs are enjoying the new aromas and flavors of the wines of Greece, different from the usual international staples of Cabernet Sauvignon and Chardonnay.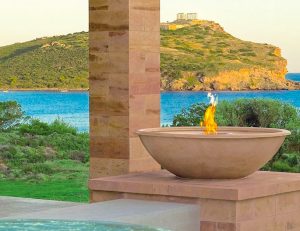 Athens
The Attica wine appellation is within easy reach of Athens. The Wineroads of Athens is an initiative of wine producers in Attica to connect their wineries with the scattered archaeological sites and natural attractions of the area. The historic sites like the Poseidon Temple and the vineyards meld in this terroir. The Savatiano grape flourishes in Attica and produces an elegant balanced white wine with aromas of citrus fruits and flowers.
Santorini 
The island of Santorini in the Aegean Sea is a remnant of a volcanic caldera. This rich soil is the catalyst for a flourishing wine industry. The mild climate and stunning cliffside vistas with their whitewashed buildings draw thousands of visitors each year. The Sirocco and Meltemi prevailing winds keep the native Assyrtiko grapes cool, but warrant positioning the vines in a basket-like configuration close to the ground to preserve moisture. The resulting wine has bracing and lively acidity and exotic mineral notes of salty citrus, honey and peach.
The Peloponnese
The Peloponnese region occupies more than 8,000 square miles and fills 1/3 of Greece. On its plains in history Sparta's forces clashed with Athens. The steep valleys and imposing peaks make for a distinctive wine region. Vintners plant both international wine varieties as well as indigenous grapes, particularly the aromatic white grape Moschofilero (mos-koe-fee-le-row) and a full-bodied red grape, Agiorgitiko (ah-your-yee-ti-ko) in Nemea. One of the largest producers, Domain Skouras makes over 700,000 bottles per year.
Macedonia 
Macedonia in the North borders the former Yugoslav Republic. It is the home to Thessaloniki, Greek's second largest city, which harbors beach resorts and an international crowd. The food and architecture favor the Turks and the Serbs rather than the Greeks. The Naoussa wine region outside Thessaloniki has ideal growing conditions for it's indigenous grape, Xinomavro (zeeno-mav-ro). Xinomavro makes a fruit-forward red wine that has depth similar to Italy's Nebbiolo Barolo and Barbaresco wines. This grape is often blended with Merlot or Syrah to round the edges of the tannins.
Next time you find yourself in Greece, take a break from the ancient history tours and experience the evolution of the native Greek grapes into today's fine wines. These wines of Greece are now available around the world. If the god of the grape harvest, Dionysus, decided that the Athens area was a good place for his favorite vine, that's more than good enough for us.
Wines of Greece
Sigalas Assyrtiko Santorini 2016
Tasting Notes: The subtle nose of salty citrus and peach follows through with a powerful minerality and structure. This is a world class Assyritiko.
Boutari Moschofilero 2014
Tasting Notes: Ripe citrus, grapefruit, and white plum flavors are featured with this intensely floral nose of white rose and melon.
Alpha Estate Axia Red 2013
Tasting Notes: This is a Xinomavro/Merlot blend aged for 12 months in French oak. Ripe blackberry, vanilla are balanced by a bracing acidity.
Skouras Megas Oenos Red 2011
A Agiorgitiko/Cabernet Sauvignon blend
Tasting Notes: This deep and intense purple wine has aromas of blackberries and and black raspberries with spice, smoke and leather. It has a fine, elegant texture.