There are more stories and rumors about Champagne than about any other wine in history. Why does this drink evoke so much lore? Why have important figures in history talked about its importance and effects? Remember, you can only call it "Champagne" if it comes from the Champagne region of France. Otherwise, you must call it sparkling wine. Below are 15 fun facts about champagne and recommendations for the best champagne for New Year's Eve.
14 Champagne Fun Facts
Champagne and Pop Culture
James Bond drinks Champagne often. He has drunk it more than 35 times in his films… more than his famous martini made in his signature style, "shaken, not stirred." He drinks his Champagne, "slightly chilled."
Coco Chanel has said of Champagne, "I only drink Champagne on two occasions, when I am in love and when I am not."
Marilyn Monroe took a bath in Champagne at least once. It took 350 bottles of Champagne to fill her bathtub.
Winston Churchill habitually consumed Champagne, sometimes at 11 AM. Pol Roger Champagne house makes their prestige wine, Cuvée Sir Winston Churchill, in homage to him. This Champagne is only made in the very best vintages. Winston is known to have said about Champagne: "Champagne: In victory you deserve it. In defeat you need it."
>READ: HERE'S TO CHOOSING THE BEST CHAMPAGNE STYLE FOR YOU
Champagne Throughout History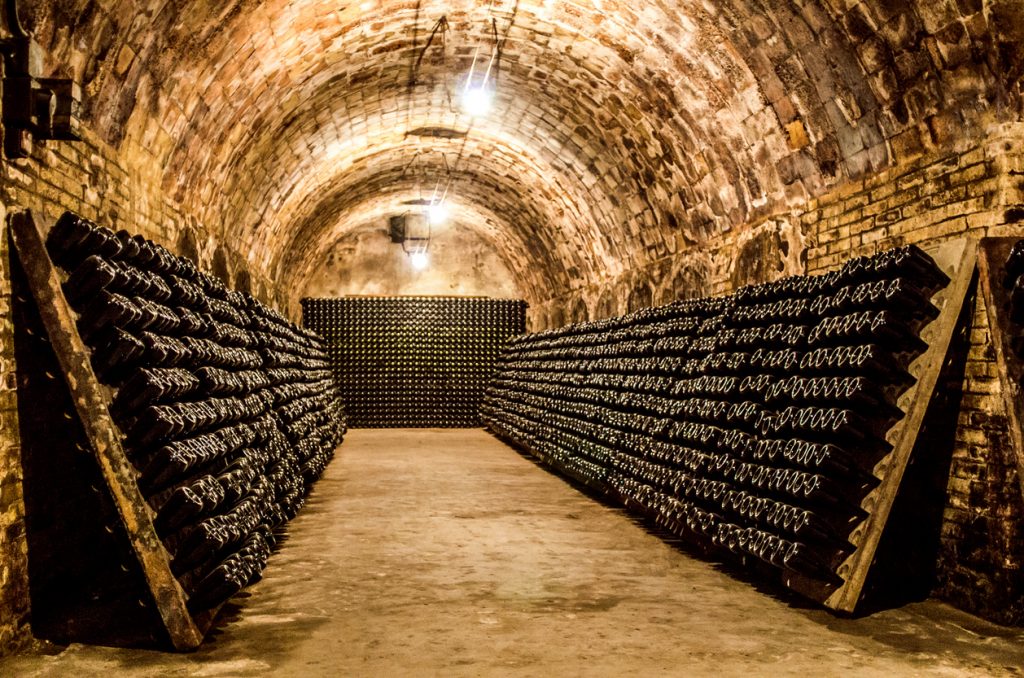 In the 19th century, many high society men thought the best use of Champagne was for polishing their boots.

Winemakers were seriously worried about Champagne bottles exploding so were hesitate to produce it. 90% of the bottles burst until a stronger bottle was invented around 1662 by English glassmakers.

Dom Perignon invented Champagne. The phenomenon of streaming bubbles created by the refermentation of wine had been observed for decades. Dom Perignon, a French Benedictine monk, did, however, make enormous contributions to Champagne's winemaking techniques such as making white wine from red grapes.
A woman invented the tilted riddling racks that serve to help clarify Champagne and extract yeast cells from the wine. The widow (Veuve) Clicquot – Barbe-Nicole Ponsardin Clicquot, who was the first woman to take over the business of a Champagne House, turned a kitchen table into a unique and useful invention.
Champagne Bottles and Products
There are 49 million bubbles in a 750ml bottle of Champagne.
28,000 Bottles of Champagne are drunk at Wimbledon each year.
If you drink Champagne too quickly, the bubbles make the alcohol enter your bloodstream so fast that you might get a headache.
The longest recorded distance a Champagne cork has traveled is 177 feet (54 meters.) The pressure in a Champagne bottle is 90 lbs. per square inch. That is three times the amount of pressure in your car's tire. Watch where you point that bottle when opening!
Champagne emits 30 bubbles each second.
Champagne has three times more gas than beer.
Some Final Words on Champagne
All special occasions call for Champagne, but winter holiday parties demand the real thing. Champagne evokes strong emotions. Dom Perignon thought drinking Champagne was like drinking stars. Champagne is one of the most exceptional wines in the world. As Madam Lilly Bollinger said, "I drink Champagne when I'm happy and when I'm sad. Sometimes I drink it when I'm alone. When I have company I consider it obligatory. I trifle with it if I'm not hungry and drink it when I am. Otherwise, I never touch it – unless I'm thirsty."
Level-4 Sommelier Picks for Best Champagne for New Year's Eve
Top Luxury Champagne
This exceptional wine, the "King of Champagnes," features notes of toasted bread, hazelnut, and jellied fruits.
Top Value Champagne
Composed of 20% Chardonnay, 40% Pinot Noir, and 40% Pinot Meunier. This wine is pale gold with delicate bubbles and floral aromas of pear, apple, almonds, and hazelnuts and is a wonderful value.
Top Value and Rating Rosé Champagne
This Champagne is pale pink salmon in color and has aroma notes of raspberry and fresh pear.
Best Champagne Gift Set
This is an amazing wine that comes with two flutes in a beautiful gift box. This Cristal Champagne is likely to age for many years to come.
If you want to celebrate the new year in style any of these will be the best Champagne for New Year's Eve. Cheers!
>READ: CHAMPAGNE REGION: LUXURY BRANDS STEEPED IN HISTORY
>READ: CHEERS! PICK THE PERFECT BUBBLY FOR A CHAMPAGNE TOAST