"Ladies, don't let anybody tell you you're ever past your prime."
So said Michelle Yeoh, 60, after winning her first Academy Award for best actress in a film last night. Michelle earned the award for the movie "Everything Everywhere All At Once," where she plays a struggling Asian-American immigrant who runs a laundromat and feels beaten down by the world around her. The movie is an existential adventure that explores the idea that there are infinite lives as part of a massive multiverse. If you haven't seen it yet, I highly recommend it. The story is fun and compelling, and the acting is superb.
Trailblazer
In addition to representing prime women everywhere, Yeoh has the honor of being the first Malaysian-born actor to win the prestigious award. After her historic nomination in January, Yeoh had an interview with the Hollywood reporter. She said, "it's taken a long time. But I think this is more than me." She said she's continually approached about what a difference she's making, saying, "Asians (are) walking up to me saying, 'You can do it, you're doing it for us.' It's like, 'I understand. I totally understand.' All this time, they've not been recognized; they've not been heard."
Her acceptance speech last night continued that same thought, with Yeoh saying, "For all the little boys and girls who look like me watching tonight, this is a beacon of hope and possibilities. This is proof to dream big, and dreams do come true."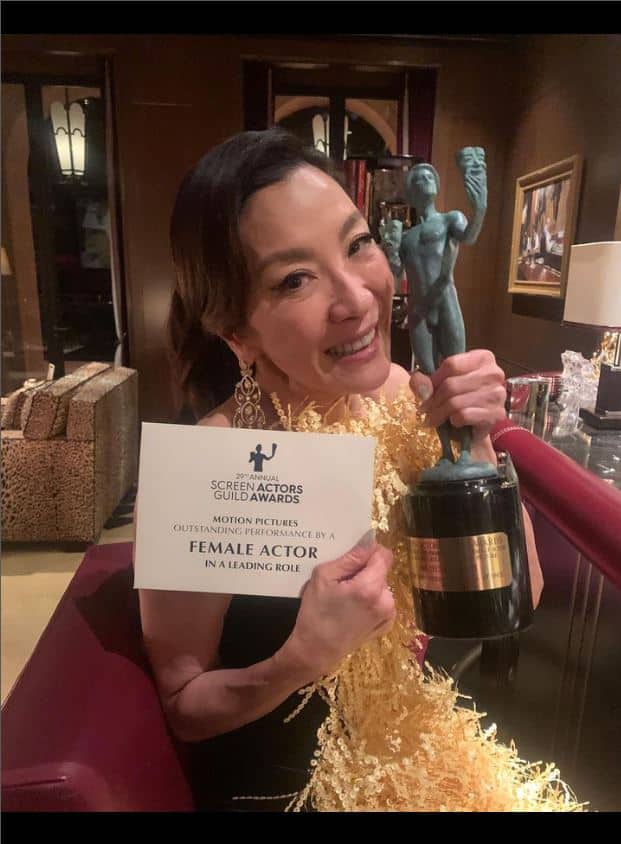 Additional Accolades
While this is her first Oscar win, Yeoh has won a number of awards for her performance already this year. Among those was a SAG win for Outstanding Performance by a Female Actor in a Leading Role and a critic's choice award. While her star is shining brightly this year, Yeoh has had a long and seasoned career. You might recognize her from films such as "Crouching Tiger, Hidden Dragon" and "Tomorrow Never Dies" from the 007 series of films.
Last night wasn't just a shining moment for Yeoh; her film "Everything Everywhere All At Once" dominated many categories. Her costar Ke Huy Quan – the comeback kid of 2023 – took home the award for the best-supporting actor after a long and frustrating journey. I was delighted to see him win because he's been a favorite actor of mine since he broke out in the early 80s in films like "Indiana Jones and the Temple of Doom" and the "Goonies," a personal favorite.
Fellow prime woman Jamie Lee Curtis also had a great night, winning her first Oscar for the same film. We've doted on Jamie's supportive and upbeat attitude for her fellow nominees and costars this year and love being on a fantastic journey of success with her.
In total, the film won seven Academy Awards out of 11 nominations, including best picture. I guess when you have some of the top actors and actresses in their respective fields, the film is sure to be a hit, so the win isn't terribly surprising.
Onward.
The topic of women in their prime has been in the news lately, thanks to bonehead comments by Don Lemon and the response from women everywhere. At this point, we must wholly embrace that we can be at our peak whenever we darn well feel like it. Both Yeoh's and Curtis' win last night go to show that it's never too late to chase your dreams. If you find yourself feeling 'less than' as you get older, stop and take some inspiration from Yeoh's words:
"I think this is something that we have been working so hard towards for a very long time, and tonight we freaking broke that glass ceiling," she said. "I kung fu'd it out and shattered it, and we need this because there are so many who felt unseen, unheard," adding that her win is for "the Asian community and anyone who has ever been identified as a minority."
So the next time somebody tries to tell you you're no longer in your prime or you feel like you have an obstacle you can't overcome, refuse to accept it. Instead, you go ahead and kung fu whatever is in your way and keep chasing that dream.
Read Next:
Academy Awards 2023: A Tribute to Women
March Forward Into Women's History Month