Writers tend to watch movies in a way that often makes them much less satisfying. Late one night I attempt to watch the romantic movie, Love, Wedding, Marriage, starring Jane Seymour, Mandy Moore, Kellan Lutz (undeniably eye candy) and James Brolin (age-appropriate eye candy). Not a bad lineup. But I am unwilling to suspend my disbelief, even for the sake of enjoyment, after Kellan Lutz utters these three lines:
"I find it so adorable that you can't make up your mind about something without consulting your horoscope."
"I love it that you watch the same sad movie over and over again, hoping for a happy ending."
"I fall in love with you all over again every day."
I cannot imagine any man of any age uttering these words in real life, and I immediately vow to never again skip reading Rotten Tomatoes. The New York Times seem to agree with me, publishing one of the worst put-downs I've ever seen for a bland rom-com, "…a movie that feels like punishment for a crime you can't remember committing." Apparently, my instincts are in good stead and maybe I can have a second career as a movie critic, after all.
The Classic
As a female film buff, I strongly prefer Rhett's arousing speech to Scarlett, in Gone With The Wind:
"No, I don't think I will kiss you, although you need kissing, badly. That's what's wrong with you. You should be kissed and often, and by someone who knows how."
I'm still waiting for a man as sexy and charismatic as Rhett, even though he was a prototype misogynist and into spanking. Yes, I realize that Scarlett had an appalling sense of entitlement, but was spanking the best route to Scarlett's becoming woke? Anyway, the long and bloody civil war led to Scarlett's awakening, and Rhett had nothing to do it.
The Comedic
I can also appreciate the nuance of this pithy line spoken by Dermot Mulroney to Debra Messing, in The Wedding Date: "I think I'd miss you even if we'd never met." Clearly, these words open up a chicken-and-egg philosophical exploration, but, really, isn't this what we all want? The missing piece to our puzzle? The lid to our pot? Tom Cruise's heartfelt admission to Renee Zellweger in Jerry Maguire? "You complete me," he said to her, and, frankly, I don't think "shut up" was an appropriate response.
Thank goodness, life is not all drama and tears. Some lines, like this one from When Harry Met Sally, can be as cozily satisfying as a bowl of matzo-ball soup. "When you realize you want to spend the rest of your life with somebody, you want the rest of your life to start as soon as possible." I couldn't agree more.
Happy and "Not" Endings
But my favorite movie line comes from The Great Gatsby: "I wish I had done everything on earth with you." The simplicity of this line sums it up for me, precisely. I want both of us to be informed, and shaped, and changed by the same experiences. And, practically speaking, I want to share all my significant moments with someone who will remember them, too, in case I forget.
Mostly, I'm a sucker for a happy ending. When I first watched Sleepless in Seattle, I was pulling so hard for poor Annie, stuck with that drippy Walter. What a mess that guy was. Like many young girls, I grew up dreaming of being loved by a guy like Sam, even though my ideal Sam looked nothing like a young Tom Hanks. But, still, it was Sam who spoke these memorable words:
"It was a million tiny little things that, when you added them all up, they meant we were supposed to be together…and I knew it. I knew it the very first time I touched her. It was like coming home…only to no home I'd ever known…I was just taking her hand to help her out of a car and I knew. It was like…magic."
Sam's charming soliloquy was inspired by his deceased wife, not Annie — but his words ably demonstrated that he was in touch with his feelings and capable of emotional availability, both highly-prized character traits, cinematic or otherwise.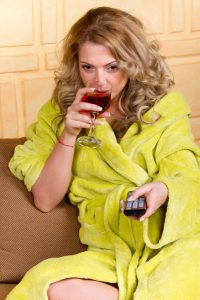 In the real world, I keep searching for an elusive combination of keen intelligence, warmth, and humor, which I haven't found in anyone except my ex-husband, who is currently on his honeymoon in Bali, and otherwise unavailable. So, when things aren't going so well for me in the dating world, I love watching romantic movies and absorbing their romantic lines, whether sizzling or sappy, with all of my senses. I'm trying to be less analytical and more in the moment.
Speaking of moments…we're a little short of sleep and back in Seattle where it rains all the time. Our lonely architect is seeking support from his jovial drinking buddy:
Sam (Tom Hanks): "What is tiramsu?"
Jay (Rob Reiner): "You'll find out."
Sam: "Well, what is it?"
Jay: "You'll see!"
Sam: "Some woman is gonna want me to do it to her and I'm not gonna know what it is!"
On some quiet day, when I least expect it, I hope I will find a man who will make me laugh and who isn't into spanking. Meanwhile, I am searching for the perfect 1811-era dress to wear to my Sense and Sensibility-themed tea-party and movie showing. I can already see the table laden with fruit tarts and tiny glasses of sherry. I'd love it if you could join us.