Before considering any surgery or procedure, it's essential to know as much information – both good and bad – about your surgeon as possible. This is true when it comes to plastic surgery because whether the procedure is cosmetic or health-related, you don't want to trust your face and body to just anybody. Several years ago, we had the opportunity to speak with Dr. Rod Rohrich, who is internationally acclaimed as one of the best plastic surgeons, an author, educator, and leading innovator based out of Dallas, Texas. We were able to discuss the topic of how to find a plastic surgeon. We also interviewed Mary Crosland, co-author of the book, and they both had some very insightful and informational answers for us.
While this interview took place several years ago, we still find the information and guidance to be invaluable and quite relevant. If you're considering working with a plastic surgeon, or a surgeon of any kind, you'll find their advice helpful in making the best decision.
D: Congratulations on your new book, Navigate Your Beauty-Smart and Safe Plastic Surgery Solutions. What a great idea to provide potential plastic surgery patients with this kind of powerful tool. Dr. Rod Rohrich, as the Chair of the University of Texas SW Department of Plastic Surgery and as an internationally renowned plastic surgeon practicing in the Dallas area, your services and opinions are frequently sought after. Ms. Mary Crosland, at the same time, offers a new point of view as an experienced businesswoman and as a sophisticated consumer of rejuvenation procedures. Both of your points of view are helpful and sorely lacking as you look around to see what is available in the way of practical advice for people seriously considering surgery to look more youthful.
"The Three Magic Questions"
Early in the book, you teach the reader to ask "The Three Magic Questions" in order to find the right plastic surgeon. You both emphasize safety over all else, but you also stress undertaking prudent precautions to ensure the best possible aesthetic outcome. That is where "The Three Magic Questions" come in. The point of asking them is to determine the surgeon's experience level, the expertise of the doctor who will be operating on you and finally, does this doctor get exceptional results? For our reader's edification, here are "The Three Magic Questions:"
Is the procedure that you want done one of the top three surgeries that this surgeon performs, and how often does he or she do it?
Does the surgeon teach, speak, or write about this procedure for the benefit of other plastic surgeons?
Does the surgeon have long-term follow-up photos for this procedure?
Question: Dr. Rohrich, I know that you say any surgeon worth their salt shouldn't be put off by these Three Magic Questions, but are young doctors today taught to expect inquiries like these? Are they taught to handle them with aplomb?
Dr. Rohrich: Yes, they are superbly trained to handle these situations, and they are on their way to becoming accredited plastic surgeons and are eligible to be boarded by the American Board of Plastic Surgery.
Question: Ms. Crosland, when you have asked one or all of these questions…have the prospective surgeons handled the situation gracefully?
Ms. Crosland: If a prospective surgeon feels aggravated, put out, or annoyed with any part of answering what we refer to as the 3 Magic Questions, this would be a major red flag for the patient. As a patient advocate, I feel it is the patient who needs to know and understand all the information and be able to know they are going to be safe from harm for any procedure and have the best outcome. If a prospective surgeon cannot answer gracefully, go elsewhere. As a patient, you must have a rapport with your prospective surgeon…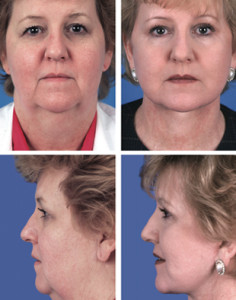 D: I appreciated that both of you urged the reader never to be intimidated by lavish offices or the number of certificates or accreditations on the wall. You remind the reader that they do not have to audition for the role of patient.
In Chapter 4, you talk about looking great without plastic surgery. Specifically, you detail the 5 Keys to Good Skin Care, and you mention "medical grade" skincare products.
I am guessing that most of us have been using what you call cosmetic grade skincare regimes for most of our lives and don't really understand the difference. Probably cost is not a great indicator of whether a product is a cosmetic or medical grade. I know that I have paid several hundred dollars for a jar of face cream in a high-end department store, but now fear it was probably a cosmetic grade product.
Question: Could one of you tell us what "medical grade skincare products" are and where you buy them?
Ms. Crosland: Medical-grade skincare products are higher in active ingredients than over-the-counter items and are overseen by a physician. Medical grade products work in deeper layers of the skin to help repair not just the epidermis or outer layer. Also, they are published in medical journals and are proven to work, especially those with Retin A.
Question: Could one of you list some of the brand names of these "medical grade skincare products" for us?
Dr. Rohrich: There are several great medical-grade skincare companies that really put science into their skincare products. This list is not exclusive, so I will mention only a few, including: Obagi, ZO Skin Care, Mary Kay, Eraclea, Clinique, Skinceuticals, and LaRoche-Posay. The key element is one that has an effective ingredient such as retinal or a salicylic acid compound that really goes deeper into the layers of the skin and makes a difference long term if used properly.
D: The horror stories that you both layout for the readers in your book are truly shocking and go a long way in explaining your combined motivation for writing Navigate Your Beauty. More than anything, you must want to save other people from the pain and disfigurement that you have witnessed.
Question: Dr. Rohrich, we have all seen bad facelifts for example, but I'm wondering if sometimes people aren't just too brave about being seen in public too soon after their surgery. Could that be the case with faces that seem lopsided or eyes that seem to be pulled way too tightly? Or am I just being optimistic here?
Dr. Rohrich: No, these people will never look good and will often require corrective surgery to improve their appearance.
Question: What does the future hold in store for plastic surgery? Are there any exciting new developments that you can share with us?
Dr. Rohrich: The future of plastic surgery is bright. We will see more non and minimally invasive techniques and technology in the near future to replace many of the invasive procedures we do now, like tummy tucks and facelifts! Stay tuned!
D: Thank you both for your time, and Prime Women wishes you every success with this important new book. I highly recommend it to our readers.
Read Next:
Facelift vs. Thread Lift: What's Right for Me?
What You Need to Know About DAXI, The New Treatment for Fine Lines