When you think of astronauts, the guys who likely come to mind are people like Buzz Aldrin or Neil Armstrong, but what if the guys who SHOULD be coming to mind are actually gals, like Peggy Whitson, Ph.D.?! She's America's most experienced astronaut, having flown on three long-duration space flights and accumulated more than 665 days in space (we say more than because she's racking up more as the commander on the Axiom Mission 2, the second all-private astronaut mission to the International Space Station, or ISS).
She's now the director of human space flight for Axiom Space. And she has a record-breaking career at NASA where she truly can say she's gone beyond "where no man has gone before" (yes, we realize that's a Star Trek phrase, but it feels appropriate here).
Her 665+ days in space add up to more than any other American astronaut or woman astronaut in the world.
Early Beginnings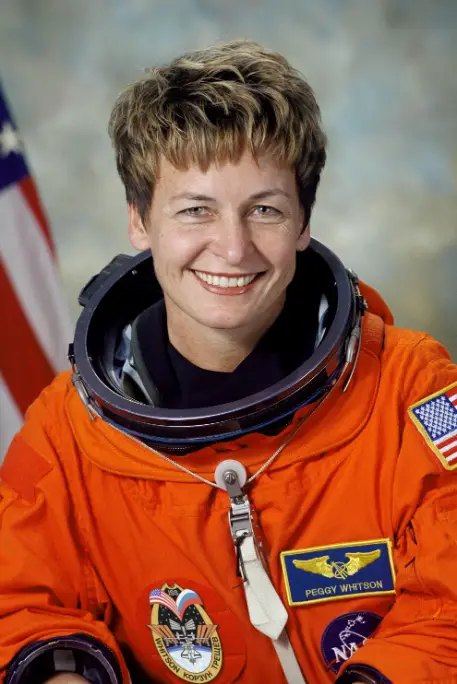 Peggy says she decided to become an astronaut after she watched the first moon landing on television in 1969. At that time, she was just a child, growing up on a farm outside Beaconsfield, Iowa, with her siblings and parents, who were farmers. But the dream was planted, so to speak, and boy, has it grown!
Whitson received degrees in biology and chemistry from Iowa Wesleyan and a doctoral degree in biochemistry from Rice University, where she later became an adjunct professor (as well as at the University of Texas). In 1989, she married Clarence F. Sams, a biochemist who joined NASA in 1984 to research the biological effects of spaceflight at the cellular and subcellular levels.
In 1996, Whitson was selected as an astronaut candidate and started her training. After two years of training and evaluation, she took on technical duties in the Astronaut Office Operations Planning Branch, then served as the lead for the Crew Test Support Team in Russia from 1998 to 1999. She's worked her way through various roles and responsibilities since.
Growing Experiences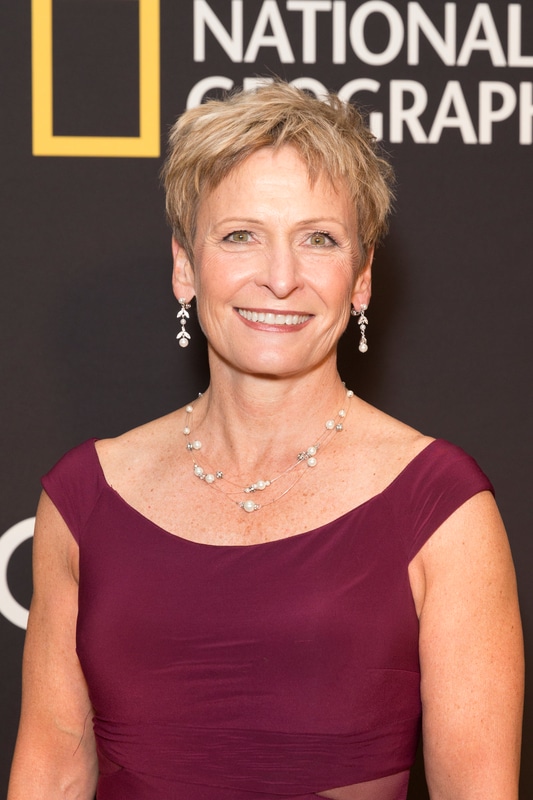 Whitson now has three and a half decades of space and science experience with NASA as a consultant and currently working for Axiom. She's held all kinds of titles, from NASA's chief of the Astronaut Office, two-time commander of the International Space Station, chair of NASA's Astronaut Selection Board, chief of NASA's Operations Branch, and deputy division chief for both Medical Sciences and the Astronaut Office, as well as co-chair of the U.S.-Russian Mission Science Working Group.
Now, she's the first woman to serve as a commander of a private space mission. She was also the first woman to command the ISS, the only woman to serve as ISS commander two times, and the first woman non-military chief of NASA's Astronaut Office.
She's been on three previous space missions to the ISS, doing ten spacewalks of more than 60 hours. Her third trip there lasted a whopping 289 days, the longest single space flight by a woman until Christina Koch's 328-day journey. Whitson still holds the records for the oldest woman spacewalker and the most spacewalks by a woman.
Whitson has also performed hundreds of research experiments while on the ISS and has been part of hundreds of experiments in biology, biotechnology, physical science, and Earth science, along with welcoming several cargo spacecraft delivering tons of supplies and research experiments.
Prime Woman in Space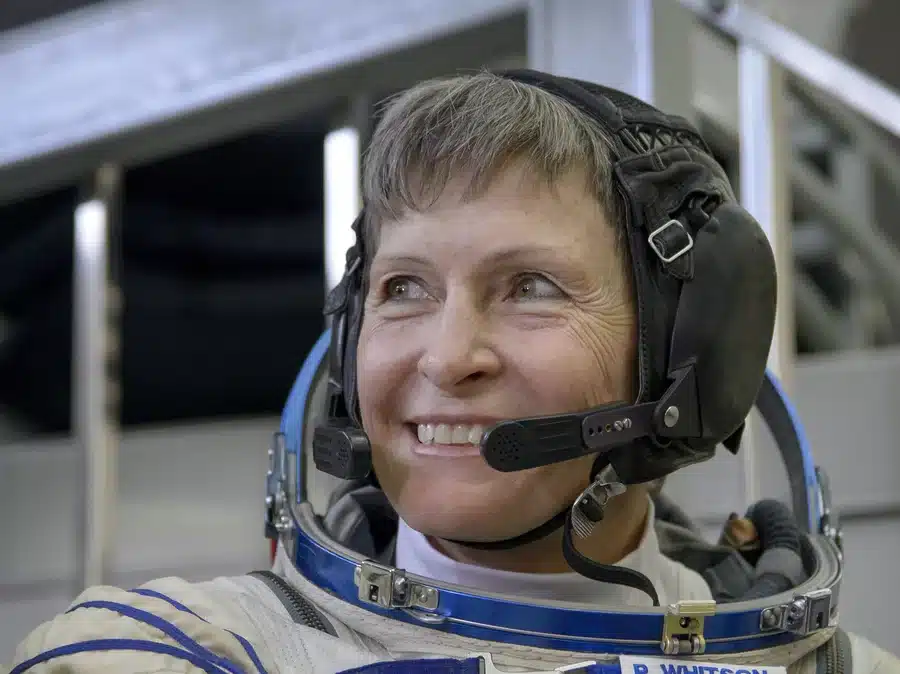 She was the oldest woman ever in space when she was 57. That was her final NASA flight. That record has since been broken, but she then set the record for the oldest woman to fly in orbital space (as opposed to sub-orbital). This year (2023), she broke her own record by launching off at the age of 63, and she now remains the oldest woman to fly in Earth orbit.
She's also worked underwater, too. In June 2003, she commanded the NEEMO 5 mission aboard the Aquarius underwater laboratory, living and working beneath the surface for 14 days.
She's been honored multiple times by NASA, earning medals in Leadership, Outstanding Leadership, and Exceptional Service. She was named Glamour magazine's Woman of the Year in 2017, one of TIME's 100 Most Influential People in the World in 2018, and earned the Women in Aviation Lifetime Achievement Award in 2017.
What Next?
Peggy is currently out in space, commanding the private crew of paying customers for Axiom Mission 2 aboard Crew Dragon Freedom. It launched on Sunday, May 21st, and arrived on Monday, May 22nd. The crew plans to stay for a week aboard the ISS, and this journey marks the second all-private mission to the orbiting outpost. The mission is making history not just because Whitson is aboard but also because one of the other people on board is stem cell researcher Rayyanah Barnawi, who happens to be the first woman from Saudi Arabia to travel to space. Guess you could say the gals truly are "out of this world."
Read Next:
Featured Women: Jamie Lee Curtis
Martha Stewart & Sports Illustrated: Breaking Barriers