Courage is defined as the ability to do something that frightens you. When you listen to Julie England discuss her career as an engineer and her second act as a blossoming artist, it's a word that comes to mind. She talks about facing situations where she knows she'll initially fail but has the confidence in herself and her abilities to know that if she perseveres, she'll find success. Here is the story of Julie's move from engineering to retirement to art school and the courage that she showed at every turn.
Believing in Herself
Born in Wisconsin, Julie is the oldest of three children. She was raised in a modest household with two creative parents, which probably steered her toward the art world later in life. When she set off on her own, Julie's initial goal was to find financial security. Julie jokes that she took a bit of a crash course directly out of college – one that she wouldn't recommend to young people today – that involved skipping her graduation from Texas Tech University to get married, then postponing a decent honeymoon so that she could start working a week after graduation.
Julie's early career was certainly impressive; she graduated as a chemical engineer and began working with semiconductors at Texas Instruments. She says, "I went from getting done with the hardest set of courses as a senior in chemical engineering to being totally incompetent in semi-conductor land." While it might have been a daunting life course for other people, Julie faced it with courage that was based on the belief that she would find success if she kept working toward it.
Julie said, "That's a theme in my life story – that I make these functional leaps. Somehow, I'm comfortable enough being incompetent in the next step… which I think allowed me to make the transition from Texas Instruments to studying art. Because I don't mind being incompetent for a while. I sort of have this belief in myself that if I really apply myself and do the work and concentrate and focus, I'll be able to get some sort of product or outcome that I'll appreciate."
Trailblazer
While Julie's self-confidence was integral to her success, she had a group of women that were a generation ahead of her at Texas Instruments that became her mentors. They gave her guidance through tough situations and helped her stay confident while being a woman in a man's world. Their example gave Julie the direction to take more of a leadership role in guiding the women around her. She remembers thinking, "If someone's going to break the glass ceiling, I think I might have the right stuff, so let's go for it. I wanted to be an example at that point in my career. I wanted other women to stay with the company; I didn't want them to keep leaving."
Julie later began offering additional guidance to employees at Texas Instruments by writing several articles about how to navigate a career path, attain promotions, and find success. She gave workshops to small groups of people to share her lessons learned and help them avoid the mistakes she might have made along the way. The knowledge that she shared in these situations was her way of giving back and helping out those that came after her.
Act Two
Julie became friends at Texas Instrument with 11 other female executives whose common experience and support drew them closer together. They formed a comradery that survived into retirement, rooted in a friendship based on the spirit of women helping women inside the company. That friendship followed them after they exited TI and continued to give them support.
However, after retiring, Julie had to reestablish who she was outside of the corporate world. She again showed courage in the face of the unknown and the question of "what's next?" It was then that her love of art and a growing art collection gave her direction. After collecting for 10 years, she began to see art on a deeper level. Her 'engineer brain' began analyzing the paintings, trying to deduce how the artist had created a particular look or style and the steps it took to reach completion. She started to ask herself if she could also create beautiful art, which led to her first art class at a community college.
Julie jokes that to become an artist, the motivation needs to be internally driven. She says, "The first two years of painting and drawing were absolutely ugly, so you're not going to get a lot of external validation of what you're doing. No one likes it." Julie's optimistic nature kept her going because, despite a lack of praise coming from all sides (or any sides), she simply appreciated the opportunity to learn from a trained artist and pursue a passion. She continues, "To me, success is just being a painter."
Conclusion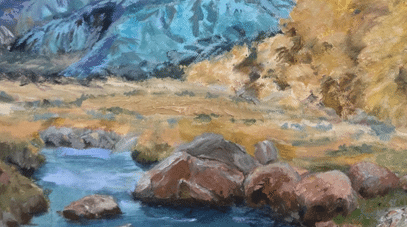 Julie's mentoring personality is still with her, and she has some sage advice for those that are starting a second act or are entering retirement. "For women out there who are over 50 or 60: realize we're living a long time. I have two parents who are approaching 90, and my goal is to have something that I love, that I have passion for, and that I want to get up and do every day for the next 20 years. And I think oil painting, for me, is that answer."
Read Next:
Cancer, Depression, and Menopause: A Story of Triumph
From Teacher to Founder and CEO of Billion Dollar Family Business