Whether you're interested in building your client base, searching for a new job, pursuing a side hustle that's in tune with your passion, or seeking a "second act" career, one thing is clear. To get noticed in today's competitive job market, you have to distinguish yourself from others with similar skills, services, and/or products. But how?
A little ingenuity can go a long way in helping you stand out among those in your niche or the professional space you're eager to occupy. Read on to learn about a few things you can do to get noticed that could make the difference in terms of getting your dream job, a coveted assignment, or a would-be client's business.
4 ways to get noticed today:
1. Start a blog (if you don't already have one)
A blog is like a digital town crier. It can make important announcements and provide information to the community you wish to attract, promoting both your expertise and services. What's more, a blog can position you as a thought leader in your field and give potential customers another way to engage with you.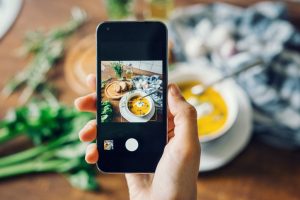 Create posts that contain tips, "how to's," special offers, events, products and images (if applicable), personal stories, and more. Then, share them on social media sites that appeal to your target audience. Write content regularly, whether it's a couple of times a week or once a month. You will likely experience greater success if you blog often, but whatever you do, be consistent.
Ask friends and family members to "like"/"follow" your social media accounts/pages, too, and to share your posts on theirs. Your blog can show possible employers and/or customers why they need you. Look into doing guest blogs or becoming a contributor—for resources like PRiME Women and those in your area of expertise—as well to broaden your reach.
2. Get resourceful
There's more than one way to communicate your skills and experience to a potential employer or client. While a cover letter and résumé in a traditional format is the norm and requirement in the application process for most industries, you can certainly supplement it with something that demonstrates your talent and has a little more pizzazz.
For example, maybe you've decided to launch a home-based bakery. In addition to selling your products directly, perhaps you want to do business with local restaurants that can serve your items to their patrons. Why not stop in before or after their lunch or dinner crowd with your résumé—which should highlight relevant experience and positions—and one of your most distinctive desserts? To add extra oomph, personalize the item's box with a clever message like, "For a unique treat, put my (honey lavender cheesecake) where your mouth is!"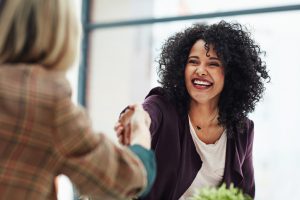 Correspondingly, you could create a résumé that tells the story of your interview before it actually happens or you know its outcome. Either way, it should end with you getting the job.
I did this very thing during the Great Recession, and it worked wonders. While I included a copy of my conventional résumé in all application packages, it wasn't what brought in the interviews and offers. When I met with potential employers, the first thing they'd touch on was my alternate résumé—which read like two-page book chapter that featured them and their company—and how it grabbed their attention. If you choose to do something similar, ask a friend to proofread it for the sake of accuracy before you send it out. Conversely, if you'd like to try this approach, but need help, hire a professional who can develop a novel résumé (pun intended) for you.
3. Create a buzz
Word of mouth is often the fastest route to drum up business for a new venture. For example, if you're in the start-up phase of, say, a ready-made meals delivery service for your community and the surrounding areas, consider providing a few prepared meals for friends and acquaintances. Then, invite them to share their thoughts, good experiences, and meal images on social media sites, like Facebook and Instagram, to spread the word. Genuine testimonials from satisfied customers are the equivalent of good press, which can help you garner new business.
4. Volunteer your services
It's an age-old fact; everyone loves to get something for nothing. To land a job or project you especially want, consider offering your services, free of charge, for a few hours, small project, or even a day. It's unconventional, unexpected, and can give a prospective client or employer a risk-free opportunity to see how you'd benefit their business. Whether or not your gesture is accepted, the offer could give you an advantage.
I once did this for a gig I really wanted. The firm I interviewed with specialized in performance tours to Europe and beyond. They needed someone who could assume administrative duties, write and edit copy, and use publishing software to layout customized brochures. After the interview, I told the president I'd like a chance to show him what I could do. So, I offered to come in the next day, gratis. He not only paid me for the time I donated, but also offered me the job.
Using unique approaches to capture the attention of businesses and people you would like to provide services for demonstrates your ingenuity, which can help you get noticed and get hired.