If you're looking for a wedding dress, congratulations! And whether you've got a massive soiree planned or a more intimate event with family and friends, finding a wedding dress that's beautiful and fits your budget may leave you feeling overwhelmed. So, where do you start? Right here. Here are tips for choosing wedding dresses for women over 50. First things first: I would marry my husband over and over again if I could. The feeling of stepping into my wedding dress 16 years ago is still fresh in my mind. But back then, I admittedly looked different—I weighed just over 100 pounds and was in great shape from Irish step dancing. Today, the wedding dress I would choose would be far different from the one I chose back then. It would be more modest, but I'd still want it to look stylish and beautiful. Thanks to wedding dress designers' evolution into designs that fit women of all ages, we luckily have some gorgeous choices.
Tips for Choosing a Style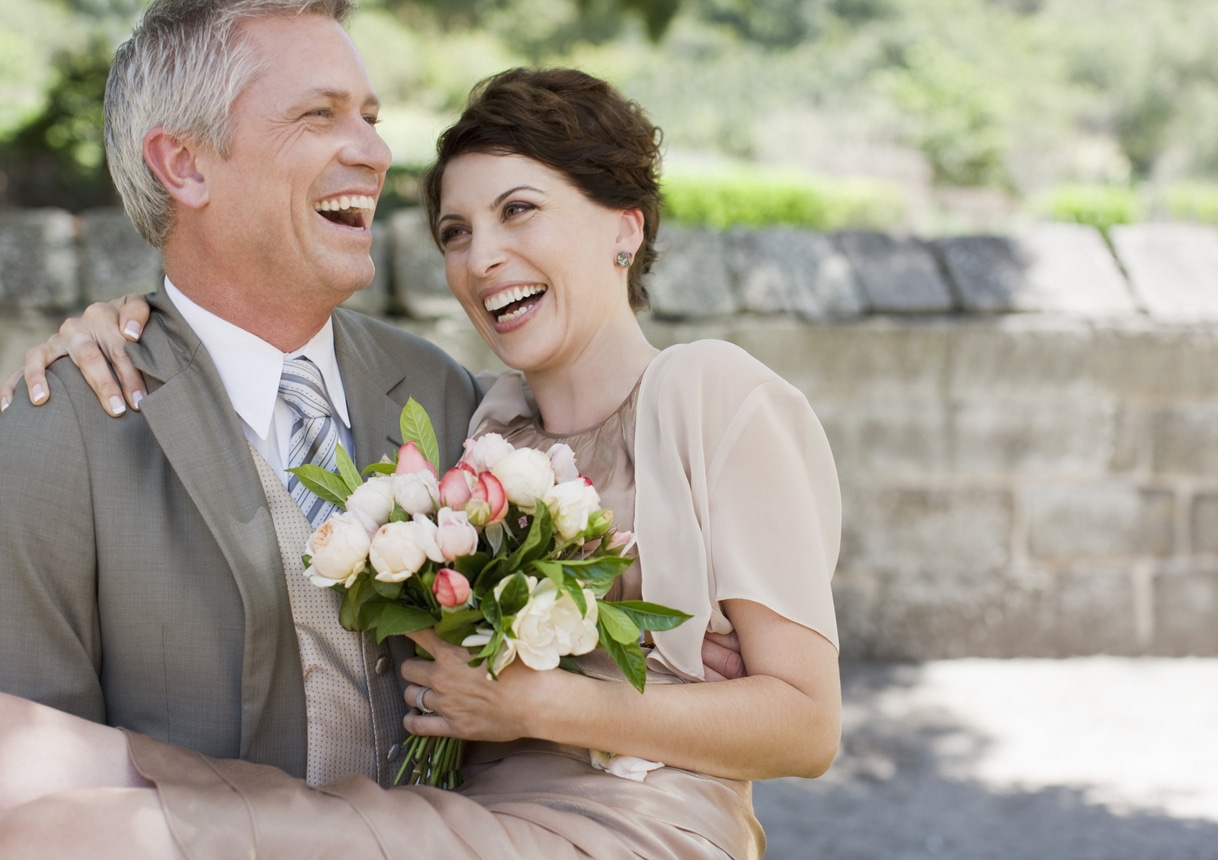 Before you hit the stores, get inspiration by browsing bridal magazines and surfing the web, and save images of the dresses that pop out to you. f you're on Pinterest, start a wedding dress board for easy reference when you do start seriously shopping. You can make it a secret board if you like, especially if your spouse can see the boards in your account. When you start shopping for wedding dresses, keep your body type in mind. By this point, you've likely worn many dresses in your lifetime. Choose a style that accentuates your best features so that you feel comfortable and confident on your big day. Here are my two cents: if you're wearing a wedding dress that you'll be concerned about, have to tug on, or pull up constantly, consider a different style. I want you to shine on your special day and be able to enjoy it fully without worrying about your appearance.
Keep Your Wedding's Theme in Mind
Will your wedding have a retro theme? Will it have a laid-back, beachy vibe? Are you going for all-out glam? The theme and vibe of your wedding will determine what type of dress will best suit the occasion. On the other hand, the dress you pick may actually determine your wedding's theme. Keep an open mind when trying on dresses, and choose the one that makes you feel your best.
Skip the Cinderella Styles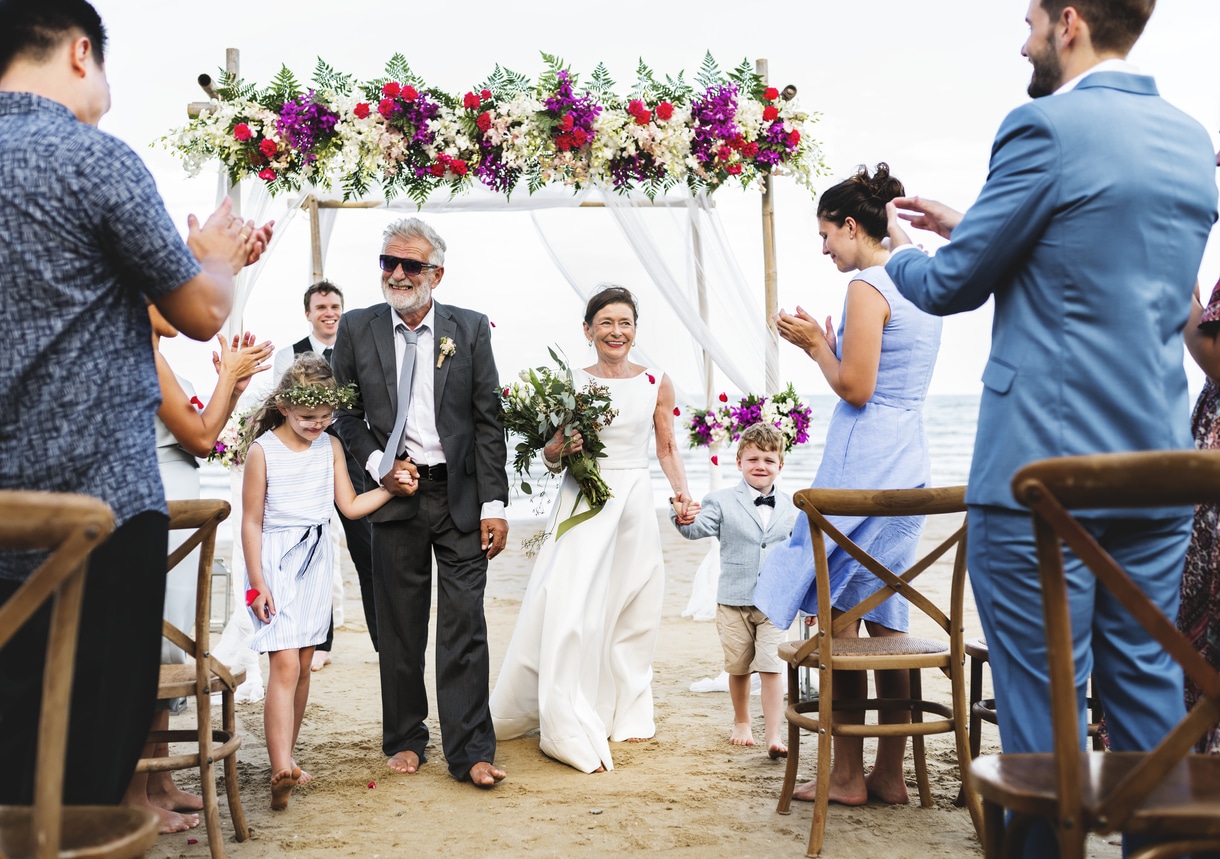 As a guideline, you'll probably want to steer clear of super poofy (I call them meringue) wedding dresses if you're in your second chapter. But that doesn't mean you can't have a full-length skirt with a train. Consider one with an A-line skirt or even a slit to show off your legs. Also, if you want to feel like a princess on your wedding day, you can still achieve a Cinderella-like effect by going with layers of sheer fabric like lace or organza that give a gentle bell shape to the skirt while still evoking a more mature vibe. Having said that, if your dream dress is one with six petticoats or crinolines under it and it will make you feel fabulous, you do you and go for it!
Mind Your Arms
Like many women, my arms don't look the same as they did in my 20s and 30s. So, would I go for a strapless dress now in my 50s? For me, it's a hard pass. If you're also mindful of your arms, look for styles that offer a capped, half, or full sleeve. If you don't want to show off your arms at all, you might want to choose sleeves that are more billowy or wider to hide them completely. I love the look of wider, sheer lace sleeves.
Neckline Choices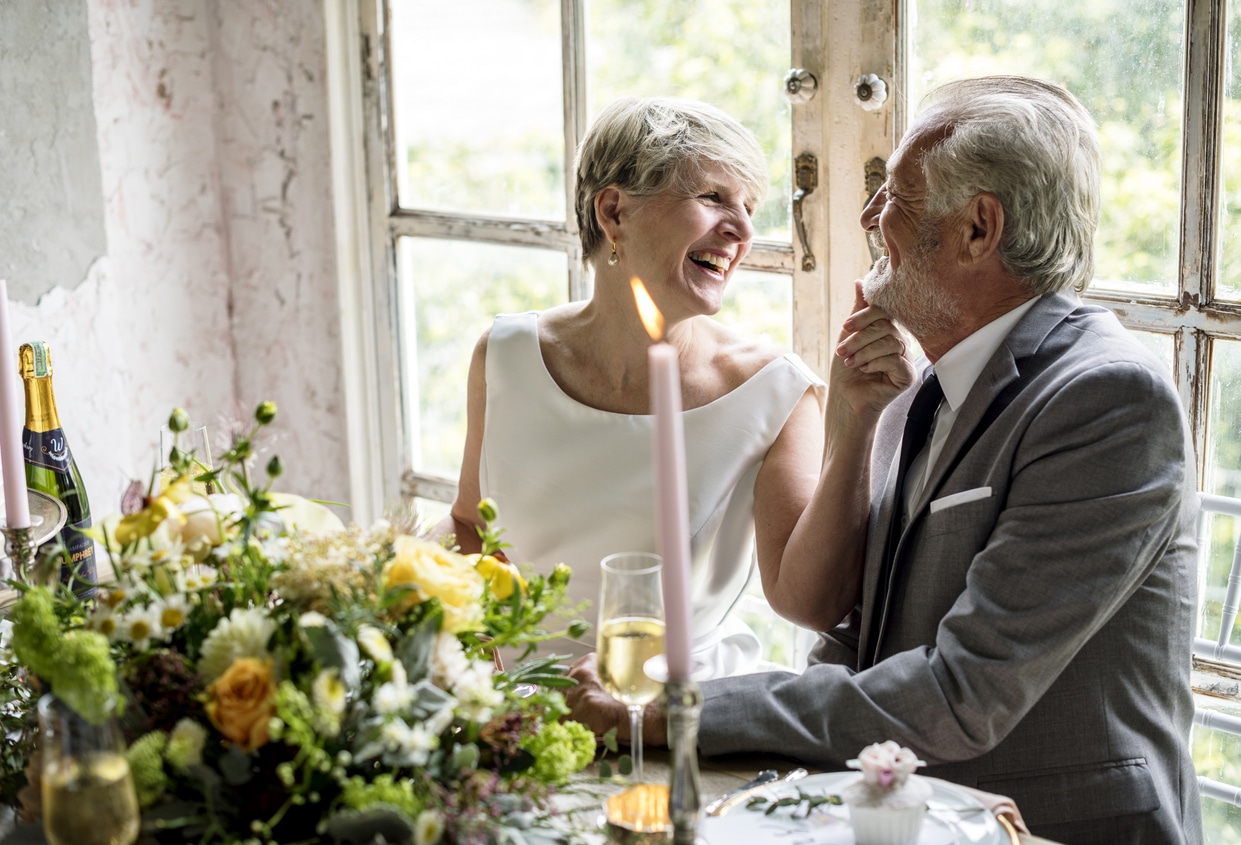 With the countless types of neckline styles out there, where do you start? A good way to do it is by looking at the shirts in your closet. At home, test drive boat neck, V-neck, plunge cut, and cowl neck styles and decide on the ones you like the most. Then, make note of them. Of course, when you hit the bridal shop, that's your chance to try styles you may have never thought would suit you. Your consultant may throw a couple of wild cards in the mix to encourage you to try something outside of your typical comfort zone. Something else to keep in mind: if you choose a dress with a lower neckline, but you're not a fan of what your decollete area looks like, many seamstresses can easily add a sheer panel to offer more modesty.
High or Low Skirt?
This one's all about preference and the shoes you'll be wearing. If you have super sexy or strappy wedding shoes to don on your big day, you may want to look for a tea-length dress or one with a high-low skirt. If you're wearing a more plain style and aren't interested in showing them off, longer dresses will work well.Again, it's all about you feeling your best, so wear those crystal heels under a long gown! I wore vintage heels with silk shantung and lace trim on my big day, and no one knew it but me.
Hopefully these tips for choosing wedding dresses for older women will help you find the dress of your dreams.
Read Next:
Turn Heads in One of Our Elegant Wedding Guest Dresses
25th Wedding Anniversary Vacation Ideas