As a wardrobe planner for "real" women age 40+, it amazes me how many "fashion emergencies" could have been avoided much more easily than my busy clients think. It also amazes me how many of these tiny, terrifying moments involve shoes.
You, just like my clients, probably don't have two personal assistants who run daily interference from all the "immediate" stuff right in front of you. That's often the part that makes it even harder to do any kind of practical-but-cool-looking wardrobe planning.
Okay, that's where Donna Karan comes in. Whenever she first started designing a collection, she had only one thought in mind, "What are my customers' wardrobe needs for this particular season—both weather-and-event-wise?"
God bless you Donna; you hit it on the head. One of my clients' most common "urgent fashion emergencies" is realizing that, even though they have recently bought wardrobe additions in their closets, they still don't have what they need to be dressed appropriately for the event they're facing in the near(est) future. It's not always easy planning for: weddings and parties in all kinds of weather ("exotic" outdoor venues make this even more challenging), types of sporting events never before attended, new jobs requiring new types of clothes and footwear.
Here's how to make my "Donna Karan Method" work for you when you're shoe shopping:
SHOE SHOPPING FACT and TIP #1
You KNOW about most of the upcoming events in your life and what looks you'll need for them. Be it a kid's track meet, worship service, friend's wedding, dressy office day or the dreaded high school reunion, we all want to feel good about ourselves. Oh yes, and if possible, prompt at least one, "You look so great" or even just "Cool shoes."
SHOE SHOPPING FACT AND TIP #2
What to avoid…
This time of year brings on the most potentially-dangerous roadblock to having a well-thought-out, workable shoe wardrobe: January Shoe Sale Seduction! THINK, WOMAN, BEFORE PLUNKING DOWN THAT CREDIT CARD FOR SOMETHING THAT ISN'T WHAT YOU REALLY NEED TO BE PICKING UP ON YOUR CURRENT "SHOE SAFARI."
Whether you're attending a high school football game, standing on the sidelines of a track event, or wanting to look cool for a special outdoor party, you probably need a new addition of something similar to at least one of these three style categories below:
Category 1: Sporty Slip Ons and Flats
Remember, think of ALL the places a great pair of flats can take you. Don't just grab up the first pair of white-soled Skechers you see on sale when you're shoe shopping.
A couple of suggestions: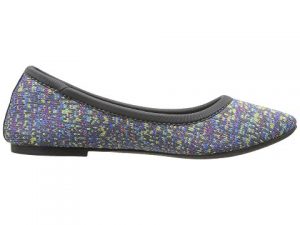 SKECHERS Cleo – Engineered Knit Skimmer, $34.99
Available in both lighter and darker multi-color combos.
[column size=one_half position=first ]
HAUTE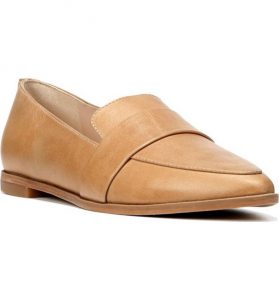 Dr. Scholl's 'Ashah' Pointed Toe Flat, $68.60
[/column]
[column size=one_half position=last ]
HOT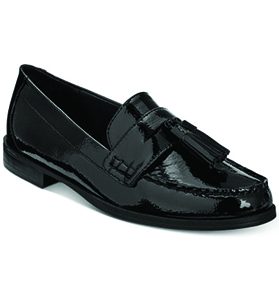 Giani Bernini Mauwe Memory Foam Loafers, $44.73
[/column]
How about an inexpensive walk on the color side? For less than $20, shake things up a bit and, if you end up having to stand in mud in the name of fun, love or duty, it won't bankrupt you! Go to the link below for other fun color choices in this style.
Kunsto Women's Leather Casual Oxford Shoes, $17.99
Category 2: Dressy All-Purpose Heels (or Almost Heels)
Tip: SAVE MONEY BY THINKING "forwards/backwards." Ask yourself, "If I check out the dressy holiday shoes now on sale, where could they take me this Spring?"
Valentines Day? Weddings? Maybe hang on to them until May-June dressy outdoor graduations? When you're shoe shopping, pay attention especially to lighter-colored metallics. They can take you so many places.
Two other specific things to consider in this category: venue and weather. How many of us have had the unhappy moment of realizing that our pretty party pump's spike heel has just gone through three layers of recently-rained-upon topsoil? That's why, especially with so many great-looking options available, block heels are a smart choice. A hot pop of color can be great, too!
[column size=one_half position=first ]
HAUTE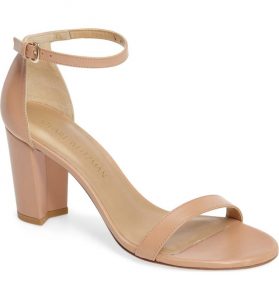 Stuart Weitzman NearlyNude Ankle Strap Sandal, $398-$425
[/column]
[column size=one_half position=last ]
HOT
Jewel Badgley Mischka Hendricks Embellished Block Heel Sandal, $49.47
[/column]
My very important wedge heel note:
Ladies, I'm sooo not their biggest fan. I find that 99.9% of women wearing a wedge walk in two very unflattering ways. She then, sadly, appears to be a clunk-clunk-clunk female Frankenstein or running toward the kitchen because she smells something burning (appearing that her upper half will arrive much sooner than her lower).
The one exception to my "think twice about a wedge" rule for this category: low-heeled wedges, especially good if you no longer feel happy in "real" heels due to foot pain or balance challenges.
[column size=one_half position=first ]
HAUTE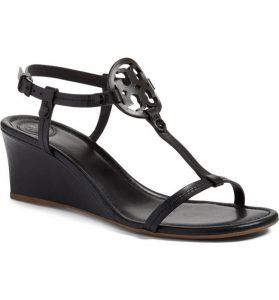 Tory Burch Miller Wedge Sandal, $268
[/column]
[column size=one_half position=last ]
HOT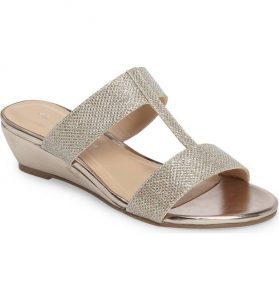 Pink Paradox London Melina Wedge Slide Sandal, $47.96
[/column]
Category 3: Rain Boots
Speaking of the sometimes-not-so-great outdoors, you know that you won't always know in advance what weather conditions you'll be facing. I hear so many horror stories from clients about forgetting to provide themselves with rain boots. My advice: maybe you don't spend so much on this category so you can buy a couple of styles: one for dressier days to office, dress-up lunch, worship service AND one for more casual rainy day slogs. Another piece of advice: maybe keep one pair in your car, one in your closet.
Check out these Capelli rain boots… Go to the link to see all the fun pattern possibilities.
[column size=one_half position=first ]
HAUTE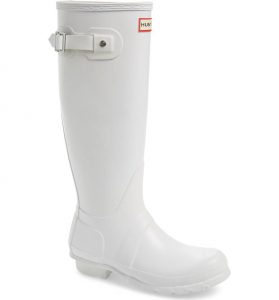 Hunter 'Original Tall' Rain Boot, $150
[/column]
[column size=one_half position=last ]
HOT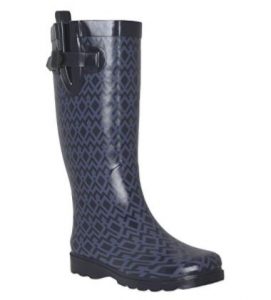 Capelli New York Ladies Shiny Umbrella Printed Rain Boot, $32.95
[/column]
My final advice: Whatever the occasion, choose something comfortable. Contrary to what Billy Crystal's "Saturday Night Live" Fernando Lamas character used to say, it's NOT "better to look good than to feel good." With a little planning, you can have your (perfect) shoe… and wear it, too!
Happy shoe shopping,
Becca the Clothes Coach