Every year, as the seasons change and the new trends hit the magazines I am tempted to pitch everything in my closet and go shopping. I mean, who doesn't like new sparkly items hanging in your closet? But one thing I have learned as I have become more "seasoned" is what looks fun and cute now won't be so cute in 6 months. So, before I ransack my closet, my goal now is to focus on a few key trendy pieces that I can add to the classics that are already in my closet.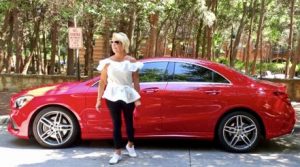 This spring/summer it is all about "the shirt." I love the ruffles – as evidenced by my last few instagram pics. Pair with white jeans, leggings and pop on some cute white tennis shoes and you're set. My personal fav this year is the off the shoulder and the one shoulder for weekend fun wear. There are a ton of options for the office, as well, with white and blue pin stripe so trendy right now. Pair a cute little wrap shirt with a ruffle or billowing sleeve with a pencil skirt and you will rock the office.
Anything with a lace detail is a great option to give a pair of jeans or shorts a little trendy pop. The bottom line is: Dressing for summer is tricky. It is a delicate balance of style, practicality and comfort. Remember, you don't have to replace everything in your closet. Just focus on a few key trendy pieces and you will breeze through to the fall looking cute and comfortable!