Work to cocktails is easy if you do a little planning ahead and bring along a few accessories, different shoes and perhaps a different jacket or top.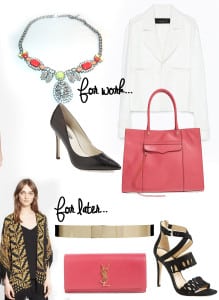 Jumpsuits are all the rage. The one piece makes it easy to transition from work to play. You can easily pair a sexy jumpsuit with a white blazer and platform heels for work. Salmon colored bag and necklace adds an unexpected pop of color to keep the look fresh.When you're off the clock, ditch the platforms for cutout strappy sandals and a salmon colored clutch.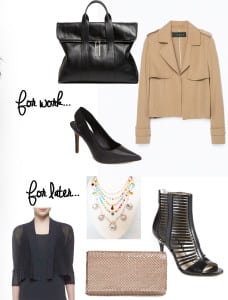 A black dress is the easiest look to transition from day to night. Take a fitted black dress with spaghetti straps and pair it with a chic sleeveless blazer or sleeveless trench for a modern work look. Add a touch of color with bling necklace. Again here, keep the shoes and purse simple: this look goes well with sling back pumps and a medium sized structured black leather bag.
At night you can ditch the blazer, switch out the sling backs for the strappy caged heels and had a gold metallic clutch to add the edge to the look. Add a sheer cardigan and now you're ready for a girl's night out!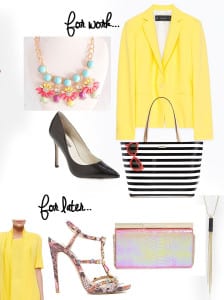 Summer is the perfect time to pump up the color volume. During the day, you can wear a bold pink sheath dress with a yellow blazer to brighten things up in the office. Keep the shoes toned down with black pumps to maintain a professional appearance. The bright necklace and stripe bag ties the look together.
Off clock, you can lose the jacket to wear the sheath solo or with a bright open front cardigan. Add some animal print strappy sandals and a clutch to add more glam to your evening activities. It's all about the dress. It's easy to switch out accessories when transitioning from day to night.
Key points:
Great fitting foundations are best for day to night transitioning

Dresses
Jumpsuits
sheer blouses

Metallic accessories will always add enough edge to take you into a nighttime look.
You're go-to shoe for night looks are strappy sandals to add more sex appeal.
Blazers can dress up any style and make it professional for day time
To switch gears quickly after 5, opt for a short sleeved sweater, or a sheer blouse over your dress or pants. Open front cardigans work well also for a summer time chic.