Do you ever feel like the beauty products on the market can be expensive and full of chemicals? If so, you're not alone. More and more people are turning to DIY beauty products for natural alternatives that are affordable and safe. Making your own beauty products at home is easier than it sounds, with just a few simple ingredients from your pantry or refrigerator. You will save money and have a great time creating customized treatments tailored specifically to your skin type.From face masks to body scrubs; lotions, creams, and oils; there's something here for everyone! So read on if you're looking for all-natural alternatives to store-bought beauty products.
1. Deep Hair Conditioner
You might need extra conditioning if you have dry or damaged hair. You'll love the moisture it puts back into your hair. When you have about 30 minutes to spare, apply this conditioner to your hair and scalp. It's easy to make and will leave your hair soft, smooth, and chemical-free.You'll need the following:
3 tbsp coconut oil
1 tbsp of avocado oil or olive oil

8 drops of lavender or rosemary, or peppermint essential oil

Stand or hand mixer
Mix everything together in a mixer on medium-high speed for 5 minutes or until ingredients are whipped to a thick and creamy consistency. Once whipped, apply to clean, dry hair. Comb through with a wide-tooth comb to distribute evenly. Let sit for 15 to 20 minutes, then rinse, shampoo, and style as desired. Use once a week.
2. Nail Polish Remover
Love to paint your nails but hate the harsh smell of those over-the-counter nail polish removers? Try mixing vinegar and lemon juice together, then dab on your fingernails.
3. Roll-on Perfume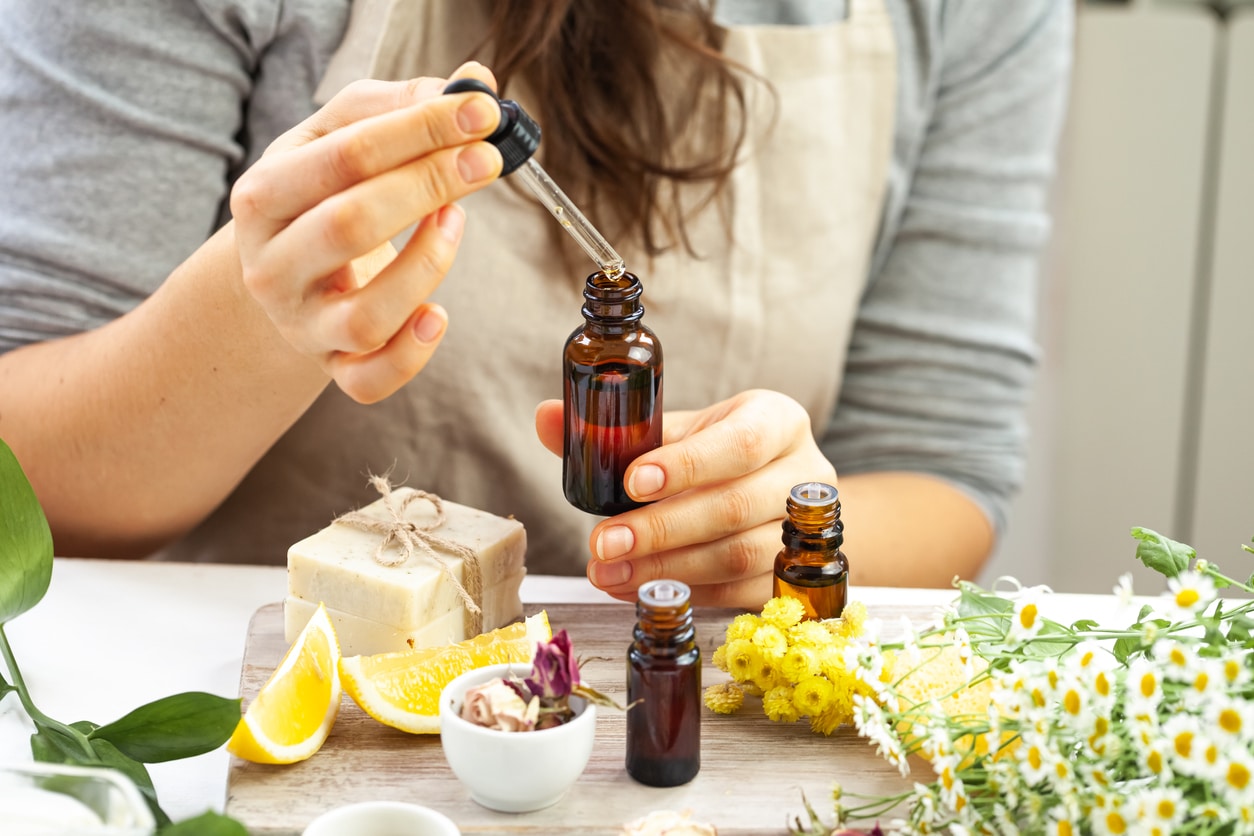 To make your own perfume, you'll need the following:
1 oz. roll-on glass bottle

1 oz. sweet almond oil or another light carrier oil, such as fractionated coconut oil

7 drops of ylang-ylang pure essential oil

4 drops of lavender pure essential oil

3 drops of cypress pure essential oil

2 drops of sweet orange pure essential oil
Carefully add the essential oils to the bottle drop by drop, then fill it with sweet almond oil. Blend well by rolling a bottle between your hands. Apply to your skin and enjoy the smell!
4. Eye Makeup Remover
It doesn't get any easier than this one. If you wear non-waterproof mascara, you'll want to make this. Take a pea-size of coconut oil and, with your finger, rub it on your eyes. Then wipe clean with a damp rag or cotton ball. That's it on this one.
5. Lash Strengthener
To make a lash strengthener, you'll need the following:
A clean container with a lid

A disposable mascara wand

1 tsp. castor oil (known for its proteins to thicken and strengthen hair)

1 tsp. coconut oil

2 vitamin E capsules
Add the oils to the container, then add the vitamin E oil by piercing and squeezing each capsule. Put the lid on and mix up by shaking.To apply, dip the mascara wand into the solution and apply it to your natural lashes, concentrating on the roots. Do this at night and leave it on while you sleep.
6. Lash Conditioner
Gather the following:
Clean container with a lid

Disposable mascara wand

1 tsp. each avocado oil, argan oil, and almond oil
Combine equal parts of all oils in the container. Shake to mix and apply with a mascara wand. Do this at night and leave it on while you sleep.This can also be used on your eyebrows!
7. Cuticle Oil
All you need is avocado oil and vitamin E oil. Mix and rub on your cuticles. I do this at night in bed before I turn the lights out. And, while I'm at it, I rub it on my feet, especially my heels.
8. Exfoliating Face Cleanser
If you love all things coffee, try putting it on your face! You'll need two ingredients: coffee grounds from your morning joe and slightly warmed coconut oil. Mix both together, then scrub gently on your face. Wash off with warm water, and you're done!
9. Body Powder
This one is my go-to for hot flashes. I use it almost every night before bed and sometimes in the morning too. When your body parts like to stick to other parts of your body, sprinkle some of this powder in between, underneath, and where ever else it's needed. Most baby or body powders on the market have talc and other chemicals, so I prefer to make my own.You'll need the following:
1/4 cup arrowroot

1/2 cup aluminum-free organic cornstarch

1/4 cup oatmeal (ground)

10 drops lavender essential oil (optional)

Container with lid (I used a shaker)
Arrowroot is found in health food stores or well-stocked regular grocery stores. Oatmeal is very good for the skin and helps slow the powder flow from the shaker. Mix the first three together, then drop in the essential oil if using.
10. Bath Salts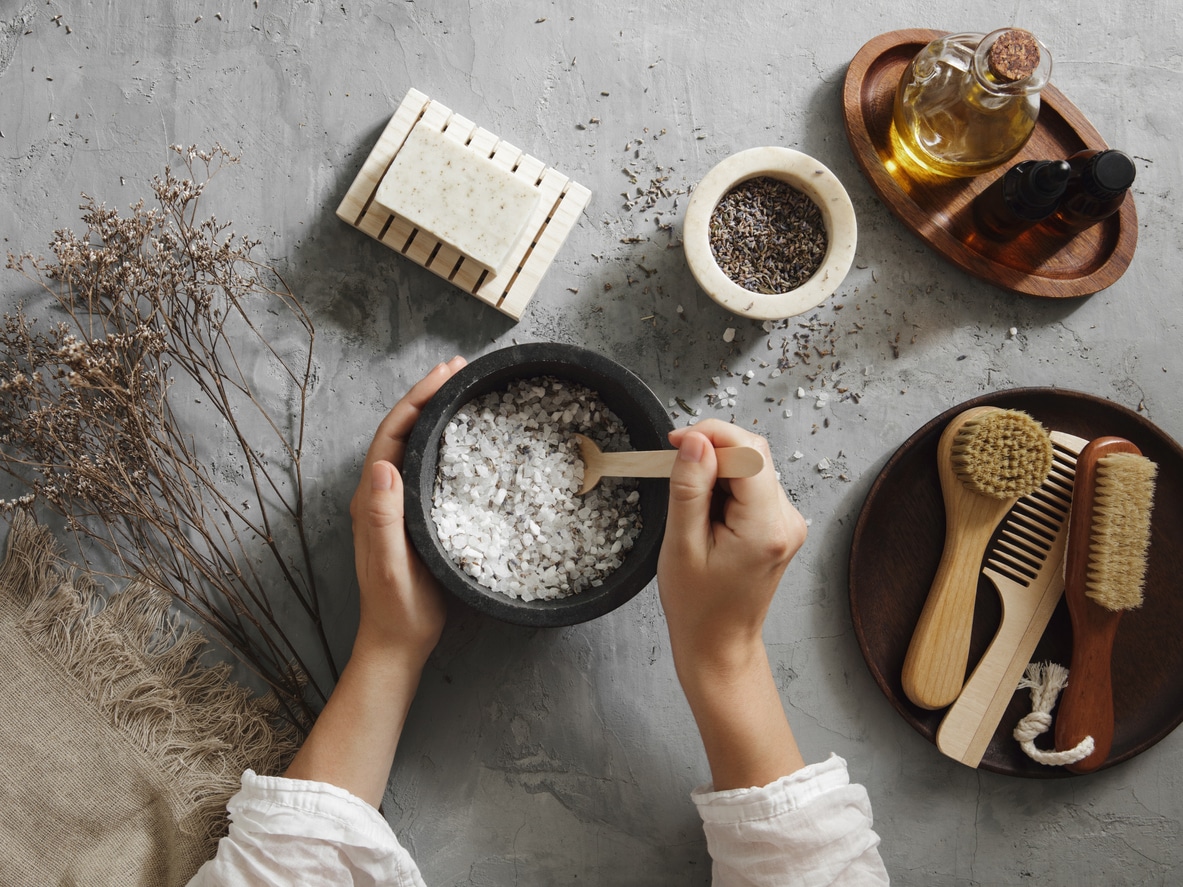 An easy and effective bath salt recipe includes:
1/2 cup Epsom salt

1/2 cup Dead Sea salt

A few drops of essential oil of your choice

1/4 cup coconut oil

A clean container
Once ready, add 1/2 cup to a warm bath and relax.
11. Body Scrub
Gather these things:
2 cups turbinado sugar

1/2 liquid coconut oil at room temperature

1 tsp of your favorite essential oil
Mix together in a glass bowl with a wooden spoon and store it in an air-tight glass jar. Use it on your body while taking a warm bath.Read More:8 DIY Protein Hair Treatments for Women Over 505 Tips for a Natural Skin Detox RoutineLook Great Naturally with the Best Organic Skincare Products