We love sharing products we've found that make our lives easier, better, or just more beautiful. We are sharing a few products we love right now for easy touch-up beauty products essential for our maintenance.
Wow Root Cover Up: Powder Touch Up for Graying Hair Roots
This handy product can save your waning hairdo (and self-image) when you cannot get to the salon as quickly as you would like for color. This root cover-up is especially effective on that fast-growing hair right around your face, which in my case, could use a touch-up of color within a week of the last salon application.
To use, after your hair is styled, brush this powder over the gray or different shade roots for a quick cover-up! It will stay longer and not migrate to unwanted areas if you apply hairspray all over and add a bit extra where this powder was applied.
You can also apply this product to thinning spots in your hair, no matter where they are on your head. The top? The sides? Right at your brow line in the middle part of your uppermost forehead? Use a larger brush than the one that comes in the compact and dab the area with the closest match of Wow's seven colors to your hair's hue to obfuscate your less-than-lush head of locks. Again, hair spray will hold it in place until your next shampoo.
To purchase this handy and effective product, click here.
L'Oreal Hair Touch Up Root Concealer Spray.
This product is much like the Wow Root Cover Up, except it's a spray application instead of a powder. It actually goes on a little faster, but practice with it when you are not under pressure to get out the door in a hurry. It is also a good idea to pull the little white nozzle off the spray stem and let it soak in some hot water to keep the hole in the nozzle open. This works on hair spray bottles, too. If you brush the hole and the area around it with an old toothbrush, you will rid this crucial little part of any aerosol spray can of additional gook clogging up the delivery of the respective product. I realize that "gook" isn't a scientific term, but I am sure that you understood my meaning. To purchase this handy and effective product, click here.
Cutex Beauty Nail Polish Remover Pads
I am all for simple, self-contained grooming and beauty solutions that you can carry in your makeup kit or travel bags without adding much weight. A box contains ten little felt pads soaked in nail polish remover and sealed in a leak-proof pouch about 2" x 2" that has more than enough solution to take the polish off all ten fingernails or toenails. After using, you simply return to the foil packet, fold it over and toss. Your nails are ready for either a clear base/topcoat or a layer of quick-drying gel polish. The whole maneuver takes less than 5 minutes, and then you are off again, perfectly groomed! To purchase this product (which costs less than seven dollars), click here.
SEPHORA COLLECTION LashCraft Big Volume Mascara
This mascara coats lashes with saturated black pigments and plumping polymers for a rich effect that makes lashes look thicker and bolder. Nourishing jojoba oil allows you to build lashes to desired intensity while preventing flaking, smudging, or clumping. The curved brush provides maximum definition.
SEPHORA COLLECTION LashCraft Curler
The newly designed angle of this curler curves to the shape of your face and curls all the lashes, including the inner and outer corners. The head is designed not to crease, tug, or pull the lashes, and there will be no pinching. The design of the handles helps to position your fingers to achieve a more intense curl.
Bumble and bumble Spray de Mode Flexible Hold Hairspray
The Spray de Mode is a multidimensional hairspray with many talents: flexible hold, workability, and exceptional memory. Plus, the updated, twist-lock nozzle allows for easy use and even application—dispensing a fine, even mist with a dry finish that keeps styles in place.
Bumble and bumble Bb. Color Stick
Instantly cover up greys and roots or add a bright pop of color to hair. This twist-up pencil format is precise, blendable, and mess-free, while the dry fiber formula delivers immediate, water-resistant coverage. The natural shades are perfect for covering greys, refreshing roots, and filling in sparse spaces. The highly-pigmented, limited-edition statement hues deliver customizable, super-vivid pops of color that won't revert styles. Use the portable pencil whenever, wherever—with no drying time needed.
TWEEZERMAN Slant Tweezers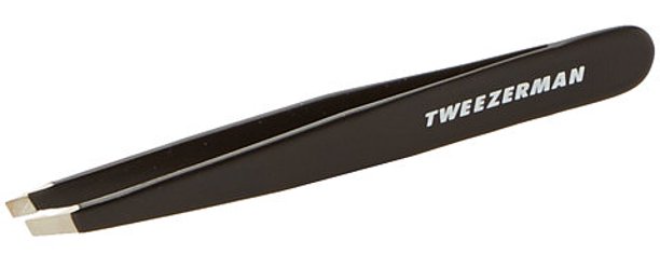 Expertly shape your brows with this classic, much-loved slant tweezer. The perfectly aligned, hand-filed tips grab the hair every time and give you the brows you desire with zero fuss.
Drybar Detox Dry Shampoo
No time to shower, but you're looking less than fresh? Try out Drybar Triple Sec 3-in-1 Finishing Sprays to get rid of greasy-looking roots and make your hair look fresh and clean. This product works wonders and gets you out the door in a flash!
Read Next:
Are You Shedding TOO MUCH Hair? Here Are The Signs
9 Best Straightening Shampoos for Curly Hair