In 2003, I gravitated toward self-healing through yoga and became a certified Pilates instructor, with cross training in yoga. This training came in handy recently, when I suffered a traumatic year. Deaths of loved ones, divorce, a move from Texas to Florida to be caretaker for my aging parents; I knew that in order to make it through the challenges ahead, I needed to be around more "yoga people," so I began visiting different studios, enjoying the meditative calming of the mind, the all-important breathing and the poses. I came to learn there are many different yoga practices, and I benefited from them all. Yoga is my natural "anti-depressant."
There isn't just one style of yoga, or one style of teaching it. I know many try yoga each year and give it up after a few classes, frustrated with themselves or with their instructors. By sharing the philosophies of various instructors whose classes I've taken, I hope to shed light on how you approach finding the right "fit." As a yoga instructor myself, I can tell you – if you attend a class and it doesn't resonate with you, try another class and another instructor. Typically, a first class is free, but you might ask ahead of time if that is the case.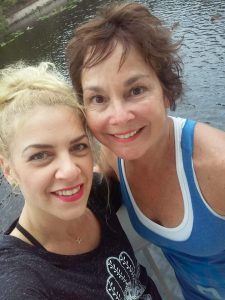 Tina Marie Rodriguez is my first featured yoga instructor. Tina is a trained instructor with 200RYT, a credential earned by yoga teachers whose training and teaching experience meet Yoga Alliance Registry Standards. I find her approach to yoga interesting, because her practice is different from other classes I've taken.
Terry: Tina, what is your personal philosophy as a yoga instructor?
Tina: My teaching and practice is anchored in Love and rooted in Sacred Mother Earth. I approach teaching as an act of service and a Sacred Honor. Yoga has transformed my life. I have received so many incredible gifts physically, mentally, emotionally, and spiritually from the practice that I have no choice but to share it with others.
Terry: Can you tell us a little about your training and practice?
Tina: I received my formal training at Yoga Path of the Palm Beaches. Yoga Path is my home studio and a pillar in the yoga community, representing Union and Sacred Space for all who walk through the doors. My focus is the study and practice of Patanjali's Yoga Sutra and the Eight Limbs of Yoga. Practicing the Eight Limbs enables one to live an empowered, balanced, peaceful life and is something I am committed to "living" on and off the mat.
Yama: Universal morality
Niyama: Personal observances
Asanas : Body postures
Pranayama : Breathing exercises, and control of prana
Pratyahara : Control of the senses
.Dharana : Concentration and cultivating inner perceptual awareness
Dhyana : Devotion, Meditation on the Divine
Samadhi : Union with the Divine
Terry:
Would you describe one of your classes for us?
Tina: It's an eclectic experience. I embrace all types of yoga and practice Vinyasa, Bikram, Iyengar, Asthanga, Hatha, Raja, Kundalini and even Laughing yoga. Therefore, I bring this experience with me into class. I teach to the Soul of the student, linking breath with movement unified with spiritual principals. As a Reiki Practitioner, classes are often infused with physical assists, sharing Reiki Energy and guidance. Aromatherapy is a healing discipline that accompanies all my classes. Yoga is Union!
Terry: What do you like best about teaching?
Tina: I've found that the only way to keep my gifts is by giving them away; and in giving them away, they multiply. I am infinitely grateful to be able to unite various disciplines in the form of yoga. "When you inhale, you are taking the strength from God. When you exhale, it represents the service you are giving to the world." – B.K.S Iyengar
Terry: For someone who is interested in the practice of yoga, how should one approach instruction?
Tina: With an open mind. Experiment with different studios, different types of yoga and instructors. There are also resources online for starting a yoga practice. Knowing that when we try something new, usually fear, judgement and insecurity pop up. But if there is something in one's intuition being drawn to the practice, then follow that guidance.
Terry: What is your favorite yoga pose for beginners?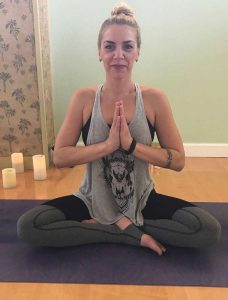 Tina: Sukhasana (easy seated pose – see photo left) with breath work. The inhale breath lengthens the spine. The exhale breath opens the heart and spreads the collar bones. This pose is fundamental for grounding the energy and coming into the present moment. The awareness of the breath and how each inhale and exhale affect the body is an empowering tool on the mat and off the mat. Once a person learns and practices breath work; their mind, body and Soul will be nourished for life.
If you are interested in contacting Tina for further information, you may call her at 561-572-6673 or email [email protected].
Try Relaxing Cobra Pose next if you're feeling inspired!
By Terry Michael for Prime Women magazine