Many people struggle with inflammation, but it seems to be more common around the holidays. Why? Because over the holidays we're usually eating more of the foods that can cause inflammation, like gluten, sugar, dairy, alcohol, etc. So if your body needs a bit of a break from all of those holiday favorites, you're in luck! Keep scrolling for some tasty inflammation-fighting soups to keep you warm and cozy until spring arrives.
Inflammation-Fighting Soups To Try Now
1. Cleansing Turmeric Vegetable Soup via Eat Well Enjoy Life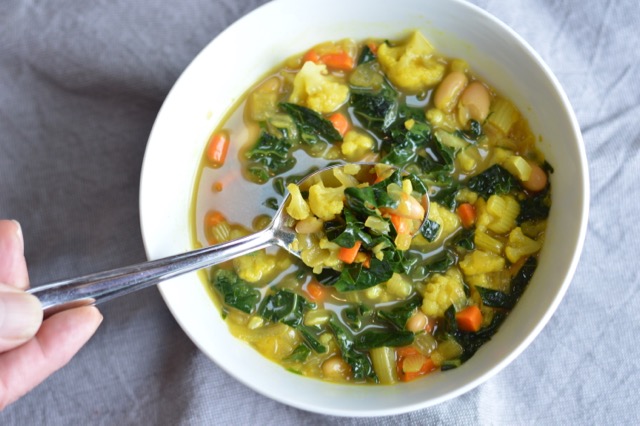 Bring post-Thanksgiving meal balance to your body with this brothy vegetable soup. It contains ginger to soothe your stomach, turmeric to fight arthritis and treat a variety of digestive problems, along with bone broth, one of the most healing roods for your digestive system. Also, if you're Paleo and don't eat beans, just leave them out!
2. Ginger & Turmeric Carrot Soup via Simply Quinoa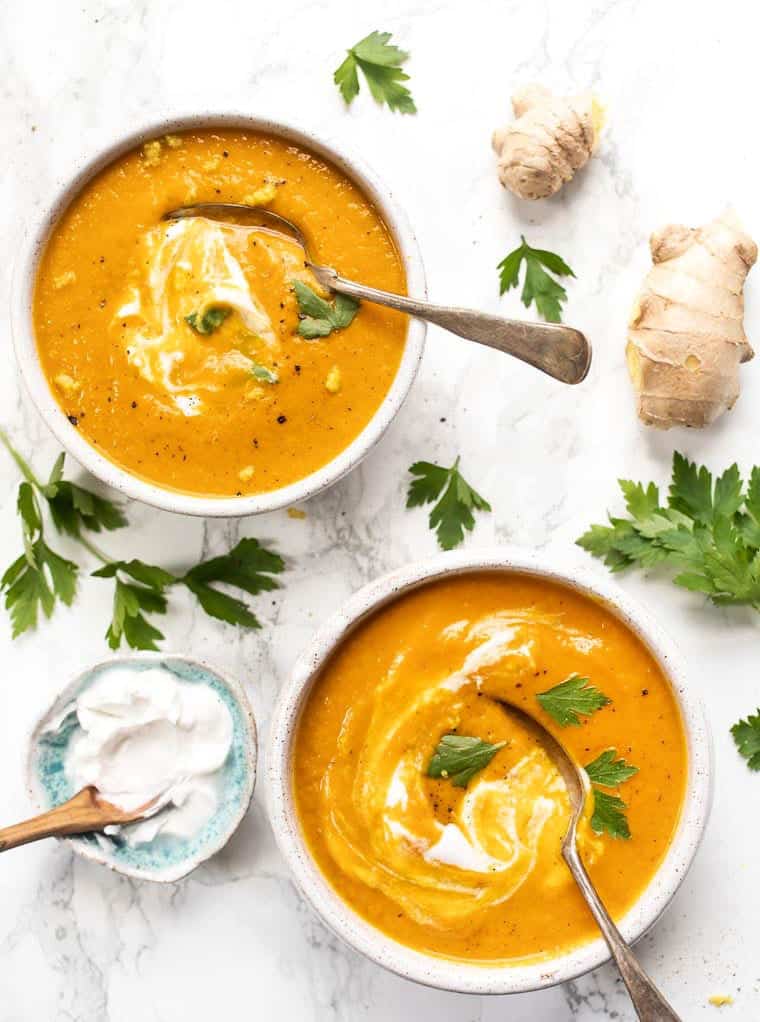 Keep your gut healthy and happy with this soothing soup! This pureed recipe is already broken down once it hits your stomach, so it can easily mix with your digestive juices and move through your intestines more gently. When looking for the best inflammation-fighting soups, always consider the pureed options!
3. Garlic Ginger Immune-Boosting Soup via Healthyish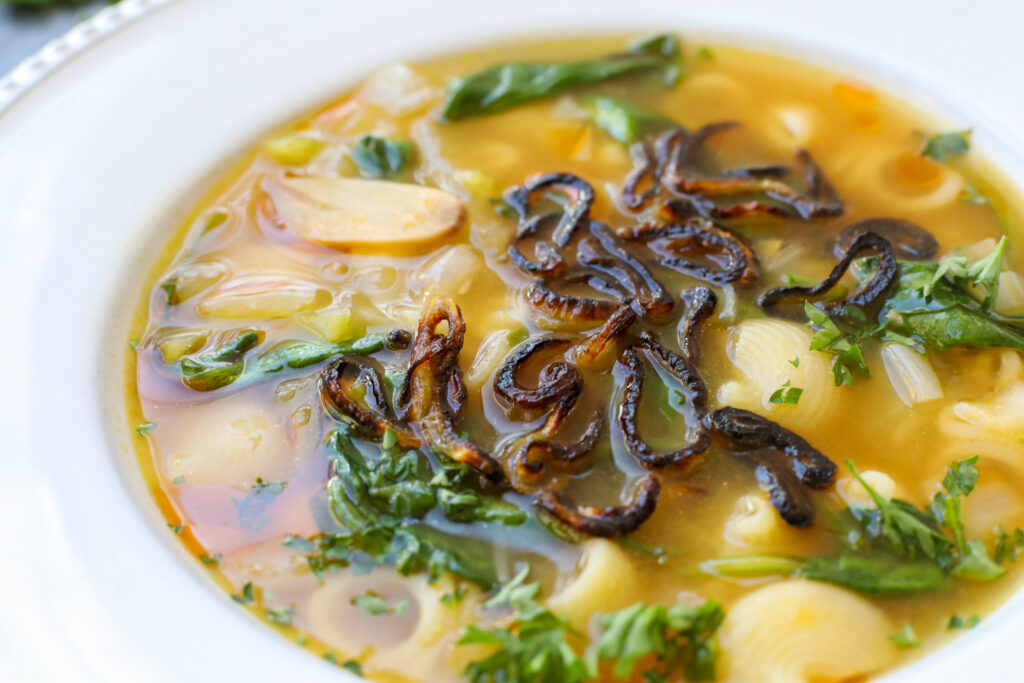 In addition to being packed with healthful antioxidants, onions are a great source of quercetin. It helps fight bacteria and inflammation in the body and some studies suggest that quercetin can even help fight e.coli bacteria.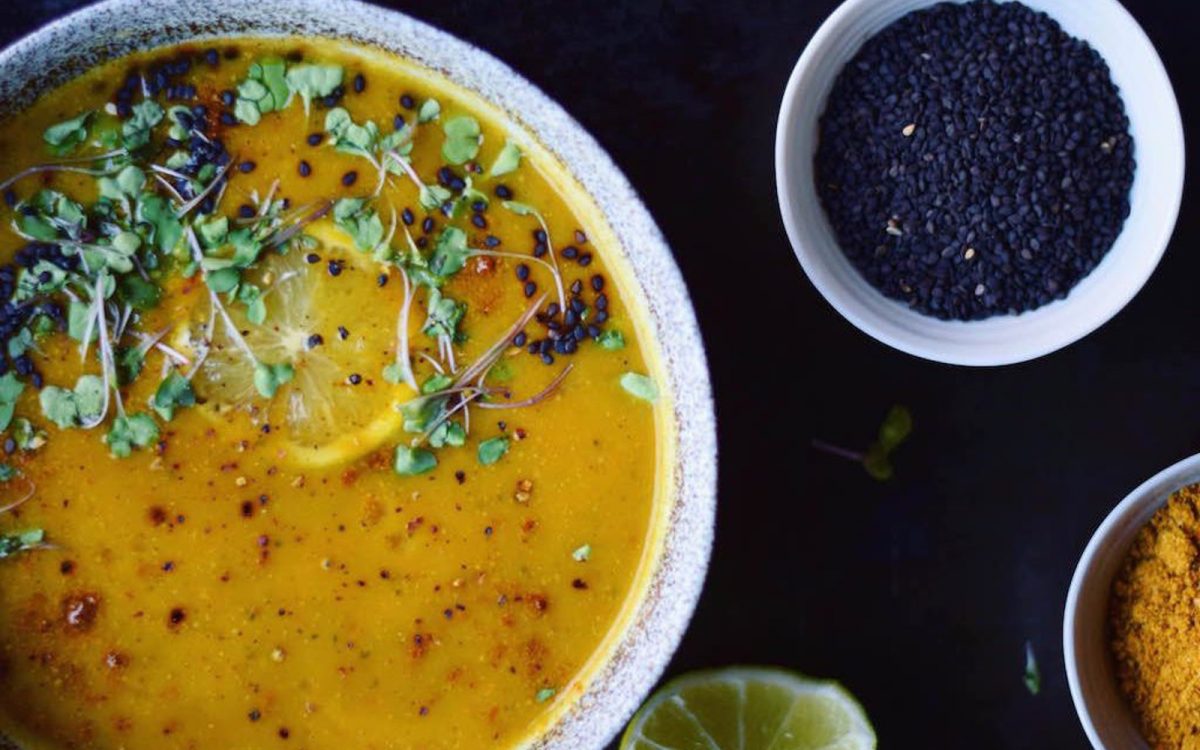 This healthy sweet potato soup is the perfect recipe for this chilly season. Simply cook the sweet potatoes until tender and then purée with turmeric, curry powder, black pepper, and other warm spices. And just in case you are someone who cannot handle the heat, simply cut the spice with a hint of lime juice and add a dollop of regular or non-dairy yogurt.
5. Turmeric Zucchini Soup via Irena Macri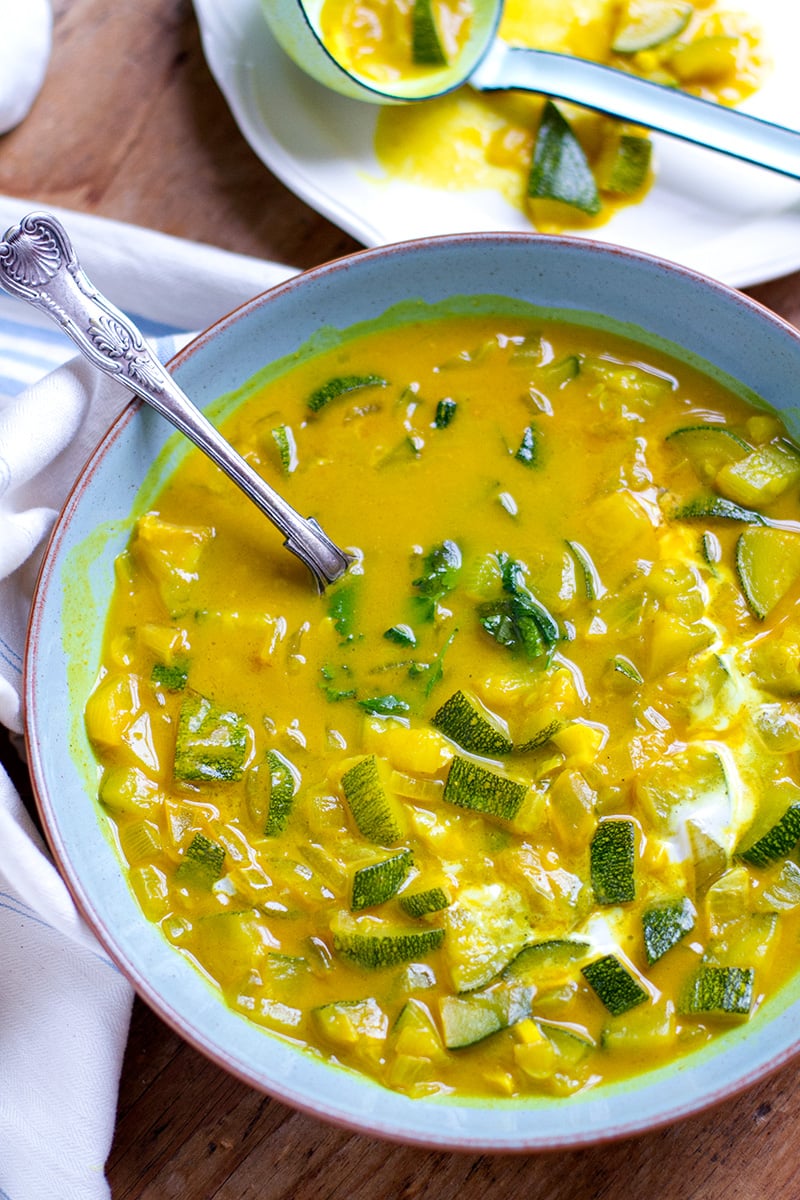 Cooked with creamy coconut milk and anti-inflammatory turmeric spice, this zucchini soup is soothing and nutritious, perfect for those with digestion or gut-health issues or simply looking for a light yet satisfying meal. It's paleo, vegan, gluten-free, keto, and Whole30 friendly.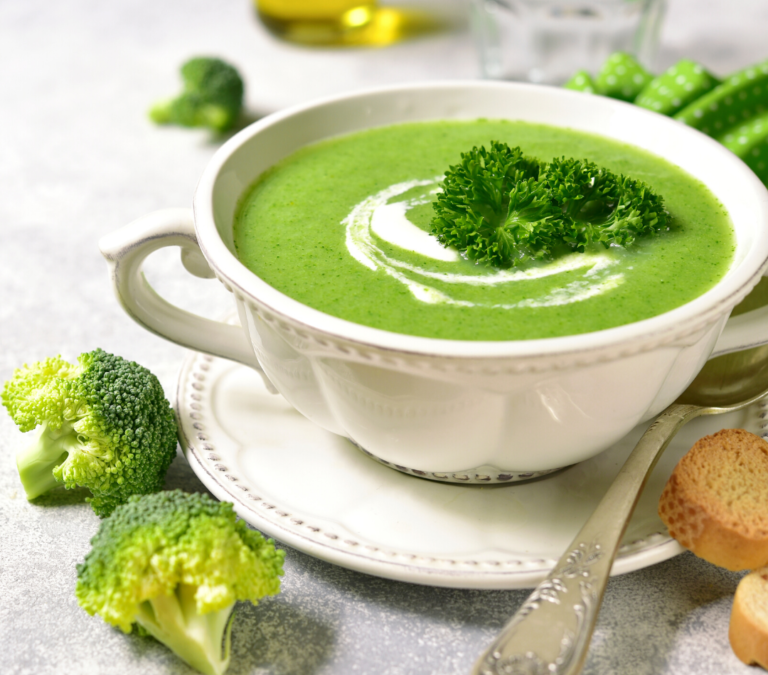 Broccoli is packed with vitamins C and K, folate, and fiber! Enjoy this anti-inflammatory powerhouse in this creamy soup.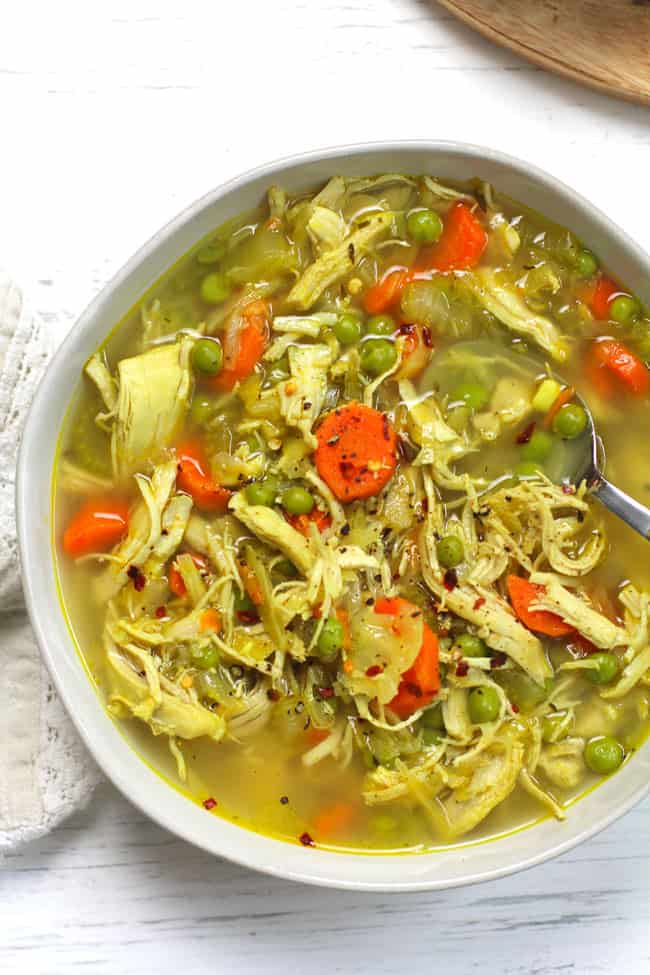 This anti-inflammatory soup combines chicken breast with healthy vegetables, ginger, and several tasty spices including medicinal turmeric. This soup is filling, ultra-healthy, and should be on your cold-weather menu every year!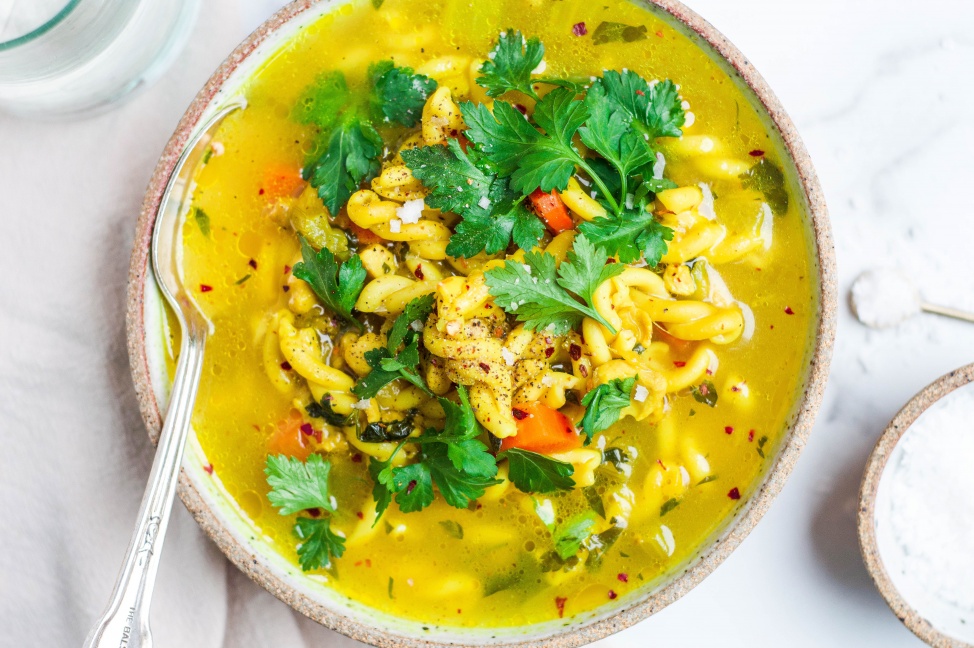 Fight off the flu and keep your immune system healthy with this bright and brothy soup! It's easy to make and loaded with powerful nutrients.
9. Turmeric Miso Soup with Garlic, Ginger, and Tofu via Vegan Richa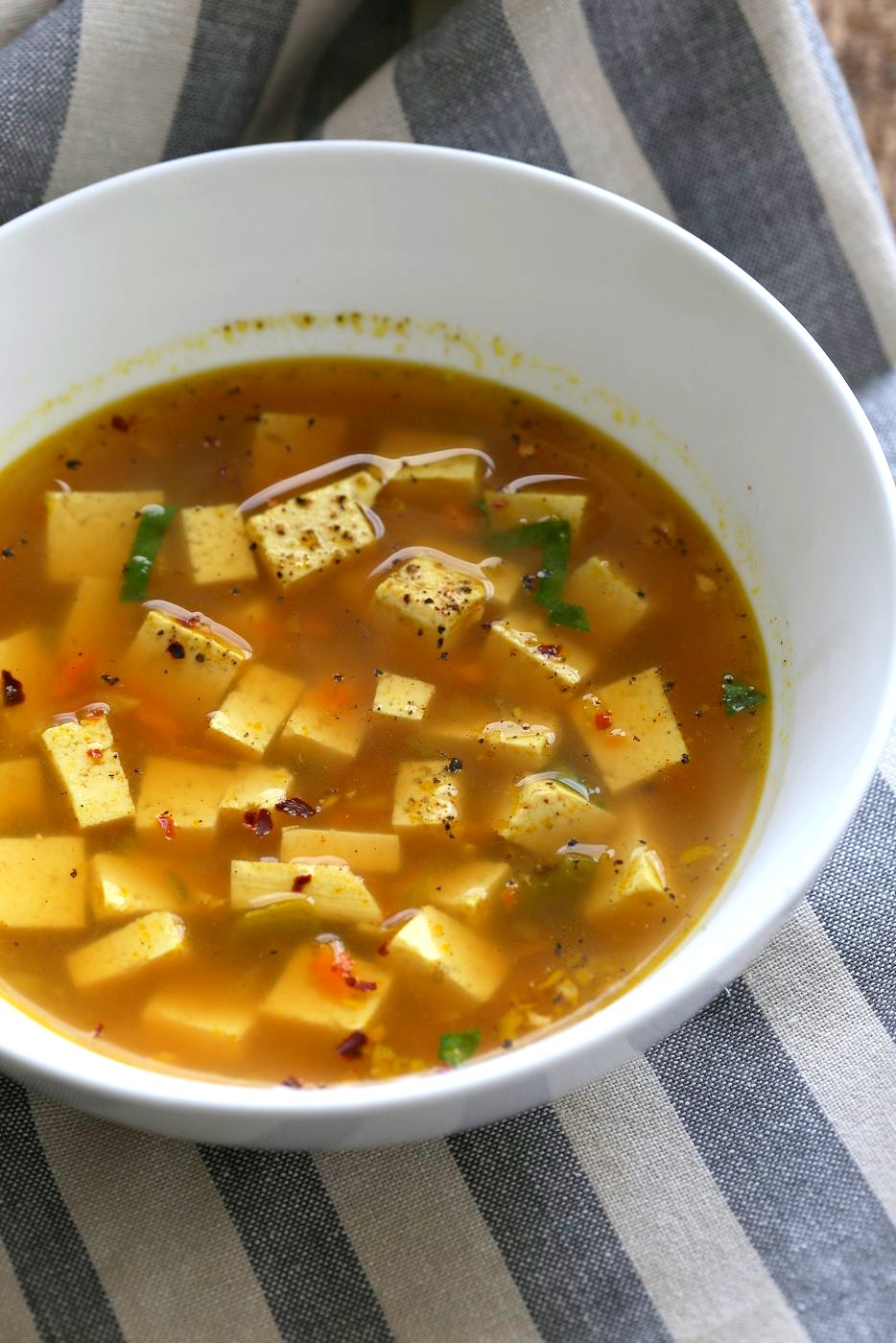 The soup has liberal ginger, garlic, turmeric, miso, and some shredded veggies. Simply veggies of choice, some mushrooms, and greens for variation.
10. Lemongrass Ginger Soup via The Dizzy Cook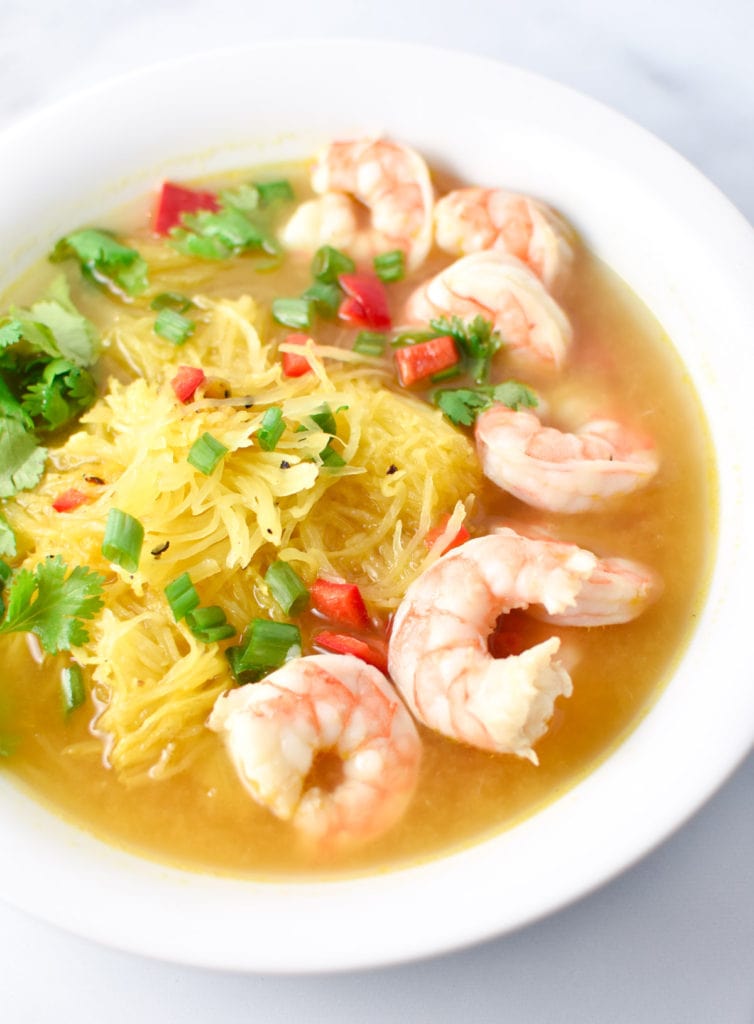 This lemongrass ginger soup is a wonderful healthy soup for cold season. Plus, it's packed with pain-fighting ginger and filling spaghetti squash, so it's a great Whole30 and migraine-friendly soup.
Related Article: Inflammation is part of our body's immune response. We need it to fight infection and heal injuries but when it becomes chronic, research suggests it can damage our arteries, tissues, joints and organs leading to many of the health issues that plague women over 50 such as heart disease, Type II diabetes, certain cancers, obesity, dementia, Alzheimer's, depression, autoimmune conditions, arthritis, and age-related eye diseases. Learn the best (and worst) foods for inflammation.
Header images via Simply Quinoa and The Dizzy Cook
[optin-monster slug="tbhhurcqgsuq6f7q3mfp"]