Sponsored post.
We have already discussed why intermittent fasting is a go-to practice for women over 50 and the general rules on intermittent fasting. This time, it's time to share a secret on how to practice intermittent fasting without struggling to ensure that it is a lifestyle instead of a fad diet. In this article, you will find everything about the DoFasting and whether this app is suitable for women over 50.
A Quick Recap About Intermittent Fasting
Intermittent fasting (IF) is an ancient eating approach many societies used to practice. It's not new, yet proven throughout history, and is now approved by medical studies. The main idea of IF focuses on when to eat rather than what to eat. There are varieties of schedules of fasting practices, with the most popular being a 16-hour fast, where one would consume food during an 8-hour window. The best part of this routine is that you can pick the most convenient time to fast and eat based on your schedule.
DoFasting App – Your Personal Intermittent Fasting Assistant
The average cost of a nutritionist's appointment is around $70, and several appointments are often required to reach your goal or at least to get into a planned routine. Meanwhile, the DoFasting app, which claims to be an electronic personal assistant, costs from $37. Let's get deeper into the details and find out what that sum will get you instead of a real-life dietitian.
Features for Intermittent Fasting
The most crucial feature, of course, is the fasting timer built into the DoFasting app. The DoFasting app offers seven different fasting approaches: from beginner-friendly fasts to professional ones, with the longest being a 36-hour fast.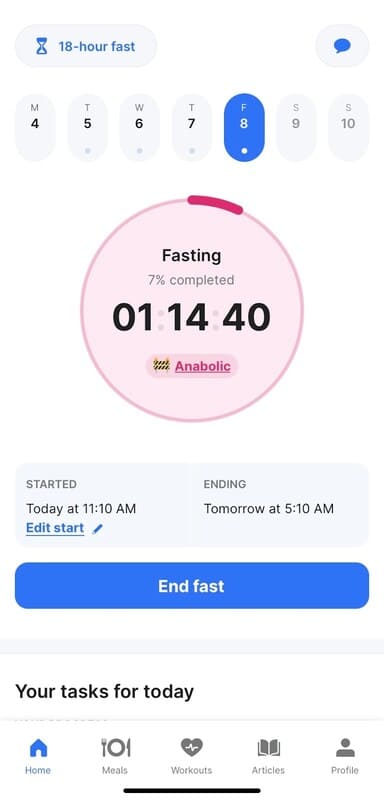 Unlike the other fitness apps, this intermittent fasting app will adjust to your needs and schedule. All you will have to do is decide what time you wish to begin fasting, and the rest is left for the application: you will get your personal fasting plan and calorie intake suggestions for the time your eating window will be open. The app's layout is easy to understand and does not require additional effort to navigate.
We have also highly enjoyed the DoFasting widget, which is available on your phone's main screen. It's just a convenient feature that helps to know where you are in terms of intermittent fasting schedule – greatly saving time.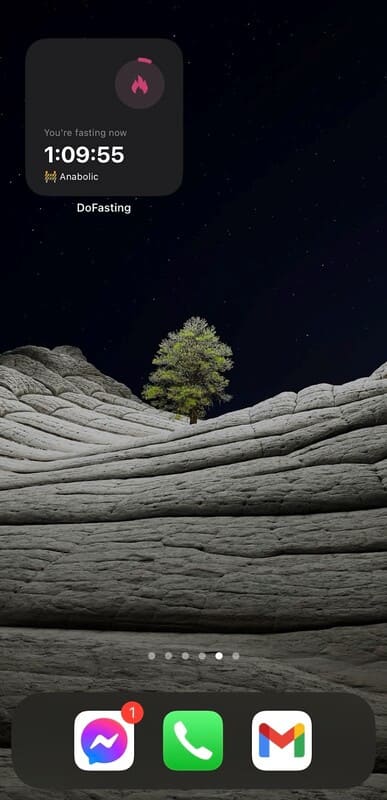 Features for Meals
Now, once you know the exact time when your eating window is open, you will need to cook some delicious meals, and we found many of these on the meals library of the DoFasting app: stews, pasta, salads, soups, wraps, egg dishes and more. The most satisfying part is that the program allows you to choose your preferred diet. We went ahead with gluten-free recipes; however, there are choices for vegans, people with diabetes, and those who have lactose intolerance, among others. Overall, there are 21 diets to choose from.
Each recipe contains nutritional information, and you can even choose the preferred measurement units for ingredients: imperial or metric.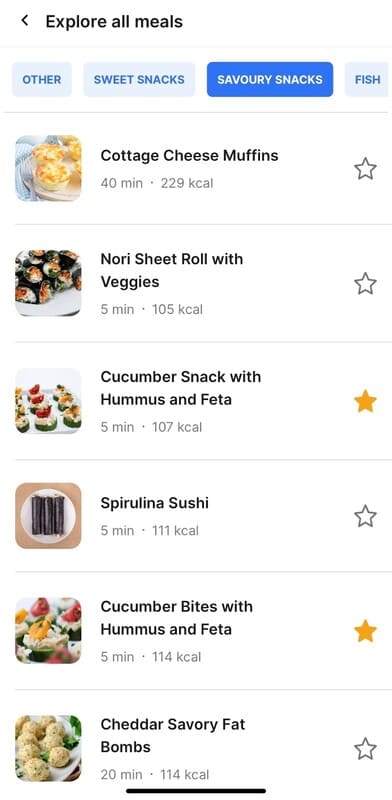 Features for physical activity
Of course, if you are serious about getting into shape and changing your lifestyle, physical activity cannot be skipped. The good news is that with the DoFasting app, it is easy to build healthy exercise habits in no time.
On the application, you will find dozens of various workout videos, and none of the exercise routines require special equipment. Also, you can choose your level based on your fitness. We found the exercise for beginners to be a perfect stepping stone for women over 50. From stretching and warm-up to more advanced and stamina-required exercises.
Features for a healthy routine
At the end of the day, you need to track your progress and ensure you are getting closer to your goals. In general, it is easier to continue any practice if you know the progress is present.
There are a couple of metrics you should be monitoring throughout your fasting journey: weight, calorie intake, water intake, and steps. All historical data of all these four metrics will be available to you on a stylish day-by-day layout. Also, you can easily access detailed health reports each week. Once again, it truly works like a personal assistant – all information is structured and given to you.
Knowledge base
Another feature that will help you reach your weight loss goals is articles. The articles can be discovered on two mediums: DoFasting's intermittent fasting app and blog.
The knowledge base provided on the mobile application is tailored to meet your needs throughout your weight loss journey. Automatic pop-ups will suggest the most useful article according to your goals and needs.
The DoFasting team points out that their team of health professionals carefully creates and edits the articles so they are easy to understand and easily applicable to practitioners' routines.
Customer support
During the app testing, we went ahead and approached DoFasting's customer support via Live Chat, which is accessible on the application. Even though we did not face any issues, we just wanted to test out the reply time. Surprisingly, one of their representatives, Justin, replied in less than one minute (it was not an application bot, it was an actual person!). It is definitely a pretty good reply time; even if you would face an issue, the DoFasting team is ready to help. Keep in mind that the test was done on a Saturday afternoon!
Other Weight-Loss Aid Offered by DoFasting
DoFasting Supplements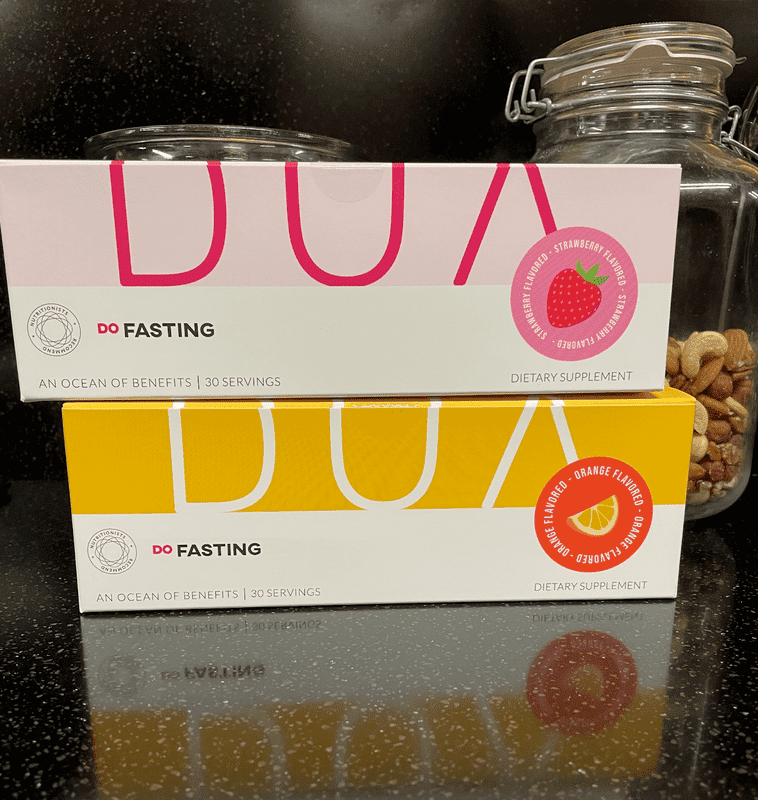 DoFasting Supplements Box is an appetite suppressant with the following stated benefits:
Suppresses snack cravings

Maximizes weight loss results

Faster body fat loss

Organic, non-GMO, and gluten-free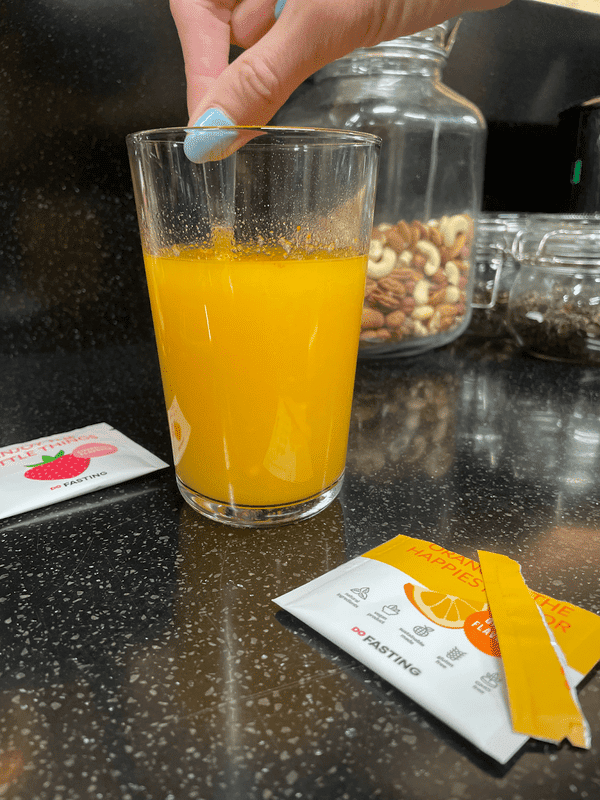 In simple words, this supplement aids people in staying on track while being on the fasting window. We believe that such weight loss supplements are a great help when you are a beginner of IF, while for people who are practicing IF for a longer time, the appetite suppressant will not be essential as the body adapts to a daily routine and hunger pangs go away pretty fast. By the way, these orange flavor supplements are really tasty.
DoFasting Smart Scale
The Smart Scale manufactured by the DoFasting brand is their newest offered product, which seems to be promising. The scale is fully integrated with the app and enables the users to follow even more in-depth metrics about their intermittent fasting journey. With the scale, you will be able to accurately know your body mass index, basal metabolic rate, skeletal muscle mass, body type, metabolic age, total body water, and others. However, the current already discounted price of the scale is $99.00, which adds additional spending to your budget.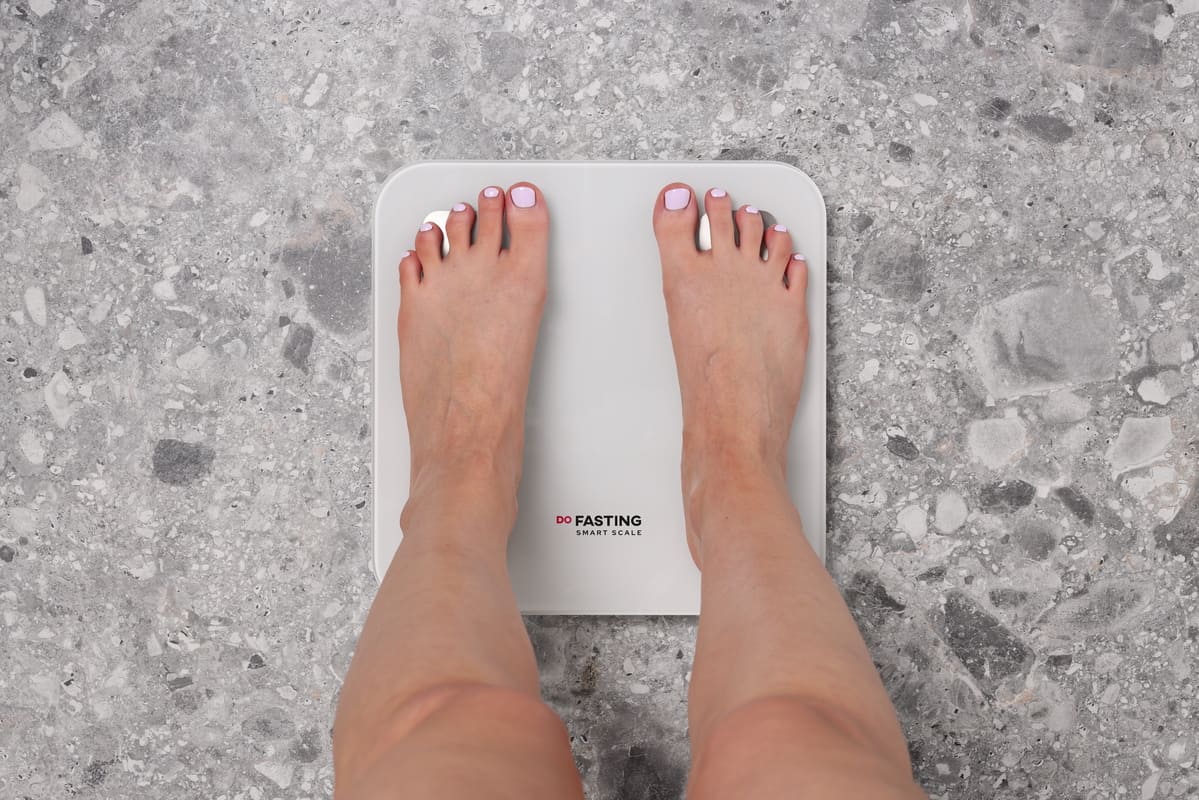 Facebook Community
It is easier to pursue a healthy lifestyle and your target weight with like-minded people. It seems like the DoFasting team also understands it. There is a Facebook group called Intermittent Fasting with DoFasting with more than 57k members. We navigated around the group and even managed to get into a friendly discussion with like-minded IF practitioners. The group is super friendly and welcomes all!
Safety of the DoFasting Products
Intermittent fasting is not suitable for people who have ever faced eating disorders.
People with chronic diseases should consult their physicians prior to starting intermittent fasting practices.
Intermittent fasting is unsuitable for pregnant and breastfeeding women.
You may find more information about Dietary Fiber on U.S. Food and Drug Administration website.
Purchase Procedure
The purchase flow is not as simple as we expected, but again, it is a long-term investment and commitment. We gathered the step-by-step flow on how to acquire the DoFasting app and everything else that comes with it.
Enter the DoFasting website.
Complete a quiz about your eating patterns, current weight, goals, and similar info.
Receive an estimated timeline to reach your goal.
Select your plan (1-, 3-, or 6-month plan).
Purchase the plan with Visa, American Express, Mastercard, and other popular credit cards).
Download the app to your phone from Google Play or the App Store.
Begin the program by inserting your email address used when purchasing the plan.
Prices of DoFasting products
1-month DoFasting program subscription: $37
3-month DoFasting program subscription: $48
6-month DoFasting program subscription: $69
DoFasting Smart Scale: $99
1-month supply of DoFasting Essential Fiber Complex: $62.99
3-month supply of DoFasting Essential Fiber Complex: $84.42
6-month supply of DoFasting Essential Fiber Complex: $114.33
Cancelation
A refund for the DoFasting application can be initiated within 14 days of purchase if the customer faces any proven application issues.
The cancelation can be performed via the DoFasting client area on their website. All you need to do is log in with your account details and cancel the subscription there.
Weight Loss Success: Betsy
Prior to testing the products of DoFasting, we did thorough research and found a lot of success stories, like Betsy's. In the interview, Betsy mentioned that at the age of 69, she managed to lose 53lbs with the DoFasting program, which seems like a great achievement. There are more similar stories on DoFasting's website.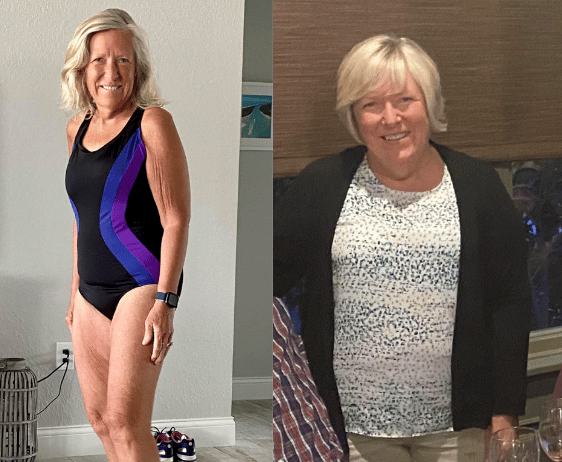 The Benefits of Intermittent Fasting
It is vital to introduce the main scientifically-proven benefits of intermittent fasting before you decide if the practice and the DoFasting application are suitable for you. All provided benefits are based on research studies, so make sure to pay your attention down below.
Weight loss
The study performed on a group of 45 women over 60 by Opole University researchers on intermittent fasting outcomes has shown that the participants' body weight in the experiment decreased by more than 4lbs over six weeks. Moreover, the participants' skeletal muscle mass did not change significantly, which showed an actual decrease in fat mass. The most important aspect is that participants did not pursue any extreme practices; they simply restrained themselves from food for 16 hours per day and consumed food for the rest 8 hours.1
Blood pressure
The most affected people by cardiovascular diseases are over 45 years of age. According to N. Copernicus University researchers, IF can be used as an addition to training processes for people with a normal weight who want to improve their health regardless of weight loss. The researchers have examined six studies with over 300 participants and concluded that participants who practiced IF managed to lower their blood pressure.2
Physical health
Various studies conducted on IF practices show that it conveys various health benefits while one of them being whole-body benefits, which generally improve the physical health of an individual. For women over 50, it is vastly important to maintain physical activity, and such maintenance can include intermittent fasting practices as a support.3
Lowers the chance of chronic diseases
Current Diabetes Reviews scientists researched case series and clinical trials on type 2 diabetes, insulin resistance, cancer, thyroid, and cardiovascular disease in response to intermittent fasting in the PubMed, MEDLINE, and Google Scholar databases. And they have found that intermittent fasting successfully reversed diabetes, thyroid, high blood pressure, and elevated lipid levels. Still, there is a need for prolonged medical studies, but the results are already promising in the sense of IF impact on longevity.4
The Final Word of the DoFasting Review
Finally, we've summarized the pros and cons of DoFasting products in one convenient place for you to decide.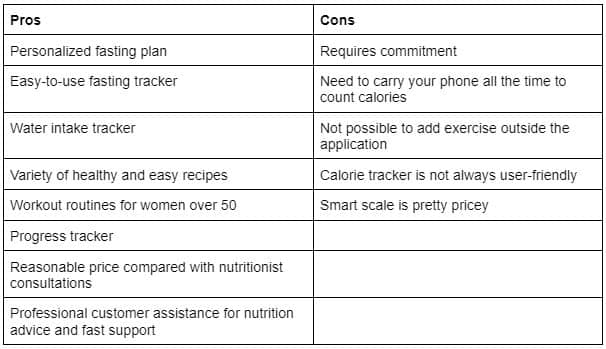 The final verdict is favorable toward intermittent fasting and DoFasting. We enjoyed most of the features provided on the app and DoFasting's Supplement Box. However, it is worth noting that it's not a product, tool, or even dietitian that will reach your desired weight on its own. Your dedication is the most important aspect!
References:
Domaszewski P, Konieczny M, Pakosz P, Bączkowicz D, Sadowska-Krępa E. Effect of a Six-Week Intermittent Fasting Intervention Program on the Composition of the Human Body in Women over 60 Years of Age.

International Journal of Environmental Research and Public Health

. 2020; 17(11):4138. https://doi.org/10.3390/ijerph17114138.

Malinowski B, Zalewska K, Węsierska A, Sokołowska MM, Socha M, Liczner G, Pawlak-Osińska K, Wiciński M. Intermittent Fasting in Cardiovascular Disorders—An Overview. Nutrients

. 2019; 11(3):673. https://doi.org/10.3390/nu11030673

Grant M. Tinsley, Paul M. La Bounty, Effects of intermittent fasting on body composition and clinical health markers in humans,

Nutrition Reviews

, Volume 73, Issue 10, October 2015, Pages 661–674,

https://doi.org/10.1093/nutrit/nuv041

.
Multifaceted Effects of Intermittent Fasting on the Treatment and Prevention of Diabetes, Cancer, Obesity or Other Chronic Diseases. Authors: Tagde, Priti; Tagde, Sandeep; Bhattacharya, Tanima; Tagde, Pooja; Akter, Rokeya; Rahman, Md. H.
Source: Current Diabetes Reviews, Volume 18, Number 9, 2022, pp. 33-49(17). Publisher: Bentham Science Publishers
DOI: https://doi.org/10.2174/1573399818666211213103315