When we or our loved ones face serious illness or are nearing the end of life, we are presented with many challenges. There is the practical side of things: making appointments, working with insurance companies, managing care, and easing pain … and there are philosophical questions, as well as spiritual and emotional needs, that must be attended to. For example, managing stress and grief (that of the patient and each family member caring for the patient).Palliative care seeks to address all of these concerns, helping patients and their families navigate illness with dignity and holistic care. This special type of care is often misunderstood and underutilized. According to the World Health Organization, only 14 percent of people who need palliative care currently receive it. This is often due to a lack of awareness among health professionals and the public about what it is and the benefits it can offer vulnerable patients and stressed health systems. It's worth emphasizing that palliative care is not the same as hospice care; hospice is a specific type of care for people who have six months or fewer to live. Nor is it only for patients with cancer, for those with terminal status, or those in the final weeks of life. Participation in a palliative care program will not lead to increased substance abuse via prescribed medications like morphine, as some fear.
Palliative care teams are made up of specialist doctors and nurses, social workers, nutritionists, and chaplains. This team works right alongside the patient and family, as well as the patient's other doctors and care team. They provide the patient with medical, social, emotional, and practical support. The overarching goal is to enhance the patient's current care by focusing on the quality of life for them and their family. It is whole-person care that relieves symptoms of a disease or disorder, whether or not that disease can be cured. Palliative care can be provided in a hospital, nursing home, outpatient clinic, or at home. It can benefit anyone living with a serious illness, including but not limited to:
Cancer

Heart failure

Diabetes
Some private insurance policies, Medicare, and Medicaid may cover palliative care, and veterans may be eligible for such programs through the Department of Veterans Affairs. Often a person's healthcare provider will refer them to a specialist at any point during treatment, but if this does not happen, the patient and their family can also ask their healthcare provider for a referral. Some organizations, like the American Cancer Society
, have lists of palliative care providers, as well as general information and referral services.
How palliative care services can improve a patient's – and family's – quality of life
1. Reduces unnecessary hospital admissions
Early delivery of palliative care is shown to reduce unnecessary hospital admissions and the use of health services by providing patients with effective pain management and follow-up visits, often at home or at an outpatient clinic.
2. Offers pain relief and symptom management.
Palliative care specialists are trained to help identify, manage, and relieve physical and emotional pain and distress, including:
Nausea

Shortness of breath

Loss of appetite

Anxiety

Depression
3. Provides coordinated care
Patients have someone by their side to help as they navigate their choices for medical treatment and the often-complex healthcare system. The organized services available may be helpful as well to an older person dealing with general discomfort and disability late in life.
4. Specializes in personalized care.
It's easy to feel like a number or a "case" when receiving medical treatment. A care team is an antidote to that, as the multidisciplinary team is there to offer consistent and personalized care throughout the various stages of illness, beginning with diagnosis. They get to know the patient and family, from the time symptoms affect their quality of life, to various treatments and stages of pain management. Dr. Desai with Hackensack Meridian Health in New Jersey says of palliative care, "Our goal is to be a part of the treatment team and build a relationship with patients as soon as possible, so we can maintain and preserve quality of life for as long as possible."
5. Helps to develop a treatment plan.
One more time — palliative care is not the same as hospice care; patients can receive it while undergoing treatments that may cure or reverse the effects of their illness. Not only that, but this care plan can help patients cope with aggressive treatments by getting pain and symptoms under control to help fight the disease. Over time, if the doctor and care team believe ongoing treatment is no longer helping, palliative care could transition to hospice care if the doctor believes the patient is likely to die within six months. Alternatively, the care team might continue to help with an increasing emphasis on comfort care.
6. Addresses patient and caregiver emotional and spiritual concerns.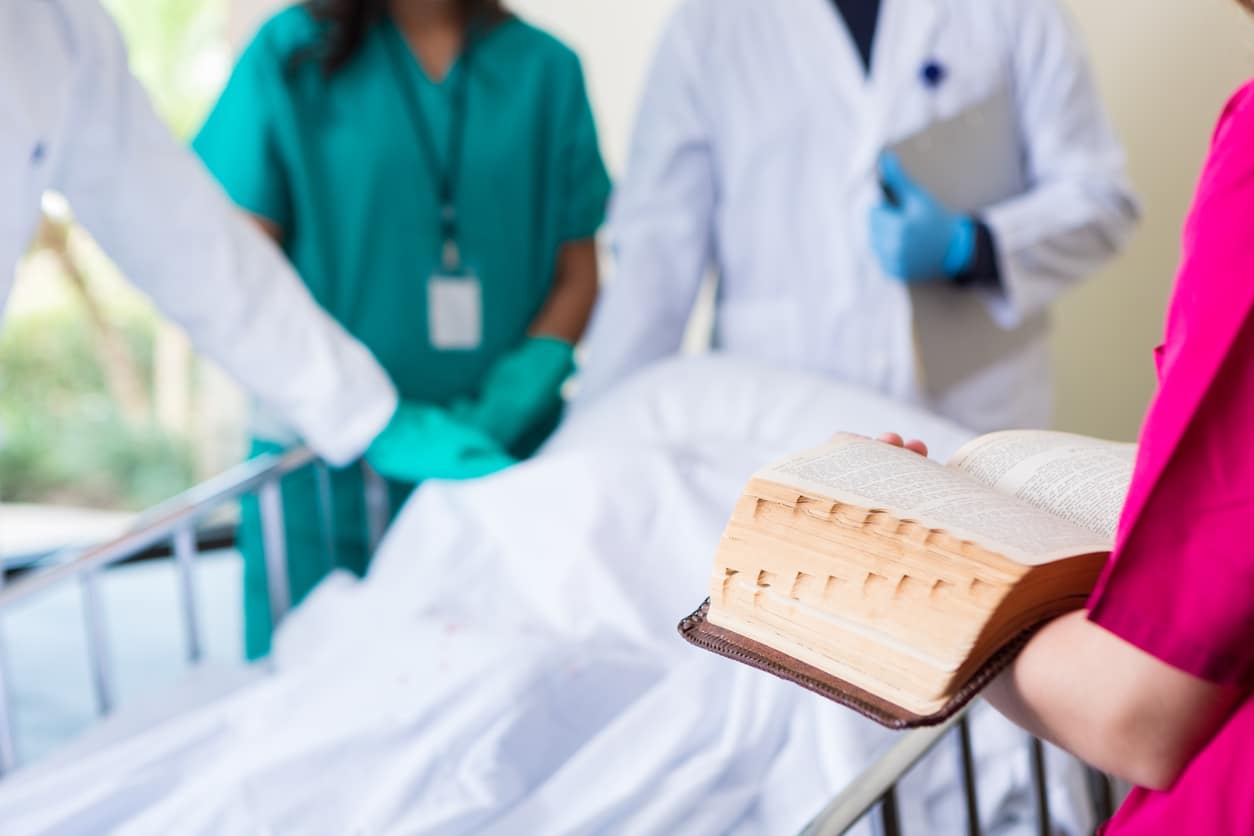 A palliative care team will act as a support system and help patients live as actively as possible until death. This means providing support mentally, physically, and spiritually. Beyond oncologists and cardiologists, qualified social workers, psychotherapists, chaplains, and spiritual leaders work with patients and their families to offer services like bereavement counseling. Rather than just treating the disease, palliative teams are helping patients manage the disease while treating the whole person.The following organizations have more information on palliative care, as well as listings of providers:
Read Next:Healthy Habits Through Self-Accountability15 Ways to Get Cheaper MedicineWhat You Need to Know About Supplemental Vision Insurance