Here at Prime Women, we come by a lot of new and interesting diets, supplements, and ingredients. Of course, many of them claim to have life-changing benefits. And while it can be fun to research these popular new health trends, more often than not they don't exactly live up to the hype surrounding them. Sometimes though, there's more to these fad trends than meets the eye, and that's when we like to dig a little deeper. Today we'll explore the potential benefits of MCT oil, and how incorporating it into your diet can help you lead a healthier life.
What is MCT oil?
If you're an athlete or are really into fitness, you've probably heard about the benefits of MCT oil. In the past several years though, this ingredient has become much more well-known thanks to the popularity of the keto diet and recipes like bullet-proof coffee.Medium-chain triglyceride, or MCT oil, is a supplement. It's most commonly derived from coconuts, but it can also be found in palm oil and some dairy products too. Unlike most of the fats we eat on a daily basis, MCTs are made up of smaller chains of triglycerides, which makes them easier on our digestive systems. There are four different kinds of MCT oil, known as C6, C8, C10, and C12. It's important to note that lauric acid (C12) doesn't provide the same types of benefits as the other 3.
7 Potential Benefits of MCT Oil
Because these fatty acids are more easily absorbed by our bodies, there are a number of potential health benefits of MCT oil that people can enjoy. Let's explore a few of them:
MCT oil can reduce your risk for heart disease
Certain factors like BMI, high blood pressure, and high cholesterol levels can contribute to a greater risk of heart disease. MCT oil has been shown to help people reach a healthier weight and lose fat, which in turn can help reduce these risk factors. According to a recent study, taking MCT oil combined with phytosterols and flaxseed oil for 29 days helped participants reduce their total cholesterol levels by 12.5% while increasing the production of good cholesterol.
It helps with diabetes
If you have diabetes, you know just how important it is to manage your blood sugar levels. In a smaller study of 40 individuals with diabetes, those taking MCT oil every day were able to reduce their body weight, weight circumference, and most importantly, insulin resistance. Additionally, the potential weight loss benefits of MCT oil can help manage your diabetes as well. Natural Force Organic MCT Oil
, $34.99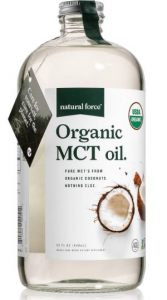 Made with cold-pressed virgin coconut oil, Natural Force Organic MCT Oil which provides 14 grams of high quality, full-spectrum MCTs. It is the perfect source of healthy fats for keto and low-carb coffee, smoothies, and cooking.
You can use it to lose weight
One of the most popular benefits of MCT oil is its weight loss and weight-management properties. By releasing peptide YY and leptin, MCT oil helps us feel fuller for longer. When we feel fuller, we tend to eat less throughout the day, which can aid in weight and fat loss. For those doing intermittent fasting, this can be a huge help. If you're worried about potentially putting on extra weight this holiday season, incorporating MCT oil into your routine could prove helpful.
Dr Approved MCT Oil, $15.98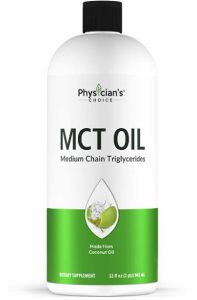 This unique chemical structure allows the body to digest MCT easier than other fats. This 100% pure MCT oil is extracted from cold-pressed coconuts and is a keto-friendly addition to bulletproof coffee, salads and shakes. Unlike some other MCT oils, this contains both C8 and C10 acids, which together support digestive, mental, and nutritional well-being
Better sugar management = better brain function
For those struggling with epilepsy or Alzheimers, MCTs can potentially improve brain function and may reduce some types of seizures. These diseases impair our brain's ability to use sugars – but MCTs can be converted into ketones. These are a valuable alternative energy source our brains can use, and ultimately can help improve brain function across the board.
You'll have more energy to go around
Along with helping our brain work better, MCT can help increase our overall energy levels. Our bodies absorb this supplement faster than longer-chain fats and don't require bile to break down. This means MCTs can be used as an immediate source of energy!
Dr. Mercola, Pure Power Ketone Energy Caprylic Acid MCT Oil, $22.97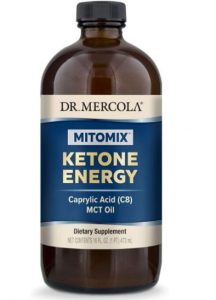 Supports energy and focus! This organic MCT oil passes directly to your liver where it's converted into ketones and used as energy, rather than stored in fat cells. The ketones are known for allowing users to experience optimized cognitive function and a lot more energy.
It's more powerful than coconut oil
While both products come from coconuts, MCT oil is, of course, higher in MCTs. This means it's much better at regulating cravings and encouraging weight loss. It's also flavorless, which is great for those of us who don't like the taste of coconut.
California Gold Nutrition, Organic, MCT Oil, $13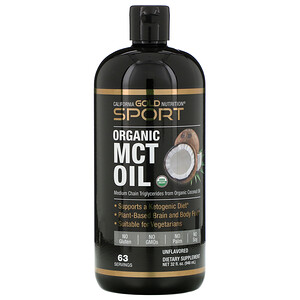 Coconut oil is a healthy choice for MCTs and contains Caprylic Acid and Capric Acid, which are two types of Medium Chain Triglycerides that the body converts into ketones and use for fuel.
Improved fitness performance
For athletes, high lactate levels in the muscles can cause cramps and hinder performance. According to an older study, taking MCT oil before exercising can help reduce that buildup. So, if you're looking for something to help you get through your fitness routine, definitely give MCT a shot.
Quest Nutrition MCT Powder Oil, $30.55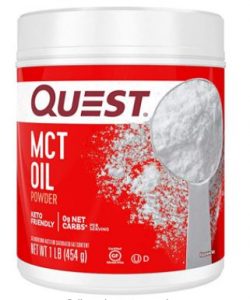 Boost you fatty acids with Quest MCT Oil Powder which provides your body with a boost of fatty acids to help aid with energy throughout your day
Potential drawbacks of MCT oil
As with any supplement, there are both pros and cons to consider. For example, while MCT oil has been shown to help people feel fuller for longer, it can also induce hunger hormones in some. This can be caused by consuming too much at once. The recommended amount is around 1 gram per day.
MCT oil can also lead to excessive fat buildup in your liver. This is another reason why it's important to only stick to the recommended dosages.
While the research on MCT oil is currently promising, it's important to talk to your healthcare provider before starting any new diet or supplement. Learn more about MCT oil and other popular supplements in our nutrition column!
'This article is for informational purposes only. Always consult your doctor.'