This is the third in a series of journal entries from contributing editor Adrienne Lawler, chronicling her breast cancer diagnosis and chemo treatment.
14th June
And so the breast cancer journey begins properly and just in case I forget it, there is a handy canula in my right arm to remind me. It's there to welcome its friend chemotherapy, which it will be channeling into me in less than 48 hours.
The team at the Horton has grown to the Magnificent 7 (plus a few friends in reserve). So today my circle of 'friends' grew to include a fabulous receptionist at the Brodey centre who did the most important thing of showing us where to make ourselves endless cups of tea and coffees and more importantly, where to find delicious nibbles to feast on.
Then there was Winnie, the senior nurse/doctor who covered me in the kind of blue paper capes you expect to see on a murder victim on the trolley, before gowning herself up like a surgeon and inserting a PICC line (almost as unpleasant as a picket line in the 70s) and take half an armful of blood but didn't seem to have even a remote knowledge of the Tony Hancock sketch the rest of us quote at the mere sight of a needle.
Then there was Tammy, a name I had last heard as a young girl in the 70s when I went to the newsagents for my favourite weekly mag carrying glorious images of toothy Donny Osmond, free stickers and cartoons of romantic strife being overcome.
This Tammy however, was considerably more practical and thorough and more than that, not phased or irritated by the list of daft questions I'd come up with; can I use fake tan? Are they aware I've got a dental implant (as advised to do by the dental magician himself). There were a few practical questions too (hard to believe I know); does sugar feed cancer? (No, if you're interested). What can I do to help myself? (Start eating more meat – which was a surprise) and lots of green, leafy vegetables.
I found out where to pick up my parking badge to avoid the horrendous charges and smiled when I discovered that it's rather like a scratch card simply scratching off the relevant slots. It may not seem to offer a luxury prize at stake if you get the right combo but with parking as difficult and expensive as it is at hospitals – even when you are having chemotherapy – it's a fantastic boon, if only to save you from the mad scrabble for change with no shops nearby.
The final medical professional in my breast cancer journey was the pharmacist, a delightful young woman called Varsi who was sweetly dressed in a cute mini dress with a voice and demeanour that would be fantastic in any production of The Wizard of Oz. Dorothy in the making and only slightly irritating as she tried to talk me through the whole 5 months schedule of drugs. My daughter said she saw me glaze over after 10 minutes and just leave her to it. She was about right.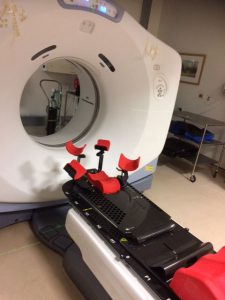 Tomorrow, its back to my old favourite, the Churchill Hospital at 7.20 in the evening! Do these people ever sleep? Eat? Spend time with their families? Once again, I will be in the MRI scanner. Funny, but I've hated the penetrating noise that fills your body in the enclosed space for years. (It's a regular 'gift' from MS) but when I had a load done last week, I truly didn't even notice them. Tomorrow's treat is to check the abdomen, chest and pelvis for further infestation of the Donald. So fingers crossed that like Congress, the power of this bugger will be kept in check.
The joy today – and there was some – was the kindness oozing from my daughter who held my hand, laughed at my dodgy jokes and assured me that she would be buying me the best wig on the earth to hide my (possibly) soon to be bald head. There were two people waiting outside the MRI scanner on their own and my heart went out to them. It may not have been for cancer but whatever it was, they were facing it on their own. I, on the other hand, have been blessed in my breast cancer journey with enormous love and compassion from my two wonderful children, as well as my wonderful friends and family.
Odd to say, but I am a very lucky woman. All things considered of course.
17th June 2017
Well, there have been a few days since that last entry but I have had some good news!! I turned up for  MRI & CAT scans on other body parts with the clear inference that the cancer might have spread but found they'd been cancelled. Slight irritation at the wasted journey was slowly replaced by joy at the dawning realisation this was because they'd already been done and cleared as ok!! One to me!!
Then came the 1st day of chemo yesterday supported by two lovely children who came with me and stayed throughout. The drugs themselves only took an hour to administer into the canula which I've been wearing like a badge since Tuesday. Because I've decided to try the cold cap therapy to hold onto my hair, it adds another 2 hours to the whole thing, which is a pain but worth trying if it saves my locks.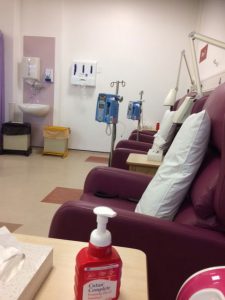 So what's it like I hear you ask? Well, because I've moved to the Horton, it's a smaller room than in the Churchill but with a varying number of people coming and going for broadly the same treatment. I noticed that only the women were wearing the caps as many of the men had long since parted company with their locks because of age rather than chemo.
Once again, the staff were magnificent and very patient with us taking up so much space with 3 bodies and several bags of goodies we thought might be useful, most of which were never touched. My ever efficient nurse, Sarah, did hint that we might like to travel a bit lighter on future excursions, which we will.
Cold cap therapy is like wearing a particularly unattractive riding cap with a transparent skin inside filled with water at -5 degrees being pumped and re-circulated throughout the treatment.
The chemo is made up of the three most powerful drugs known to man this side of Chernobyl, inserted slowly over an hour through one of the cannulas, which then takes it through the PICC line into my  heart and keeps tabs on what's happening there. Exactly how it does that, I have no idea, but they seem happy with it so, hey ho!
The most immediate issue is still my hair. Any woman who's worn a hat for a wedding will know the expression 'hat hair' but that doesn't really begin to express what hair looks like 3 hours in a heavy cold device and definitely not helped by the conditioner that Sarah had added to my dry hair to make removing the jockey cap easier. Despite being the true professional that she is, her face said it all when she removed it and said 'oh dear, you might want to try and do something with that before you leave!' Then added ' try to be gentle with the amount of washing, drying and brushing you do from now onwards.' And just for good measure 'No hair straighteners,' I can hear the collective gasp from women everywhere! I hadn't planned on the Worzel Gummage look before, but hey, it's different.
We won't know if the cap is working for 4 or more weeks, so I will have to persist with it for the next session at least to give it a chance. I can't honestly say it's a breeze but there again, neither is the cancer, so hey ho, all things considered, I'm lucky.
Once again, there were two men on their own in the ward and I realised again, how incredibly lucky I am to have my two children by my side, each with their particular skillsets and sense of humour to help the day slip by.
My son is at home with me today, helping fill in the myriad of forms for help with council tax, sickness allowance and hundreds of other things. I'd done much of it myself but just wanted him to check it over and he has, with forensic attention to detail. Just what any 25-year-old wants to be doing on a rare day off with 30 degree temperature outside.
Now waiting for the after effects of chemo to kick in, despite the huge number of anti-sickness pills I am taking morning, noon and night, but taking it very easy. This diary is the only thing I'm doing apart from flicking channels and lying around watching daytime telly and answering the many texts I'm lucky enough to receive.
Onwards and upwards, one chemo session down, six to go. Easy, I can do this!!