Ushering in the 50s Experience #39: Visiting the Shard
When I started writing my 'wish list' of experiences last year, visiting The Shard London was right up at the top. Which considering I'm not a massive fan of heights, it did make me wonder if I'd stepped a little too far out of my comfort zone.
It's a funny thing — heights — because I love flying. It totally doesn't bother me. I am often the annoying passenger craning their neck to see out of the window and blocking everyone else's view. But the thought of going up Blackpool Tower (or any high building), or taking a heart-stopping ride on the Pepsi Max Big One, fills me with terror.
The very thought of it makes my tummy flip over, my palms go a bit sweaty and yep, my bum go a little bit funny!
So visiting a tourist attraction that has 95 floors and is the UK's tallest building, is a big deal. Mainly for my insides, but a big deal all the same.
My lovely school friend Jen also wanted to visit, so way back in the summer we booked the tickets (amazing deal on Groupon!) and waited (im)patiently for October 5th to arrive. Of course the biggest gamble about doing anything in October, well any month for that matter, is relying on the UK weather. But when you're visiting a building that graces you with the best views of London and beyond, you really, really need a good clear day.
And, oh my gosh! The weather Gods played their trump card and delivered an unusually warm autumn day, with clear blue skies and balmy temperatures. The extra layers we'd taken were stuffed into handbags and the sunglasses came out. Perfect!
We arrived at The Shard London about 2 pm, joined a very small queue and after about a 15-minute wait, entered the lift for the first part of the very fast ascent to Floor 33.
A friendly 'Tourist Guide' rambled off a load of information as we entered the lift, and bless him, as much as he sounded very enthusiastic, he also sounded like he was so over saying the same patter every day. I can honestly say I have no idea what he said and can only hope it wasn't some kind of safety brief…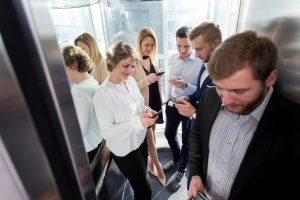 We changed lifts and continued our way up, up and up to Floor 69. The anticipation was building as quickly as our ears were popping but eventually, we stepped out and onto the first viewing deck. WOW! Jen, who was starting to feel somewhat a little apprehensive in the lift, scooted over to the glass and exclaimed in delight at the amazing views.
I, on the other hand, who had been supremely confident in the lift, suddenly felt very wobbly indeed.
I tentatively edged toward the glass and refused, point blank, to look down. My tummy was doing little somersaults and I felt a bit of my lunch start to rise back up, but I focused on the view and not the feelings inside my body.
> READ: OVERCOMING FEAR CAN CHANGE YOUR LIFE
As I began to relax and marveled at the amazing scenery, we both oohed and ahhed at how wonderful this was. We took photos of the landmarks we could make out and selfies of the view behind us and a million miles below.
London is a wonderful town on the ground level, but up above the (non-existent) clouds, it really is magical.
We walked up a few more floors to the top deck on Floor 72 and again marveled at just how fantastic this was. We sat in the make-believe garden, ordered a very expensive glass of wine (or two), watched the helicopters fly by at eye level and lost a wonderful few hours on a sunny Friday afternoon.
I seriously cannot recommend The Shard London enough. It is simply awesome and having visited the Empire State Building, I can safely say our London landmark wins hands down.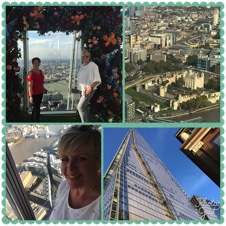 Go visit. Now. You won't be disappointed!
>READ: FRECKLES LEAD TO FAME? WHAT?
>READ: WOULD THE "THRILL" OF SAND BOARDING BE TOO MUCH?