Wine as a Valentine's gift is always appreciated. But why not make an entire romantic dinner with a menu of libido-enhancing ingredients? It could be titillating to prepare an aphrodisiac Valentine's Day menu featuring healthy, aphrodisiac foods – oysters, avocado, figs, olives, watermelon, halibut, raspberries, and dark chocolate. I have paired each course with a highly–rated complementary wine, some include the sexy look of a beautiful label. Here is my ideal menu with recipes from some celebrated chefs like Jacques Pépin.
The Ultimate Aphrodisiac Valentine's Day Menu
Appetizers: Grilled Oysters on the Half Shell paired with Bollinger Brut Rose Champagne, Prosciutto Stuffed and Wrapped Figs – paired with Vietti Moscato D'Asti
Salad Course: Watermelon, Mint Feta Salad – paired with Chateau d'Esclans rosé
Main Course: Halibut with Artichoke and Olive Caponata with Eyrie Pinot Gris
Dessert: Chocolate Decadence with Raspberry Sauce paired with Graham's Late Bottled Vintage Port
Let's start the aphrodisiac Valentine's Day menu off with an Oyster appetizer–this may seem like a stereotypical aphrodisiac choice, but oysters are loaded with zinc, which ratchets up testosterone and increases sex drive. Emeril Lagasse's Grilled Oysters recipe is paired with Champagne, a Bollinger Brut Rosé exhibiting aromas of strawberries, raspberries and toast. Find this wine here.
Wine Spectator 92 Point Rating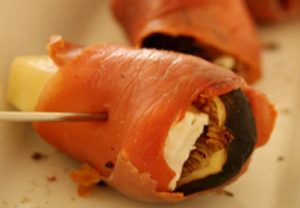 Our second appetizer comes from Rachael Ray: Stuffed and Prosciutto Wrapped Figs. Fig seeds represent fertility and figs are full of antioxidants, flavonoids, fiber, and potassium. Figs have been prized as a sensual food for their resemblance to the female sex organs. The ancient Greeks valued figs as more precious than gold. Figs were Cleopatra's favorite fruit. Wrapped in the prosciutto that men love, I pair this recipe with a slightly sweet, frizzante Vietti Moscato D'Asti… delicately sweet and sparkling with intense aromas of peaches, ginger, and rose petals. Find this wine here.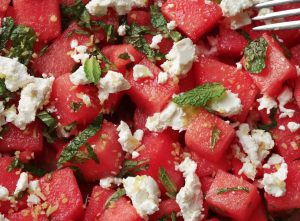 Watermelon, Feta, and Mint salad by Chef Jacques Pépin features the aphrodisiac properties of watermelon. Some experts have called watermelon the new Viagra. Bhimu Patil, a researcher and director of the Fruit and Vegetable Improvement Center at Texas A&M University, stated that eating watermelon delivers Viagra-like effects on blood vessels throughout the body and may increase libido. This cool refreshing fruit contains the Citruline amino acid. Citruline is good for the cardiovascular system and helps relax the blood vessels that increase sex drive. I have paired this salad with a French Provence-based Chateau d'Esclans dry rosé. Note the beautiful label. Find this wine here.
Wine Enthusiast 91 Point Rating

Chateau d'Esclans Rock Angel Rosé, $34.99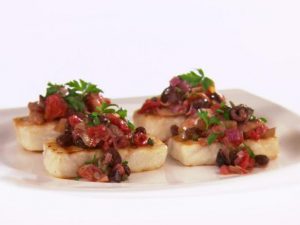 Food Network's Italian Chef Giada De Laurentiis has a 5-star recipe for Halibut with Artichoke and Olive Caponata. Both olives and artichokes exhibit aphrodisiac qualities. Olives are packed with antioxidants. Olives and their oil have been used for centuries for health. The Greeks believed they made men more virile, as well. Listed in A Dictionary of Aphrodisiacs, Halibut is said to have amorous properties. I am pairing our main dish with a lovely, food-friendly 2015 Oregon Eyrie Pinot Gris that exhibits aromas of pear, citrus, and spring greens. Find this wine here.
Wine Enthusiast 91 Point Rating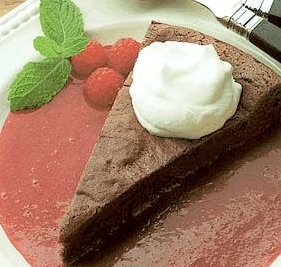 Dessert: Chocolate Decadence with Raspberry sauce–Pastry Chef Janet Feuer was the original inventor of this famous dessert. I enjoy the Williams Sonoma recipe. I am pairing Chocolate Decadence cake with a traditional complementary pairing of 2011 Graham's Late Bottled Vintage Port, a Robert Parker rated 90-point favorite, exhibiting aromas of dark fruits and fresh mint. Chocolate contains the organic compound, phenylethylamine, well known for its psychoactive and stimulant effect. This chemical induces the feelings of well being and excitement, which makes sex seem like a great idea. The Journal of Sexual Medicine published a study that found women who enjoyed a piece of chocolate every day had a more active sex life than those who did not. Find this wine here.

2011 Graham's Vintage Port, $22.99
And remember – you can have a romantic dinner any time of the year, not just on Valentine's.