Cooler weather calls for comfort food, yes, but that doesn't necessarily mean unhealthy dishes. This turkey chili recipe from cooking blogger and nutrition counselor Pamela Salzman's new book is made with flavorful "whole- food" ingredients that are fresh and nutrition-dense, not processed and laden with chemicals. "Whole-foods" are mostly plant-based. They have anti-inflammatory effects on the body and are low glycemic, which means they don't cause unhealthy spikes in blood sugar. Fresh, seasonal vegetables and fruits; whole grains; high-quality fats such as olive oil, avocado, coconut and flax oils; legumes, nuts and seeds; cold-water wild fish; organic eggs and dairy; and grass-fed meats make the cut; artificial sweeteners and additives, conventionally-raised meats, trans fats, and the like are avoided.
In the case of this tasty turkey chili, beans and sweet potato add nutrients and body. Deep, layered flavors come from garlic, onion, and spices. Chipotle chili powder can be adjusted or replaced for your heat preference. Tempeh can be substituted for turkey to make the dish vegan.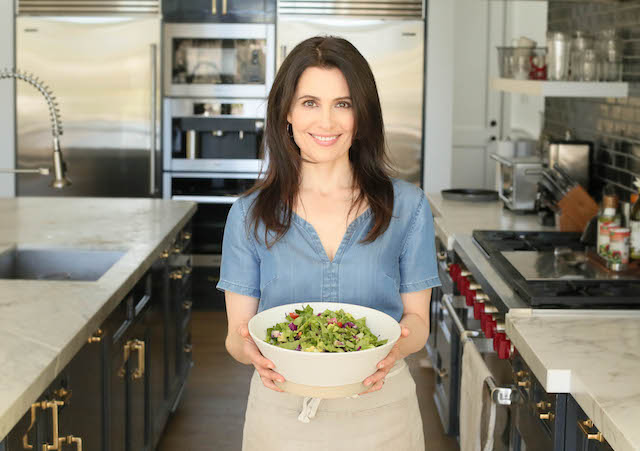 With an economics degree from the University of Pennsylvania and an MBA from UCLA, Salzman never imagined she would end up as a cooking teacher. She was raised in a home in which gardening and home cooking were valued. When she married and had children, she began to study nutrition to make healthy food for family. Salzman quickly saw the benefits of the whole-foods style of eating. Approached by friends to tutor them in healthy cooking, Salzman pursued certification to become a holistic health counselor, and began teaching professionally. Through a blog, www.pamelasalzman.com she shares tips, recipes, videos, and an ongoing meal planner.
A book to share her insight was a natural. Kitchen Matters; More Than 100 Recipes and Tips to Transform the Way You Cook and Eat—Wholesome, Nourishing, Unforgettable by Pamela Salzman is packed with advice on nutritious ingredients, information such as when it's important to buy organic and when less so, new takes on traditional dishes to make them healthier (example: waffles made with fresh, grated potato) and recipes for modern cuisine such as smoothies and grain bowls. Her recipes include information to adapt them to gluten-free, vegan or vegetarian diets and identify what can be done ahead to streamline preparation. The book is widely available in bookstores and through Amazon. On her website, you can find information about her cooking classes in the Los Angeles and South Bay area in California.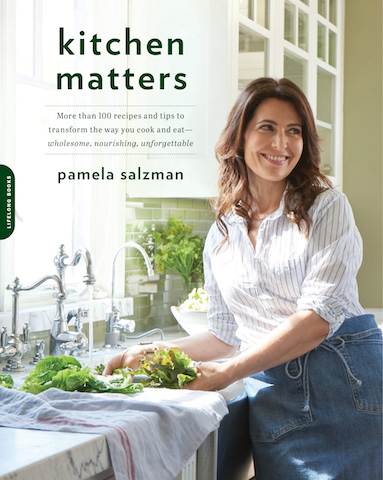 Here's a sample Salzman recipe for turkey chili that is gluten-free, and vegan or dairy-free adaptable.
Chipotle Turkey Chili with Sweet Potatoes
SERVES 6 TO 8
I absolutely love chili, especially when the weather is cool and there's a good football game on TV. I am definitely more partial to vegetable chilis and ones that are as much beans as they are meat, like this one. Sweet potatoes, which are one of my favorite foods and so incredibly nutrient-dense, add subtle body to this chili. Chipotles are technically smoked, dried jalapeño peppers; they have an intense smoky flavor—and can pack some heat. This recipe is about a 5 on a 1–10 heat scale. Adding avocado, or yogurt or sour cream (omit for dairy-free), will definitely tone down the heat.
2 tablespoons unrefined, cold-pressed extra-virgin olive oil
1 pound ground dark turkey meat (not vegan) or crumbled plain tempeh
1 medium-size onion, diced
1 jalapeno pepper, diced
4 garlic cloves, minced
1 tablespoon chili powder
2 teaspoons ground cumin
1/2 teaspoon chipotle chile powder
Pinch of ground cloves
2 teaspoons sea salt
Freshly ground black pepper
14 to 15 ounces diced tomatoes and their juice
3 cups cooked pinto beans, or 2 (15-ounce) cans, drained and rinsed (or use 1 can kidney beans and 1 can pinto)
2 small sweet potatoes (about 1 pound), peeled and shredded (about 4 cups)
Topping suggestions: diced avocado, fresh cilantro, Greek yogurt or sour cream (omit for dairy-free), gluten-free, dairy-free tortilla chips.
TIP: Believe it or not, chiles are actually loaded with antioxidants and antibacterial properties and can give a boost to your metabolism.
Heat the oil in a large pot over medium heat. Add the turkey meat and brown, breaking up the meat with a wooden spoon. When just cooked through, remove from the pan, using a slotted spoon, and set aside. If the pot looks dry, add more oil.
Add the onion, jalapeno, and garlic and saute until the onion is tender and translucent, about 6 minutes.
Add the spices, salt, and pepper to taste and stir until fragrant, about 1 minute.
Add the tomatoes and their juice and cook for another minute or two.
Add the turkey meat back to the pot, along with the beans, sweet potatoes, and 21/2 cups of water. Bring to a boil, lower the heat to a simmer, and cover. Cook until the sweet potatoes are tender and everything is nice and thick, about 1 hour.
Taste for salt and pepper. Serve with your desired toppings.
To freeze, follow the instructions on page 20 (of Pam's book) for freezing stock.
ASK PAMELA: How can I adjust a recipe that contains chiles if my family doesn't like spicy food? Heat can easily be adjusted in a recipe. You can leave out such ingredients as cayenne or hot sauce. If a recipe calls for chipotle chile powder, you can substitute an equal amount of smoked paprika, which is ground, smoked, and dried bell pepper. Crushed red pepper flakes don't add that much heat in small quantities.
Excerpted from Kitchen Matters: More than 100 Recipes and Tips to Transform the Way You Cook and Eat—Wholesome, Nourishing, Unforgettable by Pamela Salzman. Copyright © 2017. Available from Da Capo Lifelong Books, an imprint of Perseus Books, LLC, a subsidiary of Hachette Book Group, Inc.