Greek wines have grabbed the imagination of wine drinkers worldwide. The indigenous Greece grapes make spectacular wines that have bracing liveliness and interesting spicy aromas. The legendary island of Paros offers both a unique travel experience, and some truly exotic wines. Visit this island paradise and discover the wine, food, and sporting adventures that drew the original settlers to Paros.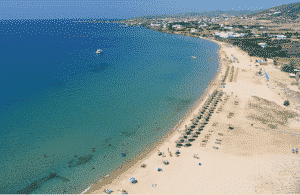 I am privileged to travel with other International wine and travel writers IWFTWA this fall to Paros (and Milos, Ios, and Alonissos) to sample first-hand the Greek wine and travel renaissance. I intend to give our PRiME Magazine readers a "sense of place" proposing that you consider these islands as you plan a Mediterranean trip. What to drink, What to Eat, Where to Stay, Water Sports, Archeological and Historic sites, stunning beaches, and marine phenomena will all be featured.
Legends tell the story of Paros, a prosperous colony of Ionians. These original colonists supported Persia in the Greco-Persian War (490 BC), and then fell under siege of an Athenian fleet. They offered courageous resistance for 26 days and the invading fleet turned away. Ultimately, Athens forced Paros to pay the highest member-island "tribute" to Athens treasury because of both Paros' prosperity and its former support for the enemy.
After the Crusades Paros became part of the Duchy of the Archipelago, a fiefdom ruled by a Venetian duke. Exotic goods like the beautifully textured Paros white marble and consumer goods like wine established trade with Western Europe.
Tourism and notable wineries make for a peaceful and sweet life for the current 545 inhabitants of Paros.The native grapes, Monemvasia (Malvasia), Aidani Macro, Vaftra, and Mandilaria are grown in vineyards scattered along carved steps featuring rich volcanic soil and unique island microclimates. The grapes' origins go back to the Cycladic Civilization era (3200-2000 BC). The Moraitis Winery is a fine example of these distinct wines and their heritage.
Greek wineries like Moraitis Winery now employ modern winemaking techniques to these native varieties. Their efforts have been awarded by the International Wine Challenge and Decanter Magazine. The oenologists [wine researchers] on Paros are credited with saving the white variety of Malvasia,now well known in Italy, during the the time of Venetian rulers. You can visit the Paros Wine and Vine Museum to understand this history.Perhaps the best-known Greek wine is from the Assrytiko (Ah-SEER-EE-Tee-ko] grape, which you can find in plentiful quantity on many islands including Paros and Santorini.
Give the Modern Greek wines a try. The names may be challenging, but I have supplied the pronunciation. Most wine directors in today's fine-dining restaurants are featuring Greek wines as fresh and exotic varieties to sample. Add Paros to your Greek island cruise itinerary for an exotic and remarkable vacation destination.
Greek Wines to Try:

Assyrtiko – White Wine (Ah-SEER-EE-Tee-ko]
Try This Wine: Gaia Santorini Thalassitis 2013 – $29.99 Robert Parker 92 Points
Lemony nuance and highly refreshing for summer.
Moschofilero – White Wine [Mo-sko-feel-er-o]
Try This Wine: Boutari Moschofilero 2013 – $14.99 Wine Enthusiast 90 Points
Fresh citrus and floral aromatics pairing well with sushi, seafood, salads

Xinomavro – Red Wine [ksee-NOH-mah-vroh]
Try This Wine: Boutari Naoussa 2009 $17.99 Wine Spectator 90 Points
Fresh cedar, spices, mint and dried raspberry with nuances of vanilla and cocoa. Complex and savory

Agiorgitiko (with Syrah) – Red Wine [ah-yohr-YEE-tee-koh]
Try This Wine: Gaia Notios Red 2013 $15.99
Deep colored velvety ripe red fruit with notes of butter caramel