How to Store, Open, Enjoy.
By: Master Sommelier Catherine Fallis, aka the Grape Goddess®:
With effervescence and finesse, delicacy and richness, Champagnes and sparkling wines are easy to love. One of the reasons is that they are rarely more than 11.5-12% alcohol. Still whites and reds hover around 14%, and where there is oak-aging involved, headaches often follow. Also, acid levels in sparkling wines are quite high, helping to digest dinner hopefully long before bedtime. As Madame de Pompadour said, "Champagne is the only wine that leaves a woman beautiful after drinking it."
Enjoying Champagne
Storage
Store Champagne (can only be named Champagne if it comes from France's Champagne region) and sparkling wines in a cool, dark place away from heat, light, vibrations and severe temperature variations. Champagne is ready to drink upon release, and, for the most part, does not improve with age. Bottles do not need to be stored on their sides.
Chilling
Before serving, chill the wine well but do not freeze it. Place the bottle in a bucket filled with ice and and just enough water to make a "thick soup" for 30 minutes. Better yet, always keep a chilled bottle in the fridge just in case.
Opening
The pressure in a bottle of Champagne is equivalent to that of a bus tire, or about 90 pounds per square inch. Slant the bottle at a 45 degree angle away from guests. Put a thumb on the cork, untwist and loosen the wire muzzle.
Grasp the cork firmly, twist the bottle slowly and let the pressure help ease out the cork while maintaining greater pressure on it. A maiden's sigh is the sound to aim for, not a loud pop.
Sabering : Enjoy Sabering Video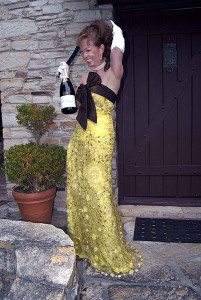 In times of triumph French officers under Louis XIV, and later, Napoleon's gallant soldiers – the Hussars -opened Champagne with a strong blow from their swords.
Napoleon is known to have said, "Champagne! In victory one deserves it; in defeat one needs it."​ The tradition continues, though French cavalrymen often practice on beer bottles first. Once they have mastered the technique, they show their skill by riding at full gallop past ladies holding up bottles of Champagne for them to saber.
This is a spectacular start to weddings, feasts, formal dinners, and other special occasions.​
[Tricia Conover, Wine Editor's Note: See Catherine Fallis, MS "sabering champagne" in this video.]
Find a Saber here >
Service
Serve in tall flute or tulip glasses at a temperature of 42-47 degrees or to your liking. Pour a small amount into the glass, allow the bubbles to liquefy, then top up to about 2/3 full. An interesting custom involves drinking Champagne from a lady's slipper or high-heeled pump.
If you enjoy coupes, by all means use them. Gas will dissipate much more quickly, but in this case the taste of the base wine comes to the fore.
What to do with Leftovers
Champagne stoppers are the only way to fully protect the gas. Interestingly, some Champagnes taste fuller and more mellow the next day.
Recommendations
Here are a few recommendations for your every day drinking pleasure.
CA'Rosa Frizzante by CA'Momi California, $16: I love the ripe strawberry and tropical notes of the lightly sweet and easy-going.

Lamberti Rose Spumante Veneto Italy, $14: The sexy, coral-colored, has notes of rose petals and tangerine.

2013 L'Antica Quercia Prosecco Brut Treviso DOC Italy, $22: this subtle, elegant sparkleroffers lemon curd, ginger, peach pit, jasmine, and toasted almonds, and is made from certified organic grapes.

Domaine Chandon Brut Rose California, $15, is one to stock up on. The brand is big enough that it is often discounted at large chain stores, so if the juicy watermelon and pear notes and rich structure from its Pinot Noir suit you, this could be your house wine.

Domaine Chandon Etoile Rose Napa/Sonoma, $39: If Duck confit or duck-fat French fries are on the menu, this rich, beautifully textured USA Sparkler fits the bill nicely.
Mirabelle Brut nv North Coast California, $22: Schramsberg produces gorgeous California sparkling wines as well. This sparkling wine is Chardonnay-based and fresh, tart, and bracing, like biting into a Granny Smith apple.
Pierre Paillard Blanc de Noirs Bouzy Grand Cru nv, $50: The 100% Pinot Noir-based French Champagne is an intense, minerally, smoky, and very serious one It is newly imported to the US and is worth seeking out.

Pierre Moncuit Rose Le Mesnil Grand Cru, $55: This is another outstanding value in French Champagne is a blend of 80% Chardonnay from the same vineyard used by Salon and Krug, Le Mesnil. It is layered and complex with rich chalky and brioche notes and pristine, delicate raspberry notes. At Fine Wine retailers.
2002 Paul Bara Grand Cru Special Club, $110 This spicy, sultry, and complex Champagne is from another lesser-known producer, but it could become your new best friend. Champagne's Special Club, or "Treasures of Champagne," has 26 grower-producers, or Recoltant-Manipulants (RM) who use only their own vineyards, use a very low sugar dosage and all use the same crested bottle, though they can own-label it. At Fine Wine retailers.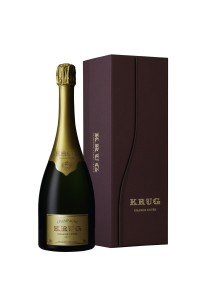 Finally, Krug Grande Cuvee Brut $ 169-180: since this article is about affordable sparkling wines, I'll cap it with a gingery, floral and creamy Champagne, which was paired exquisitely with Dayboat scallops at a recent luncheon with Oliver Krug. Olivier explained that even non-wine experts could come up with twelve words to describe this extraordinary Champagne.
About the Author: Catherine Fallis, Master Sommelier at Planet Grape® LLC – a wine consulting firm providing content, education, entertainment, and sommelier services, Catherine Fallis created her alter-ego, grape goddess®, to help bring wine down to earth for consumers as well as those entering the wine industry. She is the only person in the world to hold both the Master Sommelier and Advanced Certified Wine Professional credentials, is one of a handful of women in the world to professionally open Champagne with a sword – Champagne Sabering, and is a Wine Advisor to restaurants and wine bars.