Is Jane Austen the most beloved female author ever? Judging by activities planned around Jane Austen's 200th anniversary and her ongoing fan following, there's a case to be made —
Two hundred years after her death in 1817, the six major novels penned by Jane Austen during her short life (and published anonymously until after her death) still fly off bookstore shelves. Her works inspired a film genre, the "bonnet drama," including mainstream high-grossing blockbusters such as Sense and Sensibility (1995) starring Emma Thompson and Kate Winslet, Pride and Prejudice (2005), with Keira Knightley, and Emma (1996), with Gwyneth Paltrow.
Numerous historians and novelists have hitched their star to hers, from her nephew who wrote a memoir of Austen 50 years after her death, to academics and creative nonfiction writers who have crafted tomes on her social observations and the juggernaut of fan adoration that followed, to writers still spinning off Austen storylines to produce beach read romances, mysteries and even Zombie-themed books.
In England, 40,000 visitors per year tour the Jane Austen's House Museum, set in the cottage where Austen spent the last years of her life. It's just down the lane from a manor house now known as Chawton House Library, which was inherited by her brother, Edward, after his adoption by a wealthy family.
Time spent at the manor house observing and interacting with landed gentry was where Jane Austen gleaned much of the inspiration for her wise, witty and romantic tales. Her novels not only entertain, but also shed light on the dependence of women on marriage for financial security and social standing in Regency era days.
Across the pond, 75 regional groups of the 5,000-member strong Jane Austen Society of North America host year-round events: book talks, study days, essay contests, costumed parties and dances, conferences and travel to Austen-related sites. This weekend, the annual Jane Austen Festival in Louisville, Kentucky will celebrate all things Jane, with three days-worth of speakers, a Regency style show, a mock duel, demonstrations of bare knuckle boxing, bobbin lace-making and archery, and more.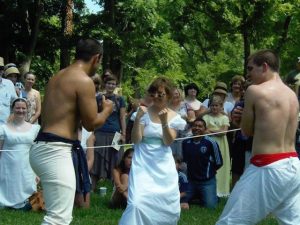 In Bath, England, a festival similar in nature will be wrapping up a 10-day event, all to celebrate Jane.
And soon, U.K. residents and visitors will routinely carry an Austen portrait and quote in their wallets; the Bank of England is issuing a 10-pound note honoring the illustrious author later this year.
Her Life: 
Born in 1775 in Hampshire, England, the daughter of a country clergyman, Austen grew up in an academic home. Though of modest means herself, the circumstances of Jane Austen's life provided a window to the landed gentry world. Upon retirement, her father moved the family to Bath where, at age 25, Jane's pursuit of writing for family entertainment blossomed into more serious pursuits. After her father's death, Jane's brother, Edward, was adopted by a wealthy family, inherited a Hampshire manor house and offered his mother and sisters a cottage home nearby.
Jane spent the rest of her life living at Chawton Cottage, now the Jane Austen's House Museum, frequently spending time at Edward's manor house. From this experience came six novels, four of which were published in her lifetime, and two shortly after her death of a mysterious illness at the age of 41.
Her Major Books: 
Childhood writings, shorter and unfinished works, and letters later came to light, but the six works Austen is best known for and their publication dates are:
Want to Join In? Here's What You Can Do. 
Events being sponsored this month by bookstores and libraries for"Janeites," a term coined in 1894 by literary critic George Saintsbury for Austen devotees, are widespread. (Brazos Bookstore in Houston, Texas has declared then entire summer an Austen event. ) The Jane Austen Society of the U.K, Jane Austen Society of North America, Jane Austen Society of Australia and similar organizations in other countries' websites offer an array of resources and information on membership and ongoing activities. Austen-related tourism sites in England (Bath; Chawton; Winchester Cathedral, Austen's burial site; and film settings) abound.
And, an important philanthropic drive is underway to support the Chawton House Library, Edward Austen Knight's manor estate which is now home to a unique collection of writings by female authors who preceded Jane. (Yes, hundreds of women published books before Austen's time, a little known fact!) The library's collection of novels, poetry, dramas, letters, and memoirs is open to scholars researching works by authoresses dating from 1600-1830.
Research being done is recovering a treasure trove of feminine works of fiction, history, travel, medicine, botany, cookery and more which have been lost in time. The House and Library are open to visitors and host an ongoing program of events including talks, musical performances, conferences and school programs. A charitable foundation which has long funded 65% of the Library's operating cost is winding down, so fundraising now is essential for this cultural jewel. Contribute to non-profit U.K. or U.S.-based non-profit organizations supporting the Library via the fundraising campaign site, or adopt a book from a list of 2017 librarian's selections on the site as a memorial from yourself or as a gift to a friend.
And, you can always curl up with a cup of tea and a book. For, "there is no enjoyment like reading," as Jane Austen said. It's a quote posted on the new Bank of England note.