Justine Bateman rocketed to fame as a teen on the 80's sitcom "Family Ties," but she's gaining notoriety now for her views on aging naturally. Is she showing her age now that she's 57? Of course! Is she just fine with that? Absolutely. In fact, she shared in a recent interview that she thinks she looks "rad" as she ages naturally.
Bucking Hollywood Trends
As women of all ages face more and more pressure to hide and remove any signs of aging, whether it's wrinkles or fine lines, Justine is instead embracing her body and all it's been through. When an internet search of her name revealed that people thought she "looks old," she couldn't see it. And that was 15 years ago. At just 42, she didn't understand what people were talking about.
Could she follow the crowd and have "work" done to reverse some of the signs of aging? Many of the other celebrities in Hollywood already do, along with a good chunk of the general public. But Justine says no. She thinks cosmetic procedures would erase the authority she's gained through the years. She acknowledges she's not the same person she was when she was 20. And she's ok with that. She likes to see the evidence of her life when she looks in the mirror and believes her face represents who she is. Beyond that, she simply likes what she sees.
Applying Justine Bateman's Aging Philosophy
That's an attitude a lot of us can learn from, right? After all, the signs of aging are inevitable, and if you're lucky enough, you'll live to see them.
The irony is men seem to escape criticism for showing their age. Justine says they even seem to thrive as their years pile up. So why shouldn't it be the same for women? Women can be more confident and self-assured and bring wisdom that you only get with age.
Justine Bateman's Illustrious Career
Justine earned that wisdom through the last several decades. She's been more than an actress, with many roles beyond her famed life as Mallory Keaton in "Family Ties." She was born in 1966 in Rye, New York, and started her career in the 1980s. After "Family Ties," she acted in various TV shows and movies. Those include "Desperate Housewives," "Californication," and "Arrested Development," where she played the recurring character Nellie Bluth.
She has also been a writer, producer, director, and author. She's received accolades in the entertainment industry with nominations for two Emmy awards and one Golden Globe. She was named a "Badass 50" by InStyle and a "Trailblazer" by Adweek. IndieWire named her as one of the "22 Female Filmmakers to Watch" in 2021. That's not all. In 2022, she won Best Breakthrough Filmmaker and was nominated for Best Original Screenplay at the Cadet Film Awards.
The film short she wrote, directed, and produced, called "Five Minutes," was one of the winners of the 2019 Amazon Prime Video Direct Festival Stars Program and was chosen by both Short of the Week and Vimeo's Staff Picks. Her second short, "Push," is a drama in which she also stars. In 2021, she worked as a writer and producer on the feature film "Violet."
From Acting to Writing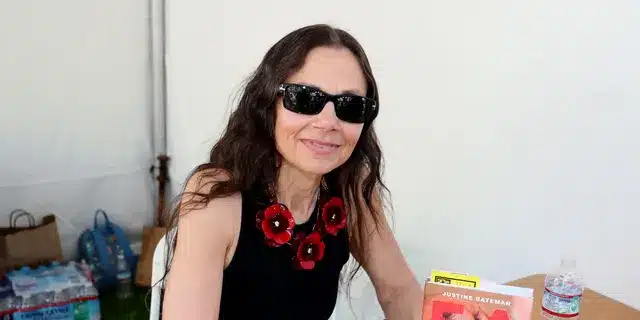 Her best-selling first book, "Fame," was published in 2018. It is a non-fiction about the life cycle of fame and society's strong need for it. Her second book, "Face," was also a best seller. It's about women's faces getting older and why that makes people angry. It was released in April of 2021 and caused an enormous response from readers and the press.
That certainly reflects how she's choosing to live her life these days. And it's poignant enough that the story is now in film production, with Justine spearheading the efforts. It will star Mary-Louise Parker, Carrie-Anne Moss, Isabelle Fuhrman, Liana Liberato, and many more top names. In the book, she talks about the negative stereotypes and societal pressures that come with it. She explores her own journey and aging experiences and challenges the idea that youthfulness is the most desirable quality in a person, arguing that the obsession with youth and beauty can be blamed on the media and advertising industries. She wants people to know it's important to embrace their natural aging process and resist the pressures to conform to unrealistic standards. Instead, she says we should focus on personal growth and fulfillment, not our external appearances.
She even gave a TEDx Talk called "Redefining Aging" in 2016. She challenged the audience to reconsider how we think about aging and embrace it as a natural process that's valuable and meaningful in life.
An Inspiring Message
Most people agree she's a pretty face at any age, but Justine has proven she's so much more. Beyond her writing, acting, and directing, she's also actively improving the world in other ways. She's an advocate for Net Neutrality and has testified before the Senate Commerce Committee on its behalf in Washington, DC. She has also served as an Advisor to FreePress.com.
And she's made a point of continuing her education, even later in life. In 2016, Justine earned her Computer Science and Digital Media Management degree from UCLA. That's pretty admirable at 50 years old by most standards.
Wouldn't it be nice if that intelligence and growth were the true measures of beauty as we all live out our lives?
Read More:
Women to Watch: Dr. Ava Shamban, M.D.
10 Women on TikTok That Are Worth the Watch