Bobbe Greenberg's adult daughter told her, "No one wants their kid to have a seventy-year old teacher." So, Bobbe signed on with Big Sexy Racing.
Forbes suggests that when you first retire you should do fun things like celebrate and make plans with friends, as well as practical things like avoid big decisions, avoid too much TV and spend any medical funds you may lose after your transition. Forbes also suggests you get active.
Bobbe took that last bit to heart. For years, Bobbe had balanced being a junior high English teacher and cross-country coach with being a world class Ironman athlete. Since she retired, Bobbe set a new personal record (PR) in the Ironman, and is headed back to the Ironman World Championships for the sixth time next year in search of a bigger record, sponsored by Big Sexy Racing.
The Ironman
An Ironman race includes a 2.4 mile open water swim, a 112 mile bike ride, and a 26.2 mile run, which all has to be completed in 17 hours. The race clock runs continuously, through each activity, as well as between activities when racers shift from one sport to another, trading a wet suit for bike gear and then running gear. This race is as much about being tough and smart as it is about being fit. Racers have to complete the course in the prescribed time, and they need to carry their food and energy drinks with them for the bike and run.
The Ironman concept originated in 1977 by Navy Commander John Collins in response to a debate about whether runners, swimmers or cyclists are more fit. The first Ironman, in 1978, included fifteen men who aspired to complete a course for the Waikiki Rough Water Swim, the Around Oahu Bike Race, and the Honolulu Marathon in a single day; twelve men finished. The following year, Lyn Lemaire became the first woman to compete in the Ironman, and she finished fifth overall.
The Ironman may be the penultimate athletic achievement. To compete in the world championships in Kona, Hawaii, you have to earn a qualifying slot, which usually means you need to win your age group in another Ironman race. Even watching an Ironman race is challenging! Spectators run, ride buses and monitor apps to try and catch a glimpse of their athlete on the 140+ mile course.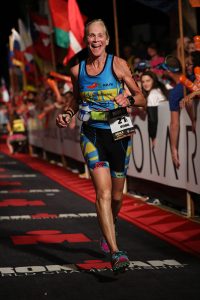 One of those amazing athletes at Kona is Bobbe, who shares the top ranking at the US and Global level for the 70-74 age group in both the Ironman category and the Overall category, which includes results for both full Ironman and half Ironman races (called the Ironman 70.3). Bobbe completed five (yes, I said five!) of these races in 2017, including two full Ironman races, six weeks apart.
In her second 2017 Ironman, she beat the next fastest woman in her age group by more than an hour. To put that in perspective, a full marathon (26.2 miles) is the last segment of an Ironman race. Many serious marathon runners of any age will only complete in one marathon race a year to achieve peak performance and to reduce the risk of injuries.
Bobbe's Background
Growing up in the midwest before Title IX, Bobbe didn't have a lot of opportunities to compete in sports. She remembers jogging with a neighbor as a newlywed kindergarten teacher in the late 1970s during the first jogging boom. As they headed over to a local track, Bobbe couldn't figure out what was so interesting about running slowly. Her approach to life had always been to go all out, so the idea of a deliberate and measured pace seemed odd. She kept with it, and at the end was surprised they had run over five miles – it was more daunting to talk about it than do it!
Bobbe put her running and teaching on hold to be a stay-at-home mom for eighteen years before she returned to teaching when her younger daughter was in high school. She ran an occasional 5K or 10K over the years, but never trained seriously.
The Road to Becoming a World Class Athlete
There are many anecdotes in Bobbe's rise to world-class athletics, and each one illustrates her indomitable can-do spirit. She became a distance runner on a lark when she entered the Chicago marathon while picking up a race packet for a friend, and, never having run longer than 13 miles in practice, she quipped that every mile beyond 13 represented a new personal record (PR). She entered an indoor sprint triathlon without knowing how to swim at all – figuring that since the race was in a pool that was no deeper than four feet, she could walk or jog in the water.
But don't mistake Bobbe's free spirit with an accidental approach to achievement. Every spontaneous signup was followed by blood, sweat and tears to reach the finish line, and sometimes injuries interrupted victories. Bobbe missed her first Ironman race when, just weeks before race day, a bike crash on a practice ride left her with a broken collarbone.
After a recent fall in a parking lot, Bobbe couldn't raise her arm for a swim stroke due to an injured shoulder. She made it through her race with the compression support of her wetsuit holding the injury stable, spurred on by a family full of spectators. Later in that race, halfway through the run, Bobbe was unable to walk straight, and listed to the side every time she increased her pace to a trot. She kept going, and earned a new PR.
Bobbe didn't actually walk in the water in that first triathlon. As the race got closer, she decided that would be embarrassing, so she took a Total Immersion weekend swim course, which started with putting her face in the water and blowing bubbles. At the end, she was excited to see the videos of their progress. Although she hadn't mastered floating, she felt like she was developing a powerful stroke. "I teared up when I saw how awful I was in the water," Bobbe recounted. "I was so embarrassed. I was really glad to be in the back of the group where no one could see me crying."
But she didn't stop. Bobbe didn't know how to push off a pool wall when that first triathlon came along, but she would glide, stand up for air, and glide again. She might not have been fast, but she was unstoppable. Bobbe's performance on the bike and run overcame her swim deficit and she earned first place as the top female overall. At 55, Bobbe, with her glide, stand and glide, beat the other two women in the race, who were in their 30s and 40s. Bobbe was hooked on triathlons.
When we talked last week, Bobbe gave me the latest on her four grandchildren, and showed me a photo of her extended family in matching t-shirts cheering her on at the Ironman Arizona. She told me about her husband's new business venture, but she didn't mention her top Ironman ranking. She has confided to me that one of the things she really enjoys about the Ironman is the chance to meet so many "legitimate world-class athletes" – never acknowledging that she too is a member of this elite group.
Beating the Odds
As impressive as Bobbe's achievements are, what really inspires me is that even at 71, she keeps getting faster! While age catches up with all of us, endurance athletes peak later than athletes competing in shorter distances. Olympic swimmers may peak on average at 21 and Olympic runners on average at 26; marathon runners may peak at 29 and 30 (men and women, respectively) and Ironman competitors may peak at 31 and 36 (men and women, respectively).
I think they need a separate category for Bobbe, who so far has reached her personal best at 71. The Kona Ironman record times decline 7-10% for each five year age group over 50; but not Bobbe. Instead of getting slower, Bobbe Greenberg keeps getting faster.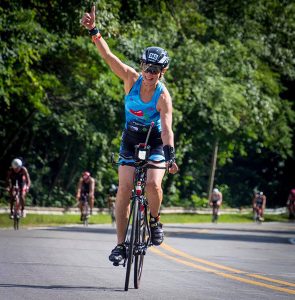 Bobbe's performance in the Maryland Ironman in September 2017 qualified her for the Kona Ironman World Championships in 2018, and was nothing short of amazing. She had her fastest cycling time ever, and a personal best for the race of 13 hours, 49 minutes and 30 seconds (which was especially impressive since she'd never had a time below 14 hours). Six weeks later, she re-qualified for Kona by winning her age group in Ironman Arizona. Amazing.
Maybe Forbes needs to revise their retirement list. Bobbe said retirement was rough at the beginning. Missing the first day of school was torture, knowing someone else was the opening act in the lip synch contest. The second day got a little better, when Bobbe realized sleeping in wasn't a bad way to start the day. And the third day, things got better yet, when Bobbe decided to step up her triathlon training.