Life After Lawyering
Jane Saginaw graduated from the University of Texas Law School and attended the London School of Economics, Department of Comparative and International Law. She received her B.A. from the University of California at Berkeley where she graduated summa cum laude and Phi Beta Kappa with a degree in cultural geography.
Jane was a shareholder at Baron & Budd in Dallas, where she worked for twelve years, specializing in complex litigation involving chemical and environmental injury. President Bill Clinton appointed Jane Saginaw as the Regional Administrator of The United States Environmental Protection Agency for Region Six in 1993. She served in that position for Clinton's first term.
In 2006, Jane Saginaw was awarded Trial Lawyer of the Year by Trail Lawyers for Public Justice in Washington D.C. She was recognized for her groundbreaking work in the field of toxic tort litigation in Valenzuela vs. Hughes Aircraft. Jane earned a Certificate in Creative Nonfiction from Stanford University in 2014. Her memoir, Because the World is Round, tells the story of her relationship with her wheelchair-bound mother in the context of a trip around the world she took with her family in 1970. Currently, Jane Saginaw is working on her PhD at The University of Texas at Dallas and is writing a second book.
We asked Jane Saginaw a few questions so we could get to know her better.
What are you doing now?
This is my first year in the PhD in Humanities program at University of Texas at Dallas. I feel like I'm twenty-five years old again! I love the stimulation of being challenged by new ideas. After I finished writing my memoir, Because the World is Round, I knew that I wanted to begin a second book, set in the 1940s, but I felt that I needed to establish a stronger historical understanding of the decade. UTD is only thirty minutes from my house and it is an outstanding institution, so I got my transcripts off microfiche, gathered some letters of recommendations, and applied to graduate school. It's one of the best decisions I've made in years.
How did you get interested in creative writing?
I was born to a mother in a wheelchair. She was struck by polio seven years before I was born. She was an incredibly strong and forceful woman and I never really thought much about her disability until she turned 80 and began to seriously weaken. I would sit with her for hours and I began to think back to my childhood. How did she do it? How did she raise two children in the 1960s from a wheelchair?
I began to write down early memories of growing up, taking care of her, and learning from her. I found that when I shared my stories with family and friends, people were really interested in our unique mother-daughter dynamic. I enrolled in the Certificate Program in Creative Nonfiction at Stanford University and discovered that creative writing opened up a new world of understanding and expression. Through the creative writing process, I learn to view life with new perspective.
How does your family feel about your new student/writing career?
My family could not be more supportive. In fact, they have urged me forward at every turn. My husband is thrilled that he gets to go to school vicariously (without having to do the readings!) and my three children love to listen to my stories (or so they say!).
Who has most inspired you in your life?
Without a doubt, my mother is my greatest inspiration. I've written a book about her and I still don't understand how she managed to raise a family from a wheelchair. Remember that this was long before the Americans with Disabilities Act. There weren't even ramps on the sidewalks when I was growing up. My mother's strength of character was indomitable, and I like to think that she passed a little piece of that on to me.
I was also greatly influenced by meeting Golda Meier in 1970 when she was Prime Minister of Israel. I had never been near such an important, powerful woman. I was impressed that she was so strong and at the same time, very human. She looked me in the eyes and listened to me as if what I said really mattered to her. I try to emulate Golda when I listen to others.
How do you introduce yourself now?
I say that I'm a graduate student and that I'm writing a book. But it is still hard, sometimes, to give up the up the "lawyer" label, so sometimes I add that tag.
When have you been most happy in your life?
This very minute. I love what I am doing. I can't imagine a more rewarding way to spend time at this stage in life. Every day holds a new discovery and the process of learning and growing is without end. What more could I ask for?
Do you have a product you can't live without?
SunButter Organic Sunflower Butter. I could live without it—but why would I want to? I spread some on a rice cracker every morning for breakfast.
Do you have a quote that inspires you?
I wear a resin bracelet every day that is embossed with Winston Churchill's advice: Never Never Never Give Up.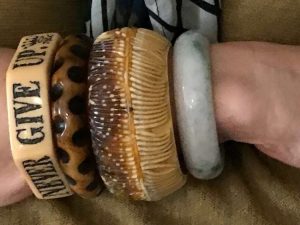 Meet another inspirational woman here.