There's so much talk, both online and off, about the cosmetic (and medicinal) gains of using Botox and other injectables to gain a more youthful appearance. But if you could enjoy the same end game without using needles or scalpels, would it be a no-brainer option? Enter NoTox Tweakments. The portmanteau is breaking the internet with both appearance and the lack of invasiveness, so here's everything you need to know about the latest beauty trend.
Disclosure: As usual, I must disclose that you're beautiful just the way you are, with or without tweaks. In my world of "you do you," this post is for information only, and in no way was it written to sway your opinion on your appearance. Of course, your dermatologist or physician, along with you, are the only ones that should make the final decision on a NoTox tweakment.
First, What Are NoTox Tweakments?
Before delving into exactly what I'm talking about when I write a NoTox Tweakment, I have to give you the 411 on what the term is a combination of:
NoTox – Super easy, it's a lack of Botox to gain a more youthful appearance, aka, needle-free Botox.
Tweakment – A combination of tweaking (a small change) and treatment instead of a more invasive procedure. You know, it's just a little upgrade where people may ask you if you've had anything done but can't identify exactly what it was.
I know you knew that already, but I'd be doing a disservice to anyone reading that was unsure.
What Exactly is Notox?
Essentially, it's using a combination of ingredients to target problem facial areas instead of injecting Botox into those areas. By the way, I just read that the Superdrug chain of stores (in Britain) now sells Botox consultations and procedures – all you have to do is walk in and pay for it. It's an alternative treatment that's ideal for folks that don't want injections or are allergic to the ingredients in Botox.
At this time, several NoTox tweakments are available and are much more affordable than going under the knife:
Chemical Peels
Wrinkle and Crow's Feet Patches
Vitamin A Propionate
Collagen Wave
Retinol
Ultherapy
Chemical Peels
If you're looking for a Fountain of Youth for skin with fine lines, acne scarring, uneven skin pigmentation, and wrinkles, a chemical peel may be just the way to go.
Using mild chemicals (stronger chemicals that may be used for deeper wrinkles), it's brushed on the face and left to do its magic. There will probably be some stinging and redness (or maybe even contact dermatitis, dryness, and swelling), but it should subside after two or three days, especially in lighter peels.
A super thick cream to help with recovery will be put on the skin after your peel. And while it might feel like you have a case of chickenpox again, compliments of the itchiness and redness, you really have to resist the urge to pick or pull at the skin when it starts peeling. Additionally, sunscreen is a must when leaving the house as your skin will be VERY sensitive.
Silicone Patches for Wrinkles & Crow's Feet
It's not a surprise that silicone sheets have a great reputation for reducing scarring, but recent studies have shown the same benefits to fine lines and wrinkles. Used when sleeping, they keep the skin smooth and taught, so you're essentially getting the cessation of wrinkling and creasing with almost no effort.
To use, make sure there's no oil, creams, or lotions on the area you want to treat before applying. After use, all you have to do is rinse off the patches and allow them to dry before you use them again.
If you're interested in using silicone patches on additional body areas, women have seen results with larger patches used on the neck and chest area when sleeping to prevent wrinkles.
Learn how to smooth out wrinkles and soften skin with SiO Beauty Patches.
Vitamin A Propionate (Retinyl Propionate)
While Vitamin A Propionate may not be a term you've heard before, you may want to get acquainted with it soon. When used appropriately, A retinol ester combined with Retinol and propionate can reduce skin damage and inflammation. Also, if you want to ease the look of fine lines and skin pigmentation issues, it may be just what you're looking for.
Due to its small molecular structure, skin penetration is easier and more beneficial with retinyl. Because of its strength, it's not found on store shelves, so you'll have to talk to your dermatologist about it.
Collagen Wave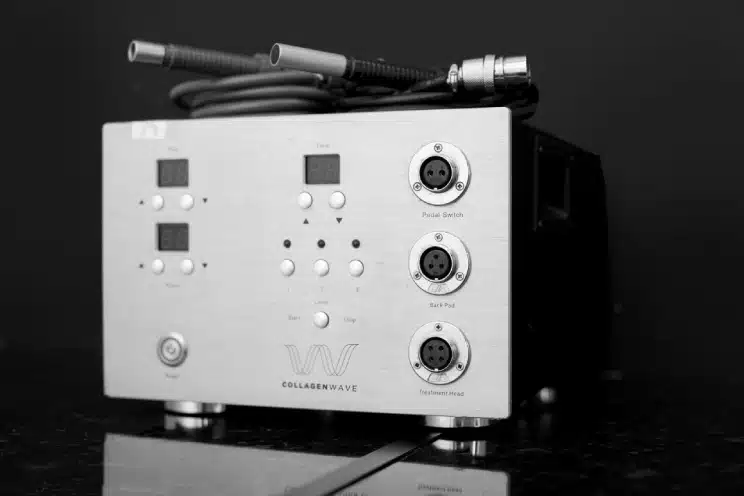 Have you considered radio and ultrasound waves to produce collagen (which decreases as we age) and tighten your skin? Welcome Collagen Wave, a system that does just that.
The combination of the waves causes your skin to heat up, causing the fibroblasts to produce new collagen and elastin. Used appropriately, your face will look more contoured and sculpted, leaving behind the look of fine wrinkles. Side note, you may see some swelling and redness immediately after the procedure.
While you'll probably notice an improvement almost immediately, it can take up to six months to really see all of the benefits and up to two years before you need to have it done again.
Retinol
If you don't want to deal with a dermatologist's office, check out Retinol. Added to skin creams, serums, and lotions, it's a form of vitamin A that has been proven to lessen fine lines and wrinkles by exfoliating your skin and sloughing off dead skin cells. It's also good for skin hyperpigmentation caused by skin damage.
While you shouldn't expect immediate results with Retinol, you will notice skin improvement in a few weeks. It's simple to use, too: after cleansing the skin, apply a thin layer (avoid the eyes, internal nose, and mouth) and allow it to absorb into the skin.
So, there you have it – plenty of options to help you regain your youthful appearance. And depending on your budget and needs, there are ways to improve your appearance without needles and knives.
Read Next:
14 of the Best Skincare Products for Mature Skin