When it comes to our skin, one thing is certain: we want to keep it looking as healthy and fresh as possible. Of course, there's no secret that it gets more challenging as we age. That's why it's so important to take on a proper skincare routine and stick with it. While creams and lotions are always a great source of moisture for your skin, you can also hydrate and treat your skin from the inside out. Finding the best collagen products for your skin is one of the key components to looking your best – or even looking better – each passing day.
There are a ton of collagen products on the market today, but here are 15 of our favorites.
Best Collagen Products for Mature Skin
Disclosure: This post contains affiliate links.
Collagen For Her's Unflavored Collagen Peptides are both flavorless and tasteless, making them ideal for adding to a variety of beverages and foods such as coffee, tea, smoothies, and baked goods. One scoop of this collagen powder contains 11g of collagen and 10g of protein, offering numerous benefits for hair, skin, nails, joints, digestion, and gut health. Additionally, Collagen For Her is a woman-owned company adding bonus points to its products.
Subscribe and save up to 36% on BioTrust Ageless Multi-Collagen Protein Powder. Each serving contains 10g of collagen protein, including BioActive Collagen Peptides for healthy skin and hair, plus gut, joint, and bone health. Pick from a selection of either tasteless and odorless powder or a variety of delicious flavors. It's easy to use and mixes instantly in hot and cold liquids without clumping.
Get 25% off your first subscription order plus free shipping when you purchase Orgain's new Plant Protein Plus Collagen. It includes 15g organic plant protein, 10g grass-fed collagen, plus the gut goodness of one billion probiotics.
Bulletproof's Collagen Protein powder has what you need to get the job done: amino acids to support healthy skin, bones, and joints. Unflavored Collagen Protein is grass-fed, flavorless, and it mixes easily in hot or cold drinks. Add it to smoothies, coffee, and almost anything for a protein boost with whole-body benefits. Plus, it's keto-friendly!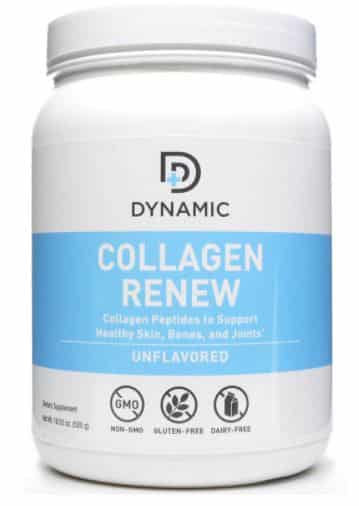 Dynamic Multi Collagen Renew by NutriDyn is a unique, unflavored source of bioactive collagen peptides designed to promote the health of your skin and nails as well as support healthy joints, bones, ligaments, and tendons. It contains a blend of four specific collagen peptides (SCPs); Fortigel® peptides, Fortibone® peptides, Tendoforte® peptides, and Verisol® peptides, each with their own unique benefit.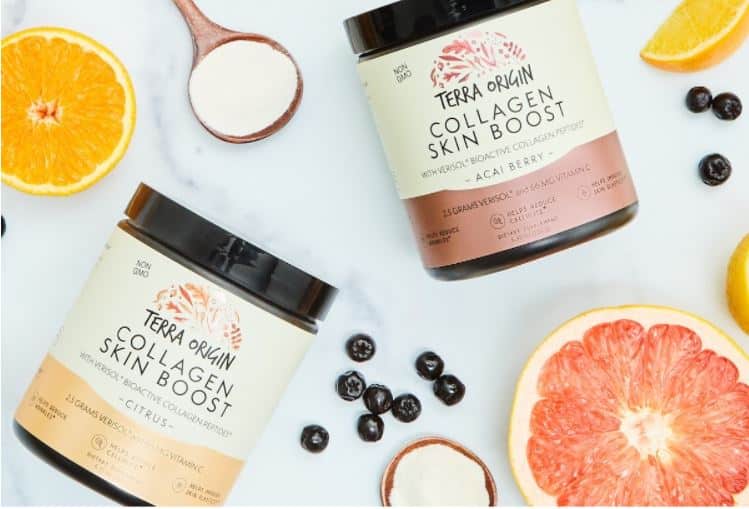 Made with VERISOL Collagen Peptides and Vitamin C, the Collagen Skin Boost supplement is the key to smooth skin, strong nails, and lustrous hair. Because it comes in powder form instead of a cream, this supplement nourishes from the inside out, leaving you feeling radiant and confident.
This is a 5-in-one collagen blend formula to look and feel your best. It combines five collagen peptides into an effective blend of 100% grass-fed beef, chicken, eggshell, and marine collagen sources, including collagen I, II, III, V & X, for maximum benefits.
This powerhouse is sourced from grass-fed, pasture-raised bovine hides. This ensures a natural, high-quality, and sustainable source of peptides.
These capsules include all five types of collagen hydrolysate to help restore your youthful skin health, hair, nails, bones, tendons, joints, and gut health.
The same collagen peptides you love, now with the added benefits of Keto. With the ideal 2:1 ratio of protein to fat, this clean and delicious powder's perfect for anyone following the Keto or Paleo diet!
This protein powder is sourced from sustainably caught Arctic cod and includes plenty of vitamin C. While you can also get this supplement in unflavored packs, we love the subtle strawberry flavor of this one. Use it in smoothies and protein shakes, or simply stir it into water for 4 grams of skin-loving protein.
Say hello to Collagen Gummy Rings—a beauty superstar that's essential for that youthful glow. It nourishes your skin on a deep level to improve firmness and resiliency. They've been shown to support collagen production, boost skin elasticity and reduce the appearance of wrinkles in as little as four weeks.
Replenish Your Skin, Hair, and Nails — Collagen peptides can help restore sagging skin, replenish thinning hair, and renew brittle nails. These benefits contribute to a more youthful appearance you'll love.
The unique blend of support ingredients protects the skin against the harmful effects of free radical damage, oxidative stress, and photoaging from UVA/UVB effects of the sun.
These collagen peptides are hydrolyzed and contain patented DigeSEB digestive enzymes. This gives the collagen peptide powder improved absorption over other collagen supplements. If you are not digesting your collagen powder properly, you're throwing money away! Stop wasting money and start feeling the many benefits of Collagen Peptides Powder with DigeSEB.
To keep your skin looking fresh and youthful, make sure to treat it from the inside out. Our list of the best collagen products can help you!
Read Next:
Collagen 911: Skincare Trends That Actually Work
How Much Collagen Do You REALLY Need Each Day?
The Best Ingredients in Drugstore Skincare Products for Mature Women